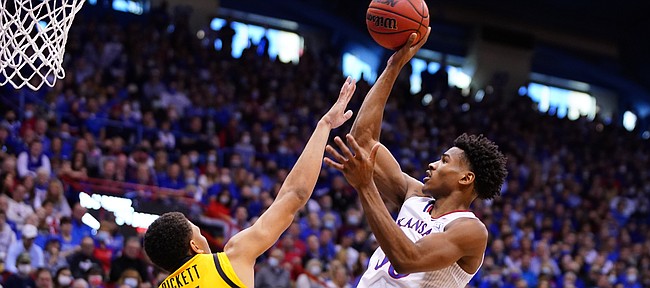 Saturday's 102-65 victory by eighth-ranked Kansas over bitter rival Missouri at Allen Fieldhouse was the culmination of a weeklong education in rivalries.
Starting Monday, when the KU players and coaches first saw students camping out in droves, and continuing into Tuesday night and throughout the rest of the week, the 18 players on the KU roster saw evidence and heard stories from Jayhawks young and old about what the KU-Mizzou battle means.
A few players on the current roster had their own understanding of the rivalry's significance entering the week.
Photo Gallery
Kansas basketball v. Missouri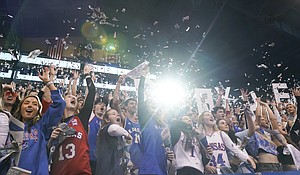 View a gallery of images from Saturday's Border War between the Kansas Jayhawks and Missouri Tigers at Allen Fieldhouse.
Ochai Agbaji, Dajuan Harris Jr., Mitch Lightfoot and Chris Teahan remembered it from growing up. And Christian Braun heard plenty about it from a healthy portion of his family that leaned the way of the Tigers throughout his life.
But in case there was any doubt whether all of those stories and all of that nostalgia was legit, Saturday's experience validated it all.
"That was my first time hearing it that loud," sophomore guard Dajuan Harris Jr. said after the game.
The return of nearly two dozen former Kansas players who had their own experiences and war wounds from the KU-MU rivalry helped hammer home the magnitude. The fact that so many of them sat right behind the Kansas bench only made their shadows loom larger.
It also offered the opportunity for a quick interaction or two, before, during and after the blowout victory.
"There is an unspoken level of pride (with) that," KU senior Ochai Agbaji after scoring a game-high 21 points in 30 minutes. "They played in that and it means a lot to them, too. We didn't say much to them, but we kind of gave them that look. I saw Tyshawn (Taylor), I saw Sherron (Collins) and (they) kind of gave (us) that look of, 'Good job going out and taking care of business today.'"
Asked if he thought his teammates from outside the area heard enough about the history of this rivalry to make it feel personal by game time, Agbaji said that was a factor, as well.
"That was kind of (emphasized) with the newcomers and the freshmen," he said. "And coach really did put an emphasis on it."
Although Self said the renewal of the rivalry had a different feel to it, simply because it was missing that "bigger picture" piece associated with playing a home-and-home series and contending for the same conference crown, he acknowledged that his roster probably had one clear edge in terms of comprehending the rivalry's importance in the days leading up to tipoff.
The current Missouri roster features just three players from the state on it — two from Springfield and another from St. Louis.
KU's current roster, meanwhile, features five players who grew up in either Kansas, Kansas City or Columbia, Missouri, and a coaching staff full of guys who either coached or played in the rivalry several times.
"We probably had a bigger advantage over them in having people talk about how important it was on the team," Self said.
Former players return home
In the days leading up to Saturday's showdown, several former KU players took to social media to share their excitement over the return of the series with their bitter border rivals.
Many of them made it back to Allen Fieldhouse to take in the game. Those spotted in the crowd on Saturday included: Tyrel Reed, Brady Morningstar, Jeremy Case, Brennan Bechard, Jeff Hawkins, Sherron Collins, Jamari Traylor, Tyshawn Taylor, Kevin Young, Conner Teahan, Wayne Simien Jr., Keith Langford, Jordan Juenemann, Matt Kleinmann, Eric Chenowith, Travis Releford and Greg Gurley.
Former KU great Thomas Robinson, who played a massive role in the last meeting between the two programs — a comeback for the ages won by KU on Feb. 25, 2012 — checked in on the video board during the pregame festivities.
"I want to send my love and energy to the coaching staff and the fans and, most importantly, the players," Robinson said before signing off with a "Rock Chalk."
The rest of the group was introduced, individually by name and in one wide-angle video shot on the screen, during the game's final media timeout.
The announcement inspired a standing ovation from the rest of the KU crowd.
Signs, signs, everywhere signs
After camping out for days, lining up for hours and filling their seats roughly two hours before tipoff, the KU students showed that they were not simply there to be loud on Saturday.
They also wanted to be seen.
To that end, dozens of signs filled the rows of students at Saturday's KU victory.
Among the best spotted in the crowd were: "Mizzou's FG % is lower than their graduation rate," "SEC wants a refund," and "Missouri Hates Christmas."
Other teams honored
Saturday's packed house provided Kansas Athletics with an opportunity to honor a couple of other KU teams during timeouts on the floor. And both received standing ovations from the KU crowd.
First, early in the first half, it was the all-Big 12 football honorees who made their way onto the Allen Fieldhouse court — Earl Bostick, Mike Novitsky, Devin Neal, Kenny Logan and Rich Miller, joined by head coach Lance Leipold.
Later in the half, fresh off of their run to the Sweet 16 in the NCAA Tournament, the Kansas volleyball team was honored on the court and showered with love.
This and that…
KU's win extended their lead in the series with Missouri to 175-95. The Jayhawks have won 14 consecutive meetings with the Tigers inside Allen Fieldhouse… KU is now 8-1 or better for the fourth consecutive season and for the 12th time in Self's 19 seasons… Saturday marked the annual Teddy Bear Toss, which drew 1,563 stuffed bears onto the court and raised another $3,000 to benefit Toys for Tots… KU's 100-point game was its first since November of 2019 versus Monmouth… The 14 3-point makes by the Jayhawks marked a season high.