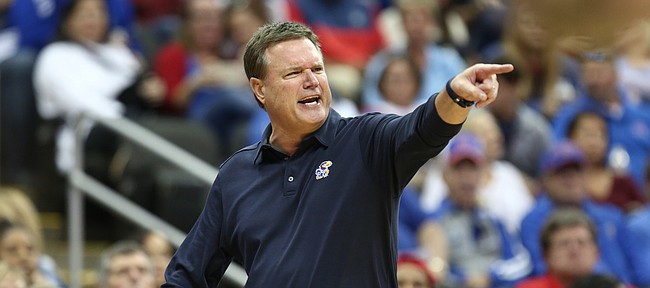 With the first official basketball game against Missouri in more than 3,500 days now just hours away, Kansas basketball coach Bill Self was asked on Thursday why the game is finally being played again.
His answer was short and sweet.
"Time's passed," he said.
By now, Missouri's well-known exit from the Big 12 Conference to the SEC and the impact it had on one of the best rivalries in all of college athletics has been well documented. And Self on Thursday summed it up simply as Missouri doing what it felt was best, that not sitting well with the KU crowd and a void in the rivalry being the result.
But with their first meeting since February of 2012 on the slate for 2:15 p.m. Saturday in the same building that it temporarily ended, Self acknowledged that a lot of the hurt and emotion associated with the break up had gone the way of water under the bridge.
"That's a long time ago," he said. "Maybe the biggest reason (we're playing again) is because (MU coach) Cuonzo (Martin) and I wanted to play the game."
Regardless of the reasons, Self said the return has brought back a flood of memories in recent weeks. From big games and moments to memorable players — on both sides — Self has said in various settings throughout the week that the history of the rivalry has as much to it as any he has experienced.
But beyond any of the specifics, one general vibe about the KU-MU rivalry seemed to stand out to Self above all others.
"Regardless of how the seasons are going, regardless of how stale we are, how stale they may be at that particular juncture of the season, it just seems to all go away on that one day," he said. "That doesn't guarantee you playing well, but it guarantees the energy level being so high to give you the best chance."
The Jayhawks will be a heavy favorite in Saturday's matchup, but Self and his players know they have to be at their best and be prepared to take the Tigers' best shot in order to come out on the right end of the outcome.
KU guard Ochai Agbaji, who went to high school in Kansas City, Mo., and has friends on both sides of the rivalry, said Self had been "amped" throughout the week.
Self laughed at that notion.
"I haven't seen Ochai since we played UTEP (on Tuesday)," he said. "Because (Wednesday) was our off day. But good for Och saying that. I guess I was amped Tuesday. I have said all along that Tuesday's game set up a terrific setting and atmosphere for Saturday's game."
McCormack OK
After injuring his ankle in Tuesday's victory over UTEP in Kansas City, Mo., Kansas forward David McCormack is on track to play against Missouri on Saturday.
Self said Thursday that team doctors told him that the swelling in McCormack's injured ankle had gone down and that he was feeling good and ready to practice on Thursday.
"That's good news," Self said.
Reunion time
Although nothing official has been established, Self said he expected 20 or more former players to be in the building for Saturday's clash with Missouri.
One of the biggest reasons that is possible is because all of the KU players who have experience in this rivalry are no longer playing in the NBA.
Sherron Collins and Jamari Traylor briefly spoke to the current Jayhawks about the significance of the rivalry following Tuesday's victory over UTEP. But Self said he did not have anything else planned in the way of speeches from past players.
"If they come to practice or whatever I'll let them say something," he said. "I think we've got quite a few (ex-players) coming this weekend and they'll want to be a part of it."