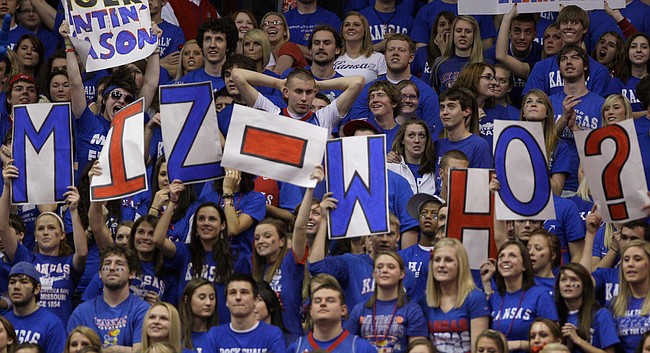 The best way many Kansas fans have been able to describe what was missing with Missouri out of their lives for the past nine years was to compare the relationship between the two bitter rivals to that of siblings.
Several attendees at Bill Self's "Hawk Talk" radio show on Wednesday night, and a couple of local bar owners, said this weekend's renewal of the rivalry with KU's longtime border rival brought back feelings of nostalgia and competitive fire.
"The KU-Missouri rivalry was always about more than just basketball," said Rick Renfro, owner of Johnny's Tavern. "It seems to me like it was brothers that were competing all the time and it was as fierce a competition as you could get. One family member's been gone a while and now they're back. It's going to be bittersweet, it's going to be great to compete with them again and there'll be bragging rights on the line."
Longtime Kansas fan Mike Williams, who attended "Hawk Talk" on Wednesday night, said he and his friends could never quite understand why the Tigers left the Big 12 Conference for the SEC. A lot of it had to do with money, of course, and the Tigers have netted between $50-100 million more revenue dollars over the past nine years than they would have brought in had they stayed in the Big 12.
"Yeah, but would you give up a member of your family for that," Williams asked.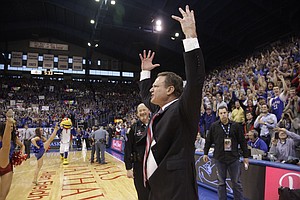 For the past nine years, that element of fierce and intimate sibling rivalry has been missing from the Kansas basketball experience. Longtime Voice of the Jayhawks, Bob Davis, said basketball seasons without Missouri have had "a big hole" in them.
"I think it's one of the most unique college rivalries in the country, if not the most unique," Davis said. "The basis of the whole rivalry was hatred; how can you do any better than that?"
With the Tigers in the SEC, the Jayhawks quickly moved on, substituting Kansas State, Kentucky, Duke and even West Virginia into the choice seat as their top rival.
But fans of all ages, and from all walks of life, said none of those programs came close to reaching the level of Missouri.
"I don't feel the same way about K-State," said prominent KU donor Dana Anderson. "I just have a passionate dislike for Missouri. Always have. It goes all the way back to Quantrill's Raid and the free and slave states, and I think that's what makes it unique. You can't really replace that with anything else."
So many fans have not even tried.
When asked to put his finger on what was missing with Mizzou out of the mix, longtime KU fan David Reynolds proudly boasted, "Nothing. I was absolutely glad they were gone. They wanted a divorce and they got it."
He then returned his voice to a more normal level and added one caveat.
"If we have to play them, though, I want to win," Reynolds said.
Depending on who you ask, the KU-MU rivalry meant different things to different people. For some, it was the historical significance, dating back to the Civil War, that carried the most weight.
"Missouri would give anybody a run for being the worst of our rivals," said Robert Bates, a longtime KU fan and former friend of late Kansas football coach and noted Missouri hater Don Fambrough. "Sports has been the mildest part of it."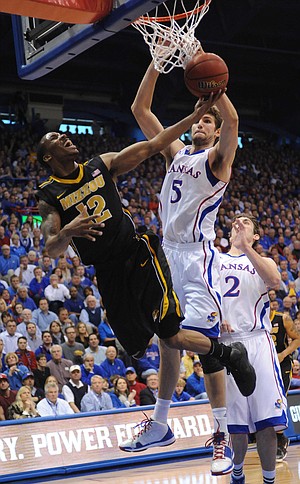 For others, what took place on the field of play was always the most electric part of the rivalry.
There were epic wins and gut-wrenching losses on both sides. Legendary players and moments are still talked about to this day. And, no matter what the records were or how their seasons were going, players on both sides, in all sports, always brought their best — and sometimes nastiest — when KU and Mizzou got together.
While sitting with Reynolds on Wednesday night, 95-year-old Warren Corman, one of the architects of Allen Fieldhouse, was ribbed about going up to the building early on Saturday to loosen a few bolts in the visitor's locker room to make MU's stay less than pleasant.
"That's what Don Fambrough would've done," Corman said with a grin. "It didn't even really dawn on me that they were gone. We've played so many great games in that time, and Missouri was never the best team we played anyway."
Current Kansas coach Bill Self, who has a 15-4 record against the Tigers at KU — and 18-4 overall — has been more aligned with Corman's way of thinking all these years.
"Haven't thought about that at all," Self said of the void left by not having Missouri in his life. "What's missing, obviously for both teams, is an anticipated game for fans and for players. But I haven't thought that deep about it in the last nine years."
Self acknowledged that when the two teams got together in 2017 for an exhibition game for hurricane relief, the vibe around the game was more enjoyable than he anticipated.
"I did like that," he said. "The feeling of that much interest. (It's) good for our sport and good for both places."
KU fan Mark Zeligman said he thought the rivalry, and its decades of history and stories, means more to the older crowd than it does younger fans. However, Allen Fieldhouse this week has hosted the largest number of student camping groups the program has seen in years, with the number climbing above 100 groups — accounting for more than 2,000 students — as far back as Monday.
Asked why he thought that might be, Zeligman said, "maybe their parents told them it's a big deal."
Added Zeligman friend and longtime KU fan David Olson: "Or maybe it's engrained in them. Maybe there's something in the water in Lawrence, Kansas, that just makes you dislike Missouri. As far as I'm concerned, I don't care if we ever play Missouri again. I guess I'm part of that get-off-my-lawn crowd. We hated them before, we hate them now and we'll hate them after, too."
Regardless of what level the longing for the rivalry reached — or didn't reach — for die-hard fans of Kansas basketball, the notion of not having the excitement and anticipation of this matchup twice a year was the most popular answer given when people were asked to explain what had been missing.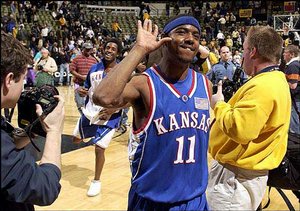 "These kinds of rivalries are great and they're the ones you really look forward to," said Williams. "When you don't have it, every game's just another game. I hope it goes on the rest of my lifetime."
Added Gary Brock, who was watching "Hawk Talk" with his brother, Jerry, on Wednesday night: "From the time we were growing up and first started watching KU, the big game of the year was always Missouri. Everybody in Kansas hates Missouri and everybody in Missouri hates Kansas and that's fine by us."
Said Bates of what made the anticipation surrounding this rivalry so special: "After every game was over, no matter what happened or who won, you just immediately started hoping for the next one."

While the absence of the rivalry has been largely personal for Kansas fans, bar owners like Renfro and The Wagon Wheel's Rob "Knobbie" Farha and Jefferson's owner Brandon Graham, said not having the Missouri game on the docket has impacted business, as well.
"As you get later into the season, with bigger games and the postseason and NCAA Tournament, the watch parties always go up in intensity," said Graham. "But there's nothing like Missouri. The excitement and the traffic beforehand and after; there's really no one else who brings what Missouri does."
Added Farha: "In the college bar business of course we missed it. It always brings big crowds."
As a lifelong KU fan, Graham said he would've preferred for Kansas to never play Missouri again in any sport. But the businessman in him sees the advantages of renewing the rivalry.
"We're going to be slammed all day," he said. "We don't need to market this. We're going to get our doors blown off, and it's just going to be hang on and have fun."
Farha agreed, both with not wanting to play MU again and with being OK about the business benefits of Saturday's matchup, which is slated for 2:15 p.m. from Allen Fieldhouse on ESPN.
"Now that it's here, I'm excited for it to come back," Farha said. "But I'm old school. I'm a Big Eight person. We lost the Nebraska crowds. We lost Missouri. Now we're going to lose Oklahoma. It's a whole different landscape. And you do notice it."
Whether the impact of the rivalry leaving or its return had a profound effect on them or not, one thing most all Kansas fans could agree on was that their rooting interest when it comes to Missouri never wavered.
"I haven't really thought that much about them lately," said Jerry Brock. "I just always hope someone beats them."