Even as he watched his Kansas volleyball team steadily improve before his eyes as the postseason drew near, head coach Ray Bechard thought the Jayhawks were only playing "OK" offensively.
Then came a breakthrough performance at Creighton in the second round of the NCAA Tournament this past week. Bechard said he considers siding out 60% of the time "really good." Well, the Jayhawks sided out on 68% of their opportunities en route to upsetting the Bluejays (31-4) on their home floor.
"I think we've had people play well at different times. And I think we got everybody kind of on the same page," Bechard said of the change.
That development has the Jayhawks (18-11) back in the Sweet 16 for the first time since 2015. They're hopeful their upward trending offense can push them over the top again, in their latest match as an underdog, when they take on the tournament's No. 3 overall seed, Pitt (28-3), at Fitzgerald Fieldhouse on Thursday (approximately noon, ESPN+).
The offensive flow the Jayhawks were after much of the regular season, senior Rachel Langs said, they finally discovered during the postseason.
"I think we've had moments of it, but it hasn't been as consistent as we've seen the past couple of games," Langs said. "So we knew we had it in us, and we knew we could do it."
Facing a Creighton team that hadn't allowed an opponent to hit above .300 all season, the Jayhawks' hitting percentage registered at .302 in a second-round win.
Both Bechard and KU's players point to the emergence of freshman setter Camryn Turner as a key to them reaching new heights late in the year.
"There's tempo, there spacing, and there's location. And all three of those things, she's getting a good feel for," Bechard said of how Turner is playing. "And she comes across confident, and she manages the game — there's a lot going on. So obviously we're really proud of how she's taking care of all that situation right now."
The Big 12's freshman of the year, Caroline Bien said KU's offense has made "a big leap" of late. Bien said a number of factors play into that, including Turner's "great" passing, which is giving the whole team confidence.
Turner described the Jayhawks' passing as "off the charts." The freshman setter said that allows her to play without hesitation and pass to any teammate she wants to, making the offense more dynamic.
Upon watching KU dispose of Oregon and Creighton to reach a Sweet 16 matchup with Pitt, Panthers head coach Dan Fisher said he wants his team entering the regional semifinal with confidence, but not overconfidence, because KU is playing good volleyball right now.
"They've beaten two good teams in a row, and hit for a pretty good clip in both those games," Fisher said. "So we're expecting a good match."
Of course, the Jayhawks, currently on a six-match winning streak, arrived in Pittsburgh trusting that they're up for another battle with a high profile opponent.
Said super-senior Jenny Mosser: "Obviously we are an unranked team, but that doesn't faze us going in. We respect that they are a good team. I think I trust our coaching staff and the way that they've prepared us, so I trust our ability to go out there and ball out on the court."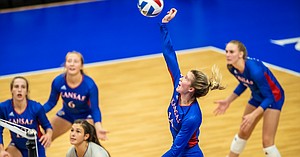 Bien agreed, and said the Jayhawks' confidence level is "really high right now, as it should be."
And while Bechard and others have mentioned how KU is peaking at the right time of year, Bien put an amendment on that idea.
"I wouldn't necessarily say it's a peak," Bien said. "We really have been on an upward incline this whole season. And now we're just in the right place at the right time. Ready to go."
Awaiting KU is a Pitt program playing in its sixth consecutive tournament, and looking to make it to a regional final for a second year in a row. The Panthers are led by two-time ACC Volleyball Player of the Year Kayla Lund, a 6-foot graduate student. Lund ranks in Pitt's career top five in kills (1,656, fourth), attacks (3,950, fifth) and service aces (151, fourth).
As the Jayhawks look to make it three postseason upsets in a row, Bechard called Pitt an excellent serving team, and said KU will have to create opportunities to receive the ball well and serve it well to negate some of the Panthers' strengths.
Though one team is an underdog and the other is one of the favorites in the field, Bechard said both have high aspirations.
"We'll need our best," Bechard said. "But our good right now has been pretty good, so we'll see where that takes us."
KU, which hasn't faced Pitt since 1995, is looking to reach its first regional final since 2015, the year of the Jayhawks' only Final Four berth. Pitt is 2-1 all-time versus KU.
No. 6 overall seed Purdue (25-6) takes on No. 11 seed BYU (30-1) in the first regional semifinal in Pittsburgh on Thursday (10 a.m., ESPNU). The winner of that match will face either Pitt or KU in a Saturday regional final.
https://www.youtube.com/watch?v=h4kkUPLk9XY
https://www.youtube.com/watch?v=gf1ZN0waMJA
https://www.youtube.com/watch?v=hZbfRLXV9to