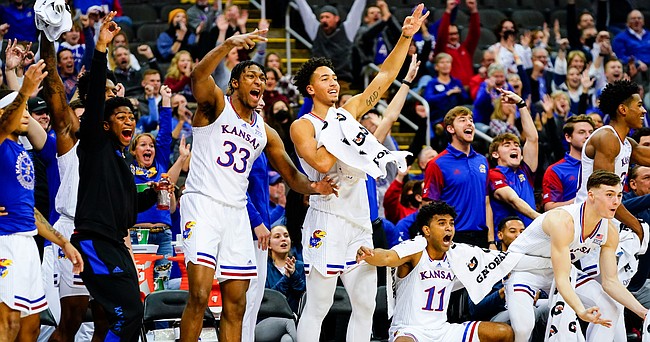 Kansas City, Mo. — Moments after scoring 20 points in a blowout win over UTEP at T-Mobile Center on Tuesday night, Kansas junior Christian Braun painted a crystal-clear picture of how quickly the Jayhawks had moved on from UTEP to Saturday's looming showdown with Missouri.
"I think the first thing everybody said when we got in the tunnel was, 'Who we got next'," Braun said Tuesday. "I was looking forward to it before, to be real honest with you, but I'm excited and I know all the guys are excited."
With Tuesday's relatively easy 78-52 win over UTEP now out of the way, the Jayhawks — along with their fans, their enemies and anyone else who might want to pay attention — now can fully turn their focus to the renewal of their series with bitter border rival Missouri.
Photo Gallery
Kansas basketball v. UTEP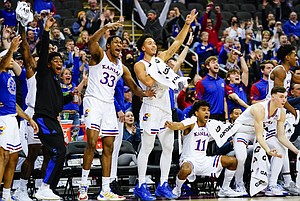 View a gallery of images from Tuesday night's game between the Jayhawks and Miners at T-Mobile Center in Kansas City.
For the first time in 3,574 days, the longtime rival Tigers (5-4) and Jayhawks (7-1) will face off in a game that actually counts again at 2:15 p.m. Saturday from Allen Fieldhouse.
Outside of an exhibition game to benefit hurricane relief in 2017, the Jayhawks and Tigers, once intimate enemies, have been virtual strangers for the past decade.
Their final fight is the thing of legends, of course, with Kansas winning a thriller in Lawrence on Feb. 25, 2012. The Jayhawks came back from 19 down in the second half to win that one in overtime, sending the Fieldhouse fans into a frenzy and the Tigers to the SEC on the wrong end of what many believed would be the last matchup ever between the two.
"It was probably the most emotional home game that I've ever been a part of," Self said of the 2012 matchup on Tuesday. "There was pressure on us to win that game and we didn't handle it very well. But then when the lid came off we played pretty well down the stretch. But that was college basketball at its best."
Document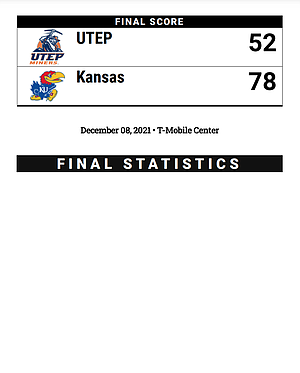 Prior to the renewal of the series, KU's coach, now in his 19th season with the Jayhawks ran up against the possibility of being at Kansas as long without playing the Tigers as he was there while playing them. And while there are many reasons it took this long for the series to resume, Self said he never lost sight of what the rivalry meant.
"This is the best game on our schedule," Self said. "We haven't played them in nine years, and back when we did play them it was the best game on our schedule."
Only a handful of current Kansas players have the capacity to understand exactly what the rivalry was all about in its heyday.
Braun, who has family members who played at Mizzou, was exposed to it through that. Mitch Lightfoot, a die-hard, lifelong Jayhawk remembers the KU-MU clashes from his youth. And Ochai Agbaji, who grew up on the Missouri side of the Kansas City metro area after moving from Milwaukee heard enough about it to gain a clear understanding.
"I just know they both hate each other," he said. "It's just a big week. … I know the Border War; it should be a really fun game."
In case this group needs a crash course in how to handle a matchup with their rivals to the east, a couple of former Jayhawks were on hand Tuesday night to share their experiences.
"We had Sherron (Collins) and Jamari Traylor in the locker room, and they were talking about how much it means to them," Agbaji said after Tuesday's victory. "I know it means a lot to the alumni, the whole program, both universities, so it's a big game."
Braun said just knowing that it's finally here was enough to get him excited. And he just missed it being a showdown between him and his older brother, Parker, who started his career at Missouri and transferred to Santa Clara during the offseason. But even if Saturday's game had come with the added element of a sibling rivalry, Braun said that would not have added to its importance.
"It's just Missouri," he said. "That's what I'm excited for. The rivalry's a lot bigger than me and my family. We've watched this game growing up and have seen how intense the rivalry really is, so, yeah, it's big for my family, but I'm just excited to play with Kansas across my chest."
He's not the only one. More than 100 student camping groups were already set up at Allen Fieldhouse as early as Monday, lining up for their chance to get choice seats. Don't be surprised if they all squeeze together a little tighter and stand a little taller while yelling a little louder when Saturday arrives.
"I would assume it's going to be pretty good," Self said of what he expects from the atmosphere. "There won't be a lot of empty seats."
Asked if it was hard to focus on Tuesday's task while knowing that the Mizzou game was next on the schedule, Lightfoot provided an honest answer.
"I'd be lying if I said it wasn't," he said. "I think everybody here's excited for it. The rivalry's back, and I think we're all ready to play."
McCormack hobbled
Self said after Tuesday's victory that senior forward David McCormack "tweaked his ankle" midway through the win over UTEP, which caused Self to hold him out for most of the second half.
McCormack played a total of 17 minutes on Tuesday — a little more than 12 in the first half and just over 4 in the second. KU's double-digit lead throughout much of the game made the decision to sit him much easier.
Asked if the injury was anything to worry about, Self said simply, "I don't think so. He played after he did it, so I don't think so. But I didn't see any reason (to put him back out there)."
McCormack got off to a solid start on Tuesday and finished with eight points and three rebounds on 3-of-6 shooting while drawing three fouls and blocking three shots.
Braun Big 12 POW
Braun's career-night last Friday in Elmont, N.Y., not only led the eighth-ranked Jayhawks to victory but also earned him the Big 12's Player of the Week honor.
The conference announced Braun as this week's pick on Monday, making him the second Jayhawk to win the award this season. Braun teammate and Big 12 leading scorer Ochai Agbaji also won the award on Nov. 15.
The honor is the second of Braun's career. He also was named the conference's top player in late December a year ago.
Braun scored a career-high 31 points in the Jayhawks 95-75 road win at St. John's on Friday, Dec. 3, including 22 points in the second half alone. He shot 10 of 16 from the floor, 2-of-4 from 3-point range and 9-of-10 at the free throw line. He also tied a season-high with eight rebounds and added four assists and a team-high three steals.
"He has improved in all areas," Self of his second leading scorer and top rebounder, who also ranks second on the team in assists and first in steals.
Added Lightfoot: "He's (being) aggressive while being a team player at the same time. When they said he had 31 after the game, it was like, 'Damn. He had 31?' His ability to score within the offense is impressive."
Honoring Dole
Prior to tipoff on Tuesday, the T-Mobile Center crowd honored the late Bob Dole with a moment of silence. The longtime United States Senator from Russell, who was a proud ambassador of all things Sunflower State, passed away earlier this week at age 98.
This and that…
KU and UTEP are now tied 3-3 in the all-time series against one another, with the Jayhawks having won the last three meetings… KU is now 7-1 or better for the eighth consecutive season and the 14th time in Self's 19 seasons at Kansas… KU is now 44-10 all-time in T-Mobile Center, formerly known as Sprint Center. The Jayhawks are also now 230-84 all-time in games played in Kansas City.