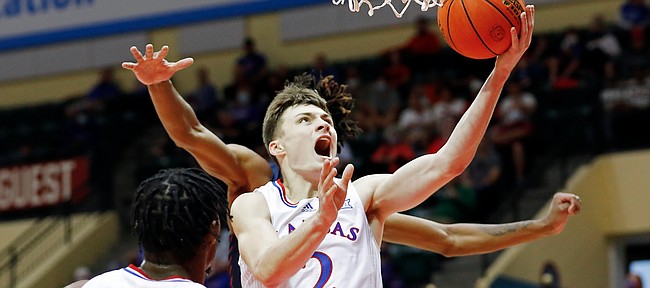 Kansas junior Christian Braun's career-night last Friday in Elmont, N.Y., not only led the eighth-ranked Jayhawks to victory but also earned him the Big 12's Player of the Week honor.
The conference announced Braun as this week's pick on Monday, making him the second Jayhawk to win the award this season. Braun teammate and Big 12 leading scorer Ochai Agbaji also won the award on Nov. 15.
The honor is the second of Braun's career. He also was named the conference's top player in late December a year ago.
Braun scored a career-high 31 points in the Jayhawks 95-75 road win at St. John's on Friday, Dec. 3, including 22 points in the second half alone. He shot 10 of 16 from the floor, 2-of-4 from 3-point range and 9-of-10 at the free throw line. He also tied a season-high with eight rebounds and added four assists and a team-high three steals.
"He has improved in all areas," said KU coach Bill Self of his second leading scorer and top rebounder, who also ranks second on the team in assists and first in steals.

Added senior forward Mitch Lightfoot: "He's (being) aggressive while being a team player at the same time. When they said he had 31 after the game, it was like, 'Damn. He had 31?' His ability to score within the offense is impressive."
For the year, Braun is averaging 16.3 points per game and 7.3 rebounds per game. He has scored in double figures in each of the past six games while shooting a team-high 61.6% (45-of-73) from the field for the season. Braun also leads the Jayhawks from the free throw line, where he is shooting 85% (17-of-20).