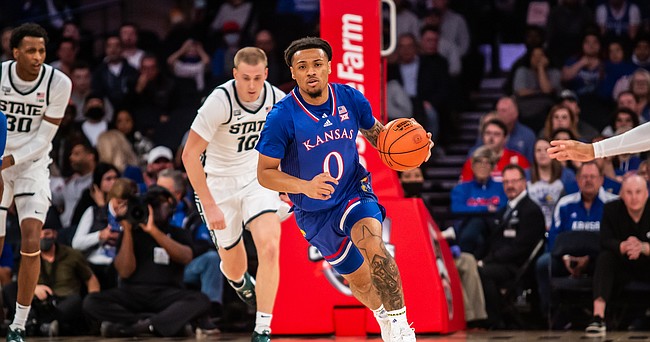 Kansas freshman Bobby Pettiford will not play in Tuesday's 7 p.m. game against UTEP at T-Mobile Center in Kansas City, Mo., because of what KU coach Bill Self called "an abdominal strain."
Pettiford's appearance in street clothes on Tuesday night could be the start of a prolonged absence for the KU guard.
"He's not going to get healthy in the next few days so he's probably going to sit out for a while," Self said during his Mon-day meeting with the media. "I don't want to announce what the time frame is, but we would think it would be in the area of 4 or 5 weeks. But we do not know that positively. He could respond quicker than that."
Pettiford first injured the area between his hip and his side a couple of weeks ago and sat out a few practices in hopes of pushing past the injury. While that extra rest allowed him to manage the pain, Self said Monday that it had become clear that continuing on that path would not allow the injury to fully heal.

"It's not that he couldn't go," Self said. "And he has gone. But (playing is) just not going to give itself a chance to heal. I think he agrees, and everyone agrees, it's best that he get as close to 100% (as possible) than it is for him to play and hurt every day that he plays."
Self has been high on Pettiford's time at KU since the former Louisville commitment first signed with the Jayhawks. On more than one occasion he has said the 6-foot-1, 190-pound combo guard from Durham, N.C., has the chance to be the next really good guard at KU.
On Monday, Self said part of the reason for holding Pettiford out and hoping for him to recover quickly is that he believes he could become "a really good guard by this year."
"But not at 80%," Self added. "He needs to be 100%."
Self said Pettiford's absence could impact the KU rotation, with sophomore Joe Yesufu and super-senior Jalen Coleman-Lands standing to see the biggest bump in minutes. So far, the two reserve guards have averaged around 9 minutes per game, while Pettiford was sitting at right about 12 minutes a night. He played a single-digit minutes (7) for just the second time this season in KU's win over St. John's last Friday.
Even if Yesufu and Coleman-Lands split Pettiford's minutes evenly, that would give both players a greater opportunity to be a more regular part of KU's attack.
"In a weird way, it probably simplifies your rotation, but it doesn't help your team," Self said. "I'd much rather have Bob-by available to us and healthy."
Self and several of Yesufu's teammates have said in recent weeks that they feel a breakthrough coming for Yesufu, who has played two of his better games in KU's last two outings. Self said knowing ahead of time that he could have a bigger role may take his play to a new level.
"Sometimes guys play better when they have that certainty that that's probably going to happen," Self said. "I think we're getting ready to see a more exciting and explosive Joe moving forward."