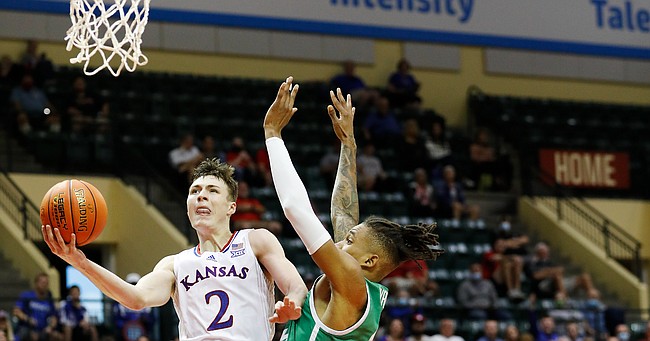 No. 8 Kansas Jayhawks (6-1) vs. UTEP Miners (4-3)
Time: 7 p.m., Tuesday, Dec. 7, 2021
Location: T-Mobile Center, Kansas City, Mo.
TV: Big 12 Now via ESPN+
Radio: IMG Jayhawk Radio Network
Keys for Kansas
1 – 3-point shooting
According to KenPom.com, UTEP is one of the worst 3-point teams in the country, both as 3-point shooters and at defending the 3-point shot.
The Miners rank 300 or worse in both categories, giving up 37% on defense and shooting just 28.7% on offense.
Self said Monday that his team has not shot as many 3-pointers so far this season as he expected it would. And part of that, he said, was because leading scorers Christian Braun and Ochai Agbaji continue to turn down open shots while looking to attack the paint.
While Self does not discourage that type of play, he also said he would be fine with his guys taking — and making — more shots from 3-point range.
So far this season, the Jayhawks (6-1) have made 50 triples in 139 attempts, putting them third in the Big 12 in terms of percentage but just seventh in 3-point makes.
KU also has given up 50 3-point makes to opponents (on 148 attempts). UTEP junior Jamal Bieniemy, who played at Oklahoma before heading to UTEP, leads the team at 36.6% (15 of 41) and if KU can slow him down, this could be a get-right game for a Kansas team that just saw St. John's guard Julian Champagnie catch fire in the second half last Friday.
2 – No looking ahead
A year ago, Kansas added UTEP to the schedule late in the season, as a way to stay sharp while waiting for the postseason, and the COVID addition nearly cost them.
The Jayhawks got everything they could want and then some from the Miners, who fell to Kansas but led for more than 30 minutes of the game, including 34-20 at halftime. KU big man David McCormack took over down the stretch in that one, and Agbaji and Dajuan Harris Jr., also made some clutch plays late.
This year, former Abilene Christian coach Joe Golding leads several of the same players but has asked them to play a much different style.
The one thing that has remained the same between the two matchups is that it comes right before a highly anticipated game for Kansas. Last year, that was the start of the postseason. This year, it's the first game against bitter rival Missouri (2:30 p.m. Saturday) since 2012.
"I know that people are all excited about it," KU senior Mitch Lightfoot said of the Jayhawks' upcoming clash with Mizzou. "But right now we're all focused on UTEP and we have to make sure that game goes well before we can focus on Saturday."
3 – More from the bench
With Pettiford out, Self is hoping to get more consistent and quality minutes from Yesufu and Coleman-Lands as the Jayhawks' rotation shrinks by one.
The rest of the bench also figures to get time on the court as the Jayhawks continue to try to find out how all of the pieces of this new-look team fit together.
Both Coleman-Lands and Yesufu have had opportunities to impact several games in the early going. And while they have shown the ability to do just that in spurts, they also have come up empty at times, as well.
For Coleman-Lands, it's about making open shots and continuing to improve defensively to the point where Self believes he can count on him on that end.
For Yesufu, it's about flipping the switch into attack mode.
"I think Joe is a pleaser, which is, in many ways, a very good quality," Self said. "Joe wants to fit in and do everything right. He wants to be too perfect. Joe's a scorer. And I think sometimes he's focused on trying to play the way I want him to play and doesn't play the way he's capable of playing. I told him yesterday, 'Just guard the heck out of the ball and shoot it. Let's simplify it.'"
Marquee Matchup
KU's Christian Braun vs. UTEP's Souley Boum
The hottest players on their respective teams figure to be matched up against one another a handful of times in this one. But for Braun and the Jayhawks, the challenge here is way more about slowing down Boum when he has the ball than it is about worrying what he can do defensively against them.
A 6-foot-3, 160-pound fourth-year junior from Oakland, Calif., Boum leads the Miners at 20.3 points per game in the four games he has played.
He's shooting 40.9% from 3-point range and is nearly automatic at the free throw line, where he has hit 24 of 28 charity shots, both team highs.
Braun, who stands 6-7, 218, is averaging 20 points per game in his last four outings, including a career-high 31 points in the win over St. John's which netted him Big 12 Player of the Week honors.
It's not that these two will be matched up exclusively on one another during this one. In fact, that likely will only happen a handful of times, especially with Boum guarding Braun. But their respective production will be crucial to the outcome for both teams.
In addition to being on a tear as a scorer, Braun has shown added intensity on the defensive end, as well. His effort in the first half of the St. John's game against Red Storm sensation Champagnie played a big role in KU building a double-digit halftime lead.
Braun also has active hands, an unrelenting motor and has found success turning his defensive intensity into easy buckets, as well.
Jayhawk Pulse
After falling to Dayton by a point in Orlando, the Jayhawks responded with back-to-back solid efforts against Iona and St. John's.
Both games had their flaws, and Kansas was far from perfect in them. But there seems to be a renewed sense of purpose with the program now, centering primarily on putting defense above everything else.
The Jayhawks are still hoping that 2020-21 starters David McCormack and Jalen Wilson can regain the form that made them all-Big 12 players a season ago. And the belief is that both of them are not far away from reaching that point.
That's what makes games like this one — as well as upcoming matchups with Missouri, Stephen F. Austin, Colorado and Harvard — so important for this new-look KU squad.
In many ways, they're still trying to figure each other out. Some guys are taking more time than expected to adjust to their new teammates. Others are trying to relax and let the game come to them. And still more are trying to gain the confidence to fully insert themselves and their skills into what Kansas does.
It's all a work in progress. But it's all predicated on Kansas trying to play to the odds — get easy buckets, make your opponent take hard shots and defend at a high level. If you do that, you'll win a lot of games, and these Jayhawks, old and new, are still trying to fully embrace that mindset.
Kansas leads the Big 12 in scoring offense (85.4 points per game), field goal percentage (51.5%) and assist-to-turnover ratio (1.6), and all of those numbers place the Jayhawks in the top 12 nationally.
Offense is not a primary concern for this team. Defense is.
"Basketball's a game of easy baskets," Self said. "Either you're getting them or giving them up."
Added Yesufu: "In practice, we've been really harping on our defense and coach has really been on us, so it's definitely going to (improve)."
The Jayhawks trail in this series 3-2, with UTEP winning a pair of NCAA Tournament games including the historic 1966 game, in which UTEP — then known as Texas Western — knocked off Kansas in overtime en route to winning the national title and becoming the first team with five Black starters to do so.
UTEP also won a second-round game in Dayton, Ohio, in 1992, to end KU's season.
The Jayhawks have won the last two meetings in the series — including last season's matchup — and opened as a 20.5-point favorite over the Miners in this one.
Probable Starters
No. 8 Kansas
G – Dajuan Harris, 6-1, 180, Soph.
G – Remy Martin, 6-0, 195, Sr.
G – Ochai Agbaji, 6-5, 210, Sr.
G – Christian Braun, 6-7, 205, Jr.
F – David McCormack, 6-10, 265, Sr.
UTEP
G – Souley Boum, 6-3, 160, Jr.
G – Jamal Bienemy, 6-5, 177, Jr.
G – Keonte Kennedy, 6-5, 180, Soph.
F – Jamari Sibley, 6-8, 184, Fr.
F – Tydus Verhoeven, 6-9, 235, Jr.