It was only a few years ago that Maggie Bowen was in a Kansas volleyball uniform, helping the Jayhawks make their best NCAA Tournament run in program history. Now in her fifth season on head coach Ray Bechard's staff as director of operations, Bowen is getting a different perspective on another postseason hot streak for KU.
Maggie Anderson in her playing days, before she married former KU pole vaulter Casey Bowen, she was a serving specialist and backup setter for the Jayhawks in 2015, when the team reached its first Final Four.
Bowen had a courtside view this past Friday of the first KU team since then to reach the Sweet 16, when the Jayhawks upset Creighton in Omaha, Neb.
Ahead of KU's Thursday matchup (approximately noon, ESPN+) with the No. 3 overall seed in this year's field, Pittsburgh (28-3), Bowen said the 2015 and 2021 versions of the Jayhawks are different for the most part. But she has noticed a general similarity between the two teams and how they go about their business.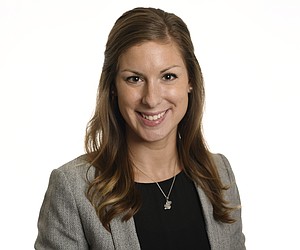 "I would say just how they approach a match, and going into a match like, 'We've got it. We can do this. We just have to fall back on our training,'" Bowen said during a phone interview with the Journal-World.
A player for Bechard on both the 2013 and 2015 teams — the only ones in program history before this year to make the Sweet 16 — Bowen said the head coach deserves credit for maintaining a culture with KU volleyball that makes those types of runs possible.
While this year the Jayhawks (18-11) have been a tournament underdog, those 2013 and 2015 teams were expected to get out of the first weekend of the NCAA Tournament.
Even so, Bowen could relate to how these Jayhawks felt on the way to knocking out both Oregon and Creighton last week. What she witnessed from the group in Omaha, Neb., reminded Bowen of the way the 2015 Jayhawks carried themselves in the Elite Eight, going up against USC.
"That was the bonus. There was no pressure. We play free of mind. We know how to play this sport. We are competitors," Bowen said. "So that's what this team is feeling right now."
The Jayhawks will be in a similar situation again on Thursday, facing Pitt on its home floor, following another regional semifinal between No. 11 overall seed BYU (30-1) and No. 6 overall seed Purdue (25-6).
KU's players have been so confident in the way they've prepared and performed that Bowen said when she had to leave her seat behind the KU bench during the fourth set against Creighton to retrieve the team's postgame meal she wasn't worried about what would transpire in her absence.
"There's something special with this team, where nerves and anxiety are not in the equation," Bowen said. "This point everything is just a bonus. We know exactly what we need to do."
Bowen made it back in time to watch KU finish off the second round victory on Creighton's home court.
"It's been such a fun week," she said. "The difference is, as a player, we showed up for practices and matches and everything. The coaches kept it normalized for the athlete's schedule. And then now with operations, I am obviously included in the planning process of everything that goes into what we just say experienced in Omaha. And being a staff member in operations and setting up everything that went into it, it's honestly more exciting to see that success in the matches for the athletes."
https://www.youtube.com/watch?v=3E9HgO11Qtw
https://www.youtube.com/watch?v=-acYjZ0xx-Y