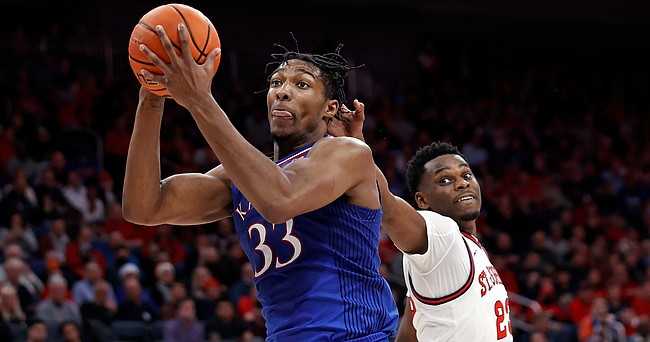 Elmont, N.Y. — Two key members of the eighth-ranked Kansas men's basketball team were more comfortable throughout Friday's 95-75 win at St. John's.
And it turns out that one had a direct impact on the other.

"I feel a lot more comfortable when David's playing well," Kansas coach Bill Self said of senior forward David McCormack after Friday's win. "When David's playing well and you can play through a big, the way we play we're so much better."
In what was easily his best game of the 2021-22 season to date, McCormack scored 15 points on 5-of-8 shooting from both the field and the free throw line, while adding 13 rebounds, which tied a career best.
The points and rebounds were both season-highs. So, too, were his 28 minutes played. And all of it came against the team with the second-highest KenPom.com ranking that KU has faced so far this season.
After the victory, McCormack admitted to putting too much pressure on himself early in the season. He said he constantly aspires to be "a perfectionist," but in the days leading up to the St. John's matchup, he started to convince himself a little more that "not everybody can be."
"I just told myself let it go, keep moving forward, next play, just things like that," he said.
Those thoughts, and others like them, contributed greatly to McCormack's ability to play loose and free. That approach has been key for him throughout the past two seasons, when he has delivered his best games when at his most relaxed.
"It just feels good to get back to just playing loose, playing free," McCormack said. "I just kind of let the game come to me and didn't really force anything."
Eight of his 13 rebounds came on the offensive glass and McCormack made it known from the start that he was in a different head space while doing battle with one of the Big East Conference's most storied programs in their own backyard.
Five of McCormack's eight offensive boards came in the first half and almost all of them led directly to second-chance points for the Jayhawks.
St. John's coach Mike Anderson said after the game that his coaching staff believed throughout the week that this one would come down to the battle on the boards.
"I was concerned about the rebounding," Anderson said. "(We thought) the game would be won in the paint."
And it was.
In addition to McCormack putting up a career-night, the Jayhawks, as a whole, punished the Red Storm on the boards to the tune of a 47-29 advantage.
Jalen Wilson grabbed nine rebounds. Christian Braun added eight boards to his career-high 31 points. And Ochai Agbaji chipped in with seven. Six of those 24 rebounds were on the offensive end, which also contributed to KU's 24 second-chance points.
"That's what you can't have," Anderson said. "They put 24 points up on second shots."
Added Self: "We did a much better job of rebounding the ball collectively than we have been in some of the prior games. We didn't rebound the ball (in our loss to) Dayton at all, but we did better tonight."
Because of that added activity on the glass from McCormack and his teammates, the Jayhawks (6-1) did not have to worry as much about running their half-court offense through McCormack.
"We could've," Self said.
But the fact that they didn't have to do that contributed to McCormack's ability to take a deep breath and relax.
"I know my teammates have my back, my coach has my back regardless and (I tried) not to put any pressure on myself and let everything go," he said.
His next opportunity to do that will come Tuesday, when the Jayhawks will play host to UTEP at 7 p.m. at T-Mobile Center in Kansas City, Mo.