One NCAA Tournament upset win wasn't enough for the Kansas volleyball team. The Jayhawks made it two in as many nights on Friday, in Omaha, Neb., where KU took down host Creighton in four sets.
Sophomore Caroline Crawford sealed KU's first trip to the Sweet 16 since 2015 with a kill set up by freshman Camryn Turner. Within an instant of the 25-13, 26-24, 19-25, 25-22 KU victory going final at D.J. Sokol Arena, the entire KU roster flooded the court to celebrate the win over Creighton (31-4), the No. 14 overall seed in this year's field.
"That celebration part was definitely a surreal moment," Crawford said during a video interview afterward. "As soon as we won the point, we were like, 'Oh my gosh, we're in the Sweet 16.'"
Super-senior Jenny Mosser said the players felt proud about how they stuck with it to put away Creighton before the home team could extend the match.
"It was a really awesome feeling at the end, just kind of getting smushed," Mosser added, with a laugh, as she recalled the pile of Jayhawks on the floor.
Big 12 freshman of the year Caroline Bien took big swings above the net all night for KU (18-11), and delivered a match-high 21 kills, tying her career best outing.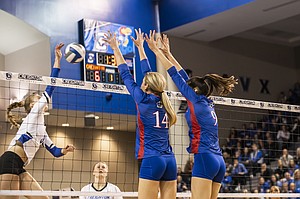 Super-senior Mosser hammered 16 more kills, and freshman setter Camryn Turner helped the offense thrive, with 51 assists on a night that KU had 64 kills.
"Offensively, boy, we were really good tonight," head coach Ray Bechard said.
The victory moves KU on to a regional semifinal, and a third-round match next week against either Pittsburgh or Penn State.
Down 15-11 to Creighton in the fourth set, the Jayhawks scored six straight points to take the lead. Mosser and Crawford each made two kills during the run, and Bien served up an ace to go with a kill.
Junior Kennedy Farris said the players' trust in one another helped them recover.
"I just think we were steady and knew that we could do it," Farris said. "They pushed us; we pushed back."
The Bluejays, who entered the night on a 14-match winning streak, showed their resilience in the third set. They had the Jayhawks down, 15-10 and 18-13. And when KU rallied with four straight points to cut it to 18-17, the Bluejays won seven of the next nine points and got their home crowd fired up for the first time on the night.
Creighton was on the verge of potentially evening the match at one set apiece late in a tight second set. The Bluejays scored two straight points off KU errors to tie it at 24.
However, the Jayhawks had quick answers to keep their upset bid alive and well. First, Bien came through with a solo block. Next, the 6-foot freshman from Overland Park finished the set with a kill to put the home team in a 2-0 hole.
The Jayhawks dominated the first set to put them in position for another upset win, a little more than 24 hours after knocking out No. 19-ranked Oregon.
KU freshman Turner assisted on 11 of her team's points in the opening set, and fellow freshman Bien put away five kills.
Said Bechard: "We're riding a pretty good wave right now. We're playing extremely well.
The Bluejays had to face KU without one of their most productive hitters. Jaela Zimmerman had 10 of Creighton's first 19 kills in the first round win over Ole Miss on Thursday, but had to exit the postseason early upon suffering an injury in the second set.
Zimmerman ranks 15th in Creighton volleyball history, with 997 career kills. She was the only Big East player to average at least 3.0 kills and 3.0 digs per set this season.
Her absence showed up in Creighton's hitting percentage early on, as the home team was at .100 after one set. That number improved as the night went on, and the Bluejays finished at .245.
The Jayhawks, meanwhile, found success on .302 of their attempts. Crawford, who delivered the match-clinching kill in the fourth set, led KU with a hitting percentage of .444.
KU is now 9-3 all-time against Creighton. Friday's postseason meeting marked the third tournament showdown in the series, but the previous two were in Lawrence. The Jayhawks are now 2-1 versus Creighton in the NCAA Tournament.
Lawrence native Hickman faces KU
In facing Creighton, the Jayhawks went up against a talented blocker and hitter from their own backyard. Naomi Hickman, a graduate of Free State High.
The 6-foot-4 senior finished with seven kills and four blocks versus KU.
Hickman, who got to play five seasons at Creighton thanks to the NCAA's 2020 Covid waiver, made the 130th start of her career.
Naomi's younger sister, Rachel, used to play at KU. Rachel Hickman now plays at Northern Colorado, and had eight kills in an NCAA Tournament loss to Washington State on Thursday.
KU-Creighton family connection
Creighton freshman setter Kendra Wait is the younger sister of former KU standout Cassie Wait, a libero for the Jayhawks from 2013-16 and one of the key players on KU's 2015 Final Four team.
The Waits are from Gardner. The younger Wait, Kendra had 45 assists and 15 digs against the program her sister used to play for.
https://www.youtube.com/watch?v=3E9HgO11Qtw
https://www.youtube.com/watch?v=-acYjZ0xx-Y