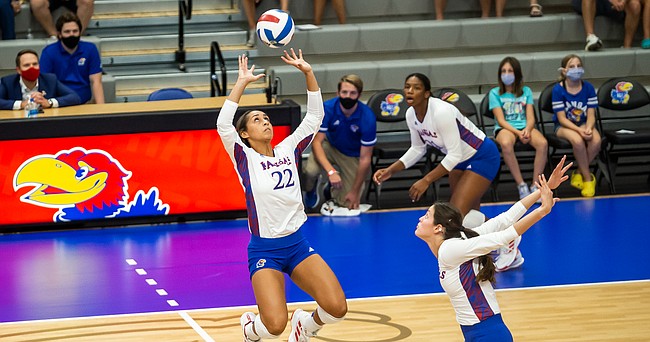 Everything super-senior hitter Jenny Mosser knows about Oregon from her days at UCLA tells her that the Ducks will be a tough out in the NCAA Tournament.
But Mosser and her teammates, who will face Oregon at 4:30 p.m. Thursday in the first round in Omaha, Neb., believe the Jayhawks are a tough out, as well.
Mosser called Oregon "a scrappy team" and said the Ducks (22-8) are the kind of program you can never think you've got beat. That approach, she added, would help the Jayhawks remain focused for every point, which has been their mantra for the past few weeks.
"It's a good reminder to stay disciplined," she said.
Regardless of Oregon's strengths and strong track record, sophomore middle blocker Caroline Crawford said the Jayhawks were simply looking forward the opportunity to do battle in the NCAA Tournament.
"Excitement's definitely a good word to describe how our team's feeling right now," Crawford said. "Personally, I'm pretty confident; and I'm pretty confident in how we'll play. We're calm and collected, but we're also excited and ready to compete."
On paper, the 19th-ranked Ducks are the favored team in this first-round matchup. Better record. Higher ranking. Lower RPI number. But Kansas (16-11) just spent the past two months playing against teams from the RPI's No. 1-ranked conference — seven of which made it to the NCAA Tournament — so the Jayhawks do not expect to be intimidated or overwhelmed by anybody.
"Coming from a Power 5 conference helps a lot," Mosser said. "You go in and I'm not too worried about the games that we're going to be playing because we played teams throughout the year that are just as good, sometimes even better. Knowing that seven of us got in was huge. I feel ready."
KU's effort in a five-set showdown with No. 1 Texas provided proof of their potential. The Jayhawks lost that night. And they were swept by the Longhorns the following day. But they took the first two sets in the opener and pushed UT to the wire with a fiery performance.
"Over an extended period of time, we (battled) point for point with them over two hours and 15 minutes," KU coach Ray Bechard said. "Other than their loss to Baylor, nobody else has done that."
Said Crawford of the confidence KU gained from that performance against the Longhorns: "That Texas match was super-significant because it really showed what our team can do and how we can play at the highest level and compete with the No. 1 team in the nation. So (we feel) we can compete with anybody."
While that confidence crept into their minds mid-season, the Jayhawks had to work their way through a losing streak to get to this point. Starting with the losses to Texas, KU dropped five matches in a row, and seven of eight, before regrouping to win four straight to close the regular season.
Through it all, Bechard said his team remained confident and focused on finishing in the top three in the Big 12 and earning a trip to the tournament.
"At some level, they were preparing for this," he said. "I know we didn't know (we were in) until we knew, but over the last few weeks we talked about being ready to practice and compete in December. That was the expectation this year going in."
Now that December has arrived and the Jayhawks have a match to get ready for, they'll take on an Oregon team known for its offensive punch.
"Offensively, they're pretty high-risk," Bechard said. "They fly around and they create a lot of patterns, which is a little bit different than what we've seen. And the physicality of their league is good, too.
"I'm sure they'll come in with something to prove, but hey, that's what the NCAA Tournament's about. We think it's a good matchup. The players mentioned one point at a time and taking care of what's going on on our side of the net and see where that leads us."
Big 12 Freshman of the Year, Caroline Bien, agreed and said the Jayhawks did not plan to make any drastic changes ahead of their first NCAA Tournament match.
"We focused on the motto, 'One point at a time,'" she said. "And that's kind of how it is going into this weekend because it really is all or nothing. You win or you're done."
"We focused on the motto, 'One point at a time,'" she said. "And that's kind of how it is going into this weekend because it really is all or nothing. You win or you're done."
The winner of KU-Oregon will advance to Friday's second round to face the winner of the Ole Miss-Creighton matchup.
Creighton is the No. 14 overall seed in this year's tourney and one of 16 host schools for Rounds 1 and 2.