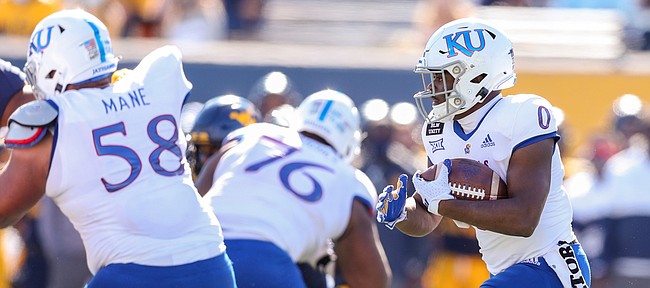 The first published Kansas football depth chart of the Lance Leipold era, as expected, didn't reveal the Jayhawks' starting quarterback for their Week 1 opener.
When the program released its two-deep on Monday morning, the QB spot listed senior Miles Kendrick, sophomore Jalon Daniels and junior Jason Bean as starting candidates.
So how close is Leipold to naming the No. 1 QB for Friday's season debut versus South Dakota?
"Closer than we were the last time we talked," Leipold joked on Monday, during his press conference. "We're getting there. And whether or not we'll announce it publicly before kickoff is still to be determined. But it's working in that direction."
The only other position where competition for the starting job remains ongoing is at right tackle, where redshirt freshmen Bryce Cabeldue and Michael Ford Jr. were listed as options.
Regardless of which young tackle starts against South Dakota (7 p.m., Friday, on ESPN+), KU O-line coach Scott Fuchs said recently he doesn't feel like he has to rely solely on one of them.
"If both of those guys should be playing," Fuchs said of Cabeldue and Ford, "then both of those guys are going to play."
The rest of the offensive line appears set, with senior Earl Bostick Jr. at left tackle, super-senior Malik Clark at left guard, former Buffalo starter Mike Novitsky at center and former Notre Dame walk-on Colin Grunhard at right guard.
At the other skill positions, the initial depth chart listed the following players as starters: junior Velton Gardner at running back, super-senior Kwamie Lassiter II as a slot receiver, sophomore Trevor Wilson (Buffalo transfer) as the X-receiver and sophomore Steven McBride as the Z-receiver. Junior Mason Fairchild was listed as the first-string tight end.
There were no starting spots for the defense left unresolved on the depth chart.
Here's a look at the first-stringers for each position group:
• Defensive line: super-senior D-end Kyron Johnson, super-senior tackle Sam Burt, senior tackle Caleb Sampson and senior D-end Malcolm Lee.
• Linebackers: super-senior Nate Betts, junior Gavin Potter and sophomore Taiwan Berryhill.
• Defensive backs: sophomore cornerback Duece Mayberry, super-senior safety Ricky Thomas, junior safety Kenny Logan Jr. and redshirt sophomore corner Ra'Mello Dotson.
2nd string
The backups on KU's offensive line include some veterans with recent starting experience. Super-senior Chris Hughes is listed as the second string left guard and super-senior Adagio Lopeti is behind Novitsky at center.
At right guard, though he doesn't have the game experience of Hughes and Lopeti, senior Joey Gilbertson is one possible sub for Grunhard.
Elsewhere, the O-line reserves are trending younger, with true freshman De'Kedrick Sterns at left tackle and sophomore Armaj Reed-Adams at right guard (listed with Gilbertson).
The new depth chart listed redshirt freshman Amauri Pesek-Hickson as the No. 2 running back and redshirt freshman Trevor Kardell as the backup tight end.
The second-string receivers are sophomore Torry Locklin (slot), redshirt freshman Lawrence Arnold (X) and sophomore Luke Grimm (Z).
On the defensive line, the reserves included two notable veteran tackles who used to play at Buffalo: both Eddie Wilson and Ronald McGee were listed as potential backups for Sampson.
At the other tackle spot, sophomore Kenean Caldwell is a backup. At D-end, senior Hayden Hatcher and sophomore Jereme Robinson appeared on the second string.
KU's linebacker reserves also featured a former UB player, junior Rich Miller. The middle linebacker spot, where Potter plays, could be backed up by either senior Jay Dineen or junior Nick Channel. Redshirt freshman Krishawn Brown was behind Berryhill on the two-deep.
In the secondary, the backups are almost all freshmen, with graduate transfer corner Jeremy Webb the one exception. Freshman Jacobee Bryant is the other No. 2 corner and both backup safeties — Jayson Gilliom and O.J. Burroughs — are true freshmen.
Special teams
The Week 1 depth chart didn't come with any surprises on special teams. Sophomore Jacob Borcila is slated to kick field goals and extra points, sophomore Reis Vernon returns as the first-string punter and sophomore Tabor Allen will handle kickoffs.
The long snapper entering the season is Luke Hosford, a sophomore. Vernon will also serve as a holder with the specialists.
The Jayhawks have some options with their returners on special teams. The depth chart listed Lassiter first at punt returner, followed by Trevor Wilson. At kick returner, Logan is listed first, with Grimm behind him.