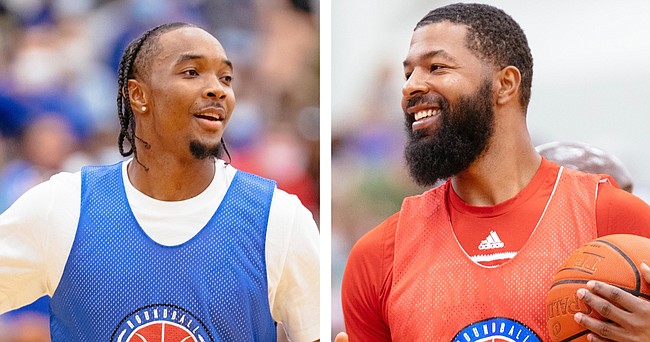 On a night when some of the best shooters in recent Kansas basketball history lit up the nets and delighted the crowd at the Rock Chalk Roundball Classic, it was a player who made just 38 triples in his 3-year KU career that stole the show.
Markieff Morris, who recently signed with the NBA's Miami Heat, knocked in seven 3-pointers to help lead the Red team to a 108-97 victory over the Blue squad in Brian Hanni's annual charity hoops showcase at Free State High.
"I'm still waiting for my MVP trophy," a jovial Morris joked after the victory. "I feel like I should get something for that."
Photo Gallery
2021 Rock Chalk Roundball Classic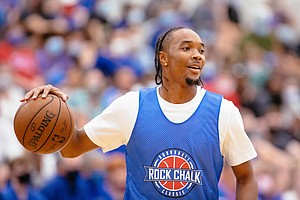 Images from the 2021 Rock Chalk Roundball Classic on Aug. 5, 2021 at Free State High.
What he got was bragging rights. Not only over 15-20 former Jayhawks on the Blue team, but most notably over his brother, Marcus Morris, who scored 15 points — on five 3-pointers — in a losing effort.
Before the game, as the 33 players who participated in this year's event were introduced, Markieff Morris was referred to as a recent world champion for his role in helping the Los Angeles Lakers win it all in 2020.
"That sounded good," the 10-year NBA veteran and 34.1% career 3-point shooter said. "I said they better introduce me as a world champion. That better come after my name from here on out."
Thursday's appearance in the Roundball Classic was the first for Markieff and his brother. When asked why they made the trip back to Lawrence for this one, Markieff said it was time.
"You've got to come back and show your face," he said. "Once we found out we could make it, we started reaching out to everybody, making sure everybody could come back. We need to do this more. At least once or twice a year."
The Blue team opened the game with six consecutive 3-pointers before the Red team responded with a 16-0 run to push ahead 27-18.
By halftime, the Red team had a commanding 65-52 lead and that cushion never dipped below eight points the rest of the night.
Devonte' Graham scored 19 to lead the Blue squad and Mario Little chipped in 18, on six 3-pointers, including three in a row to open the game.
Midway through the first half, former KU guard Devonte' Graham hit a sweet 3-pointer over Mykhailiuk to give the Blue team a 32-29 lead. On the next possession, Mykhailiuk wanted revenge and got it — Sort of.
After Graham forced him to his left, Mykhailiuk banked in a 3-pointer off the glass.
The exact same thing happened about 10 minutes later, this time with Graham pulling up from just across halfcourt for his swish and Mykhailiuk getting a friendly roll after the bank on his.
Earlier, there were a couple of memorable showdowns between the Morris twins that led more to laughter than stats on the stat sheet.
At halftime, between moments of donations and celebrations, Mykhailiuk and Graham squared off in a rematch of last year's Shooting for the Stars matchup. Graham defeated his best friend in the virtual in 2020.
And he did it again on Thursday night, knocking in 18 of 25 shots to power past Mykhailiuk, who made 15.
Graham made his first nine shots of the competition and passed his pal on the fourth of five racks.
"I was hot, right," Graham said of his showing in the halftime shoot-off. "They told me it was because of my new deal and that I came out here excited."
That new deal, which will send Graham from Charlotte to New Orleans, will be worth $47 million over the next four years.
After the game, when he was reminded of the nine consecutive makes, Graham joked, "I've always been a better shooter than Svi."
As for his reason for participating in this year's game, Graham said
"That's coach Self's motto: It's always bigger than you and you've got to give back. This place means the world to all of us and we (like to) come back and show the love and support that they showed us."
The fact that Thursday's event went to help three local families of children fighting pediatric cancer made it all the more meaningful.
"This event is a special one," Graham said. "And it's more about what we got (out of this). They're the most courageous, strong individuals and it changes the way you look at life. … You see what these kids are going through and it makes you take a step back and realize just how grateful you should be and how powerful and strong they are. They affect a lot of people and I love being around this event.'
Red 108, Blue 97
Red Team: Tyshawn Taylor 19, Svi Mykhailiuk 8, Markieff Morris 21, Ben McLemore 16, Billy Thomas 9, Elijah Johnson 15, Travis Releford 5, Danielle McCray 9, Natalie Knight-Johnson 2, Clay Young 2, Brandon McAnderson 2.
Blue Team: Sherron Collins 9, Devonte' Graham 19, Jeff Graves 7, Marcus Morris 15, Tyrel Reed 12, Cole Aldrich 8, Mario Little 18, Ron Kellogg 5, Todd Reesing 4, Carolyn Davis 0, Derek Fine 0, Russell Robinson DNP, Brady Morningstar DNP.