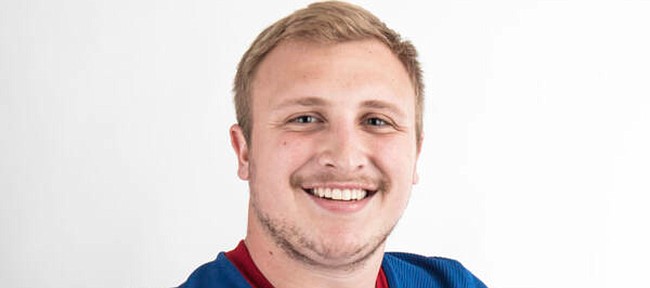 A Kansas football team that had to rely on a flawed offensive line throughout the 2020 season is about to find out what adding one of the nation's better centers can do to help remedy the problem.
Mike Novitsky, the starting center at Buffalo for each of the past two years, was one of several former Bulls to follow head coach Lance Leipold from the MAC to the Big 12. In his final season at UB, Novitsky made Pro Football Focus' list of the 101 best players in college football.
Now a 6-foot-5, 295-pound junior heading into his debut season with KU, Novitsky landed at No. 93 on PFF's list and was the top-graded Group of Five center in the nation, with an overall grade of 88.3 for 2020.
Leipold recently shared a little about what he thinks makes Novitsky so effective at the point of attack.
"He's very technique sound," KU's head coach began, adding Novitsky possesses athleticism at the position with his background as a high school tight end.
Before Novitsky transformed into a first-team All-MAC center at UB, the prep tight end from Victor, N.Y., Leipold said, had no problem being recruited as an O-lineman, even though the coach noted it can even be hard to find high school tight ends who want to play as blockers instead of passing targets.
"He's embraced it. He's got a smile on his face each and every day," Leipold said of Novitsky.
The veteran center who redshirted with Buffalo in 2018 before taking over the starting center spot, Leipold added, possesses good footwork and studies the game. Those and the aforementioned attributes, according to the coach, give Novitsky the chance to be a "pretty darn good" center for the Jayhawks.
Since officially joining the roster this summer, Novitsky has impressed his new teammates. Veteran receiver Kwamie Lassiter II said Novitsky immediately stepped up and showed that he can and will be a leader for the team.
KU's O-line encountered numerous issues in 2020, including a lack of continuity at center, where four different players — Adagio Lopeti, Api Mane, Chris Hughes and Garrett Jones — started at least one time in a nine-game season. Lassiter thinks Novitsky is "really helping that group out" already this summer.
"He came from the offense that we're in," Lassiter said of Novitsky's experience not only with Leipold, but also offensive coordinator Andy Kotelnicki and O-line coach Scott Fuchs. "So I do see improvement on that O-line, and that helps a lot."
Whenever Novitsky's name has come up this summer, his head coach has quickly brought up the notion that the veteran with two years of starting experience at UB knows that it will be different for him as a transfer at KU than it would've been as a returning first-stringer with the Bulls. Per Leipold, throughout the past three years Novitsky has embraced everything the head coach and his staff emphasize with their program.
"Mike knows he has to come in here and earn his starting position," Leipold said, "and it's not going to be handed to him."