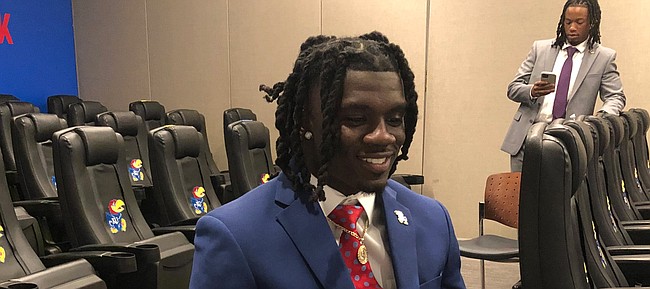 Back home in St. Augustine, Fla., over the Independence Day holiday weekend for a brief getaway from the grind of Kansas football's summer workouts, veteran defensive back Kenny Logan Jr. made sure to stay in touch with someone whom he met only a couple of months earlier.
Sure, Logan was on vacation. But that didn't mean he was going to stop texting — or even FaceTiming — with head coach Lance Leipold.
Complete strangers before KU hired Leipold to take over its struggling football program, Logan made sure to change that once the former Buffalo head coach arrived in Lawrence. Leipold said the junior safety was one of the first players to stop by his office.
"That's just the type of guy I am," Logan said of his desire to make an early impression. "So I just wanted to come in and just build a relationship with Coach Leipold early, just to let him know: I'm here, I'm one of his guys. And just to make sure he believes in me."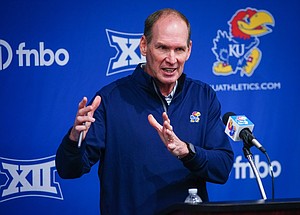 Their visits, whether in person inside Leipold's office, around the team's facilities or via iPhone, quickly became part of both the player's and the coach's daily routine.
Entering his 15th season as a head football coach, Leipold said Logan's initiative and the conversations that followed showed that the KU defense's leading tackler in 2020 also is a "caring young man."
When the two first formally met in early May, the coach wanted to present Logan with the same questions he would go on to ask of every player on the roster: What do you think the program needs? What do you like and dislike about the program? The coach wanted to have a solid understanding of what all of the players had been through before he took over.
Those discussions with Logan quickly evolved, though, beginning with the moment the safety walked into his new head coach's office and saw a blue KU football jersey with a No. 1 — Logan's number — on it. The jersey was a prop that KU ended up not using for Leipold's introductory press conference in early May.
The jokes soon began to fly.
"We were just debating if it was going to say Leipold on the back or Logan," KU's head coach shared.
That No. 1 jersey turned out to be a great icebreaker for the two of them. And from then on Logan became a regular visitor to Leipold's office.
"I go into his office and clown with him every day, even though he may not be in the best of moods. But I just try to go in there and just have fun," a grinning Logan said.
If the junior defensive back senses something may have his coach in a less than optimal mood, Logan takes it upon himself to break Leipold out of it.
"I just mess with him, give him all type of jokes, saying the stuff that I know is gonna bother him," Logan said. "But it's all good. It's all love."
Pretty much anytime Logan steps foot inside the team's facilities, he makes a stop by Leipold's office for a chat. If Logan doesn't happen to see his head coach on a particular day, he still winds up talking to him.
"I'll call him when I'm at home just to check up on him, just to see him smile," Logan said of their frequent FaceTime calls. "I tell him all the time when he's got a little frown on his face, I say, 'Coach, you've gotta smile more often.'"
Leipold doesn't mind heeding that advice. As he tells Logan, those furrowed brows are just the coach's "game face."

"That's something I probably need to embrace sometimes," Leipold said of Logan's pointers on smiling, which came up often, the coach added, when KU in July was unable to travel to Texas for the Jayhawks' scheduled appearance at Big 12 media days. "My facial expressions probably don't tell the whole story."
Leipold likes that Logan can have some fun with the head coach but also knows "when it's time to get down to work."
"He cracks me up each and every day to be honest with you," Leipold said, "in a good way."
It's not that Leipold is in a bad mood before their encounters, Logan recognizes. The veteran safety said that his coach's game face shows up when he has a lot on his mind. That's when Logan sees it as his job to step in.
"Coach, relax just a little bit," Logan said he often recommends. "It'll be all good."
And from Logan's perspective, Leipold generally follows those suggestions.
"Sometimes I have to remind him," Logan noted. "But as soon as I do he puts a smile on his face and he keeps moving."
As the Jayhawks later this week launch into preseason camp and the first practices of the Leipold era at KU, the new head coach has a veteran team leader in Logan firmly on his side.
Over the course of the past few months, their connection has developed to a point where they essentially converse every day, be it in person, via text or over their multiple FaceTime calls per week.
Their talks, Leipold said, often include friendly reminders from the coach to the player, too. KU's coach will prompt Logan to maximize his time in the weight room and make sure to give his body plenty of rest and recovery, too.
"Heck, I'll even text him when I'm going to bed at night because I'm going get my eight hours of sleep," Leipold said. "I tell him good night and I hope he's doing the same. We kind of have a good time with that."