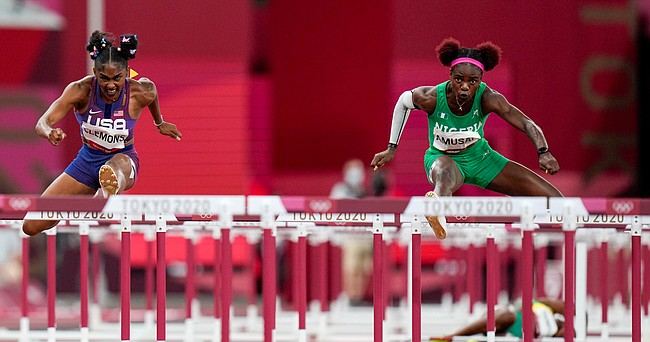 Former Jayhawk star Bryce Hoppel and current KU assistant coach Christina Clemons both fell short of the finals in their track and field events at the Tokyo Olympics on Sunday.
Hoppel, who has been one of the top runners in the world in the 800-meter run during the past couple of years, ran a tough race and was in the pack all the way to finish line. But he finished fifth in his heat and 15th overall in his signature event.
Hoppel's time of 1:44.91 was more than a half second faster than his time in the qualifying round that earned him a spot in the semifinals. But it left him on the outside looking in against a tough field.
"Wasn't quite the way I envisioned my first Olympics," Hoppel tweeted shortly after the race on Sunday morning. "But luckily we're not done yet."
Hoppel's time at these Olympic Games is over. But, before heading to Tokyo, the former KU star shared his vision of the future while previewing his Olympic debut.
Of course, his goal was to bring home a medal in 2021. But the way Hoppel sees it, this summer will not be his only shot at winning one on the Olympic stage.
"I think I have a few Olympics ahead of me in my career," said the 23-year-old Midland, Texas, native.
Clemons places 14th in 100 hurdles
Like Hoppel, Clemons also improved her time in the semifinals, but the 12.76-second dash in the 100 hurdles was not quite enough to reach the finals, which were run later in the day on Sunday.
Clemons, who ran track at Ohio State and is now a member of Stanley Redwine's coaching staff, finished 14th in her signature event.
After making a name for herself by racing while wearing Cool Ranch Doritos earrings at the U.S. Olympic trials in early July, Clemons rocked what appeared to be individual tortilla chip earrings during Sunday's semis.
Dudarev bows out in qualifying
KU's Gleb Dudarev, competing for Belarus, also saw his time in Tokyo come to an end on Sunday, as he finished 27th overall in the hammer throw.
Dudarev, a senior during the 2021 track season, was making his Olympic debut.
Dudarev and Hoppel both were vying to make it to finals in their events on Wednesday, but both came up short, ending KU's run at the Tokyo Games.
In all, five Jayhawks, along with Redwine (as an assistant coach on Team USA), made the trek to Tokyo for the 2020 Summer Olympics that were delayed one year because of the COVID-19 pandemic.
Despite not bringing home any medals, the mere fact that so many competitors with ties to KU competed on the world's biggest stage as something that Redwine said would help the program immensely in the years ahead.
"From a recruiting perspective, I think it's huge with us as coaches walking through the door," Redwine said during an Olympic preview press conference in early July. "From a team perspective, when the team is looking at their coach and wanting to know what to do, I think it's uplifting for them to know that they truly believe in their coach."