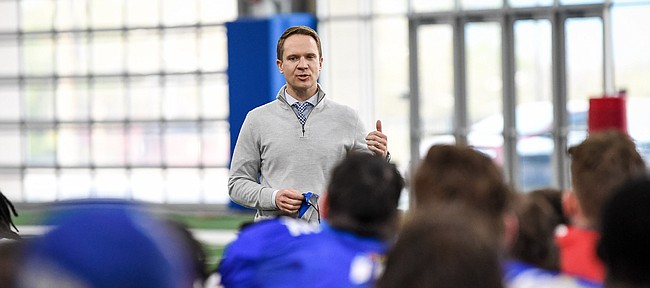 The Kansas football program might have a new head coach lined up by the time the Jayhawks kick off their spring game on Saturday night.
According to reports, KU Athletic Director Travis Goff's nationwide search for the position has narrowed down to four names.
Both ESPN's Adam Rittenberg and CBS Sports' Dennis Dodd reported KU is most interested in Buffalo head coach Lance Leipold, Army head coach Jeff Monken, Louisiana Tech head coach Skip Holtz and Texas A & M defensive coordinator Mike Elko.
Dodd identified Monken and Leipold as the favorites and reported a decision could be reached as soon as Wednesday or Thursday.
Goff's initial round of interviews began this past week, before the reported finalists emerged.
Leipold has been the head coach at Buffalo since 2015, putting together a 37-33 record over the past six seasons. Each of Buffalo's previous three campaigns concluded with a bowl game.
Monken took over at Army ahead of the 2014 season. In seven years under Monken, the Black Knights are 49-39. Army has gone 3-1 in bowl games in the past five years, as well.
An FBS head coach for 16 seasons, Holtz has spent the past eight years at Louisiana Tech, going 61-41 with seven consecutive bowl berths and a 6-1 mark in those postseason games. Prior to that, Holtz went 16-21 at South Florida from 2010-12 and 38-27 at East Carolina from 2005-09.
Elko has spent the past three seasons as the defensive coordinator and safeties coach at Texas A & M, in the SEC. Previously, Elko also served as the defensive coordinator at Notre Dame, Wake Forest, Bowling Green and Hofstra.
The Jayhawks, led by interim head coach Emmett Jones throughout the spring practice schedule, are set to play their spring game at 6 p.m. Saturday at David Booth Kansas Memorial Stadium (ESPN+).