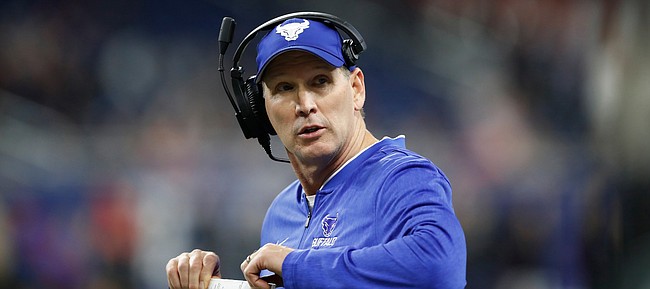 As the search for the next head football coach at the University of Kansas comes closer to a conclusion, the Lawrence Journal-World is taking a look at some of the potential candidates to lead the Jayhawks into the 2021 season.
What might make a certain contender appealing to Travis Goff, as KU's athletic director tries to identify the right person for the job?
Here's an overview of three selling points Lance Leipold has to offer.
Track record of winning
No, the Buffalo head coach hasn't yet led a Power Five program. But it seems like it's only a matter of time before that happens for Leipold, and the Jayhawks happen to be in the market for a head coach who can win college football games.
After six seasons with the Bulls, Leipold has a record of 37-33 (.529) at the FBS level. It's what he did before he got his big break that's more impressive, though.
As the head coach at Wisconsin-Whitewater from 2007-14, Leipold went 109-6 and won six NCAA Division III national titles. He was the Division III coach of the year six times and set an NCAA record in reaching 100 career wins faster than any head football coach at any level.
At Buffalo, the Bulls have now played in three consecutive bowl games. In the 25 years previous to Leipold's arrival, the program made two bowl appearances.
Leipold turned Buffalo program around
It took a couple of years for him to lay the groundwork, but before long the Bulls became one of the MAC's best programs under Leipold's guidance.
Buffalo went 5-7 in Year 1 and 2-10 in Year 2, but since then the Bulls have finished .500 or better each season.
From 2017-20, Buffalo went 30-16, giving it more wins in that span than any team in its conference.
Years 4-6 for Leipold at Buffalo all have concluded with a bowl appearance, and the 2020 season (the Bulls finished 6-1) might have been particularly impressive had the pandemic not shortened the schedule and limited the regular season to six games.
Bulls' offense is thriving
With Leipold's longterm plan in place and effective, Buffalo's offense produced eye-popping numbers in 2020. The Bulls averaged 478.4 yards per game (18th among all FBS teams) and 7.33 yards per play (sixth in the country) while putting up 43.4 points per game (fifth nationally).
Much of that success came on the ground, with Buffalo posting 287.4 rushing yards a game (second in the FBS, trailing only Air Force) and 6.71 yards per carry (No. 1 in the nation).