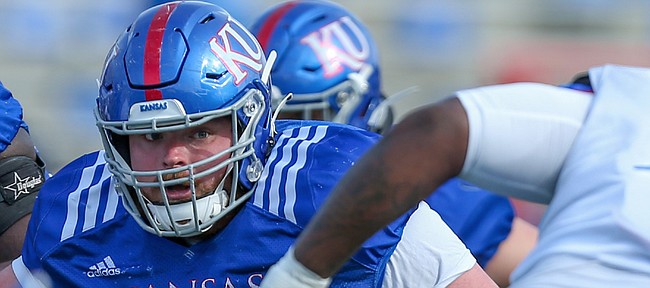 Throughout a winless 2020 season, the Kansas football team's offensive line suffered through so many losing battles at the point of attack that the Jayhawks rarely were able to avoid blowout defeats.
While no one is denying those issues existed, the hope among KU's O-linemen this year is that they can keep all of that ugliness in the past.
"It's a new unit, new coach, new offense — everything's new," said junior center Colin Grunhard, a new addition himself, as a graduate transfer from Notre Dame. "So I think a lot of guys are trying to put that behind us."
KU surrendered an FBS worst 5.22 sacks a game while going 0-9 last year. The 47 total sacks allowed also ranked dead last among the 127 programs that competed in 2020 — and more than 50 of the teams that fared better played between 10 and 13 games.
"We're going to learn from it. We understand we can't give up sacks like we did," said Grunhard, who didn't join the program until this semester. "We're going to play to the best of our ability. And we're going to give time for our quarterback — that's the biggest thing."
Super-senior Chris Hughes was around to experience KU's O-line troubles firsthand. Hughes started the first five games of the year at right guard and even made a spot start at center in the sixth game on the schedule out of necessity, when the O-line's depth was decimated due to injuries and COVID-19 protocols.
Hughes, a 6-foot-4, 318-pound O-lineman, also saw members of his group play without him the final three games of the year, when he was sidelined by an injury.
According to Hughes, the group is making strides this spring during the team's closed practices.
"I'm loving what I'm seeing, first and foremost," Hughes reported. "We're working crazy hard, man. It's kind of hard to put it into words. Even from the young bucks, everybody's buying in and just completely committed to working hard, committed to getting better. Picking one thing every day and working as hard as they can to fix that one thing."
The position group has a new assistant leading it this year, with Lee Grimes coming in this offseason to replace the fired Luke Meadows. Once Grimes got to KU, he began watching video from last season, so he could evaluate the returning players.
"Ability wise, it's there," Grimes said during his introductory media interview in February, ahead of spring practices.
"Whether it was a breakdown in their mental capacity or the communication, whatever it may have been, the ability — the physical ability of those guys — it's impressive," Grimes said.
The O-line coach at Charlotte in 2020, Grimes played at Texas A & M from 2005-09 and worked for the Aggies as a grad assistant and senior offensive analyst before joining the Charlotte staff.
Grunhard described Grimes as a good coach with whom the players enjoy working.
"He keeps us engaged in the meetings," Grunhard shared. "He has fun with it and he really focuses on getting us better — teaching us our specific job on a play, for example, and then kind of bringing it to the whole broader offense and understanding what we do in the grand scheme of things, which really helps out."
Hughes said Grimes has hit it off with the returning O-linemen, as well.
"I love that guy," Hughes said. "He's a hard worker. He's a true players' coach. You can tell if he could take a helmet and play he would. He would play, and I love that."
During spring practices, Hughes said the linemen see their coach putting in just as much effort as they do.
"He's so creative and so willing to adapt to different players' strengths and weaknesses," Hughes said, "and getting the best players out there and getting the best out of every player."
Such improvements are noticeable to the offensive players who lineup behind the blockers. Redshirt freshman Amauri Pesek-Hickson declared KU's O-line is "going to be good" in 2021.
"The O-line's really aggressive," Pesek-Hickson added, saying the linemen are understanding their protections and the fronts they're facing, and know where they need to go. "They're coming along really well."
While Grunhard, a walk-on at Notre Dame, is a significant addition to KU's O-line, the Jayhawks also are bringing back the majority of last year's group.
The unit features three super-seniors in Hughes, Malik Clark and Adagio Lopeti, two seniors in Earl Bostick Jr. and Joseph Gilbertson, three juniors in Grunhard, Jacobi Lott and Nick Williams and two sophomores in Armaj Adams-Reed and Jack Werner.
Additionally, KU was able to redshirt a slew of O-linemen in 2020: Bryce Cabeldue, Garret Jones, Nicholas Martinez, Jackson Satterwhite, Joe Krause, Danny Robinson and Ronaldo Sigers.
This spring, two true freshmen already are on campus and practicing for the O-line, as well: De'Kedrick Sterns and Larson Workman.
Sophomore defensive end Marcus Harris said he has noticed improvements from the group during spring practices.
"They're coming together as one," Harris said. "They've got a couple of young guys and a couple of veterans. It's a good mix between young and veteran."
On several occasions last fall, while discussing the O-line's struggles, then head coach Les Miles, as well as some players, brought up how much the lack of spring football in 2020 hurt the group's progress.
After the pandemic robbed the Jayhawks of that crucial portion of the offseason, Hughes said the big blockers up front consider the current spring practice schedule "essential" as the O-linemen address their techniques.
"Spring ball is not so much about clanking heads, but it's more about, 'What are my steps looking like? Where's my leverage? Where are my eyes supposed to go on every play?' It's about finding those small, minute things that some people may forget about and getting those things right," Hughes said.
"So that way when we get into the fall and we get into the season, it comes natural," Hughes went on. "We can learn more sophisticated things when we get into the fall and get into the season. We don't have to go back over stuff. Everything's just second nature, ready to roll."
KU O-linemen on 2021 spring roster
Super-seniors
• Chris Hughes, 6-4, 318
• Malik Clark, 6-4, 323
• Adagio Lopeti, 6-4, 307
Seniors
• Earl Bostick Jr., 6-6, 290
• Joseph Gilbertson, 6-4, 305
Juniors
• Colin Grunhard, 6-1, 290
• Jacobi Lott, 6-4, 324
• Nick Williams, 6-8, 290
Sophomores
• Armaj Adams-Reed, 6-5, 391
• Jack Werner, 6-2, 283
Redshirt-freshmen
• Bryce Cabeldue, 6-6, 282
• Garrett Jones, 6-2, 307
• Nicholas Martinez, 6-5, 318
• Jackson Satterwhite, 6-5, 285
• Joe Krause, 6-3, 313
• Danny Robinson, 6-5, 332
• Ronaldo Sigers, 6-4, 338
Freshmen
• De'Kedrick Sterns, 6-4, 272
• Larson Workman, 6-5, 265