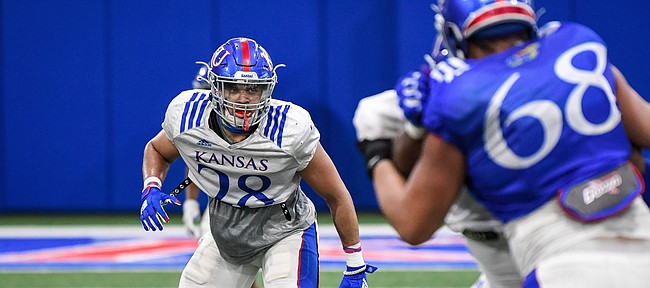 The Kansas football defense could end up relying a lot on a pair of relatively new inside linebackers this year.
Between former safety Nate Betts switching positions during the offseason and Taiwan Berryhill moving inside late during his freshman year, the Jayhawks hope those two can bolster a group that also includes junior Gavin Potter, junior Nick Channel, senior Jay Dineen and redshirt freshman Krishawn Brown.
"We're coming along," Berryhill, a sophomore from New Orleans, said of the group's progress this spring, adding it helped that the players came in well conditioned. "We're starting to get used to the defense, getting more comfortable. Every day we're getting better, day by day."
As a true freshman in 2020, Berryhill didn't play at all during KU's first four games. But as the linebacking corps became depleted, the Jayhawks needed him late in the season, so much so that he ended up starting in the finale at Texas Tech.
He was still new to playing inside linebacker at the college level — and adjusting on the fly — at that point. But Berryhill told reporters this week that he feels much more confident in his role now, a few weeks into spring practices.
"I've grown as a linebacker," Berryhill said.
Super-senior Kyron Johnson referenced such advancement when describing the development of KU's young linebackers earlier this spring.
Johnson, who plays outside, said Berryhill, Brown and redshirt freshman outside linebacker Alonso Person are still in the learning stages of their careers.
"They're inexperienced, so they don't — I wouldn't say they don't know the concept, but they have to get the experience in, in order to know how to play the game," Johnson explained. "Right now, going in, you can tell they're getting the feel of it. It's basically how I looked like when I was a freshman or a sophomore. I didn't know what I was doing. I was just going with the flow of things, watching the dude ahead of me."
Berryhill, listed at 6-foot-2 and 220 pounds, reported that the linebackers as a whole have caught on to more concepts and shown improvement during the team's closed practices.
"We're getting in sync with the defense," he said. "We're starting to understand the position a little bit more — better than what we used to last year."
Among the linebackers, Berryhill pointed to Betts, a super-senior who played in the secondary a year ago, as an impressive teammate.
"The very first practice team period," Berryhill recalled, "(Betts) caught a pick and he tipped a pass, and that caused a pick, too."
Similar to Berryhill, Betts became a more regular contributor to the defense late in the 2020 season. And while his production may be needed this coming year, Betts said he will define his success in a different way.
"Helping everybody around me get better," he said of his primary goal. "If I can help everybody around me get better, I will get better myself."
Betts made 25 total tackles last year, and Berryhill finished with five.
In the first start of his college career, Berryhill suffered an ugly injury in the first quarter at Texas Tech this past December. The young linebacker and safety Kenny Logan Jr. accidentally hit each other while trying to finish a tackle. Logan hit Berryhill's head on the play and Logan's head awkwardly rammed into the lower body of a Red Raider. Neither was able to return and Berryhill had to be taken off the field on a stretcher.
Speaking with reporters this spring for the first time since the collision, Berryhill said he hasn't had many reasons to think about the short term injury in the past several months.
"It was a scary moment at first, but I knew that I was fine," he said. "So I just looked past it, looked forward."
For Berryhill, part of his ambitious approach applies to personal goals, too, as he hopes to become an impactful inside linebacker for KU.
"I want to dominate," he said, "so when people come to the game, people are like, 'Oh, who that is?' My goal is just to dominate and have fun every day."
KU linebackers on 2021 spring roster
• Nate Betts, 6-1, 204, super-sr.
• Gavin Potter, 6-2, 222, jr.
• Taiwan Berryhill, 6-2, 220, so.
• Krishawn Brown, 6-1, 206, RS-fr.
• Nick Channel, 6-0, 214, jr.
• Jay Dineen, 6-2, 232, sr.
Listed as outside LBs
• Kyron Johnson, 6-1, 233, super-sr.
• Steven Parker, 6-4, 222, so.
• Alonso Person, 6-3, 210, RS-fr.
• Hayden Hatcher, 6-2, 225, sr.
• Dylan Downing, 6-1, 235, so.