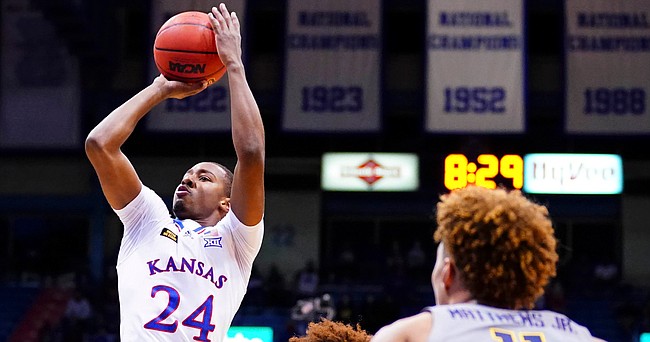 Kansas freshman Bryce Thompson on Tuesday became the latest and biggest now-former Jayhawk to announce his intention to enter the transfer portal.
A former five-star prospect out of Tulsa, Okla., Thompson was the gem of KU's 2020 recruiting class. But his freshman season at Kansas was plagued by injuries and he never found the kind of rhythm that Kansas coach Bill Self said he believed he would have without the injuries.
In addition to a back injury that kept him out for a few weeks, Thompson broke his right index finger in his first game back from the back injury.
As a result, Thompson appeared in just 20 games for the Jayhawks during the 2020-21 season, averaging 4.6 points, 1.5 rebounds and 1.1 assists in 17.1 minutes per game.
Thompson announced the news himself on Twitter, shortly after the release of a report from Eric Bossi of 247 Sports.
"While it was a difficult year for many reasons, I am thankful to have had the opportunity to play at the University of Kansas," Thompson said in his tweet. "Thanks to coach Self and his staff, the doctors, trainers, my teammates and the fans for your support all season long."
A source close to the situation told the Journal-World on Tuesday morning that Thompson was headed to Tulsa, but his next stop remains to be revealed.
The 6-foot-5, 188-pound combo guard from Booker T. Washington High in Tulsa, chose Kansas over finalists Oklahoma, Oklahoma State and North Carolina.
"After talking to his family, Bryce let us that he was going to enter the transfer portal," Self said in a news release on Tuesday afternoon. "I know Bryce had a tough freshman season with injuries, but I enjoyed coaching him this year through the ups and downs. We wish nothing but the best for the entire Thompson family moving forward."
Thompson becomes the fifth player from KU's 2020-21 roster to enter the transfer portal this offseason. And when you combine that with the decisions by Ochai Agbaji and Jalen Wilson to test their NBA draft stock and the likely departure of senior guard Marcus Garrett, KU could be facing the return of just four scholarship players from its 2020-21 roster — Christian Braun, David McCormack, Dajuan Harris and Mitch Lightfoot.
Self and his coaching staff already have added reinforcements. Four of them are expected to sign with the Jayhawks this week and two others — Class of 2021 prospects K.J. Adams and Zach Clemence — signed with the Jayhawks last November.
In addition to those six, the Jayhawks remain in the mix for a few prospects of their own, most notably prep guard Ty Ty Washington and Creighton transfer Christian Bishop.
KU currently has two open scholarships with Thompson's departure and could have more if either Agbaji or Wilson stay in the draft. Both players have until July to make a decision about their futures.