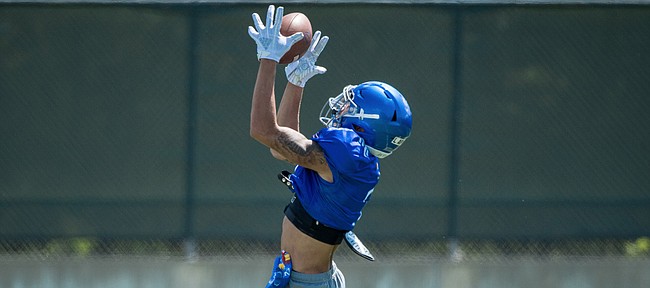 The hope leading up to the 2020 season was that Lawrence Arnold, even as a true freshman, would take on a complementary role within the Kansas football offense sooner rather than later. An injury to the young receiver, however, kept Arnold sidelined much of the schedule, hindering his chances of breaking through.
Now with months of rehab for a surgically repaired shoulder behind him, Arnold said he feels "100%" this spring, as the 6-foot-3 wideout from DeSoto, Texas, looks to resume his track toward contributing.
Arnold actually started KU's Big 12 opener at Baylor and caught at least one pass in each of his first three games at the college level before tearing a labrum and missing the final five games of the shortened nine-game season.
Even when he wasn't able to play, though, Arnold said he found that time to be "a learning process," as he picked up tips and receiving wisdom from veterans in his position group, such as Andrew Parchment, Stephon Robinson Jr. and Kwamie Lassiter II.
"They were teaching me the game, teaching me how to develop and everything, read coverages," Arnold told reporters this past week, while reflecting on his abbreviated debut season.
His final stat line for 2020 included just six receptions for 45 yards, but the Jayhawks are likely to need much more from Arnold in what will be his redshirt freshman season.
Interim head coach Emmett Jones, who also recruited Arnold to KU and is his position coach, said already this spring the second-year receiver looks stronger, and actually taller, too.
Jones said Arnold is understanding the KU offense, as well, which will be crucial, considering the plans new offensive coordinator Mike DeBord and Jones have in store for him.
"We're going to do some things with him to constantly create mismatches," Jones said, "and take advantage of that long length."
Even back in preseason camp this past August, weeks after he first got to Lawrence, teammates raved about Arnold's ability to go up and snag passes out of the air, giving the already tall target an even greater catch radius.
Jones loves that about Arnold, too, and said the athletic target has good hands, can go up and get the ball and described Arnold's total skill set as "out of sight."
"You'll see him outside, you'll see him inside," Jones said of where Arnold can line up in various formations. "One thing about Lawrence, he takes pride in putting his nose in somebody's face when it comes to perimeter blocking. So we'll move him around at times and create some mismatches."
After spending so much time observing this past season, Arnold is eager to become involved again.
"I'm just ready to get out there and put my all back into it," he said of his approach this spring.
While Arnold admits his injury set back his anticipated trajectory, the three-star Class of 2020 recruit still has four seasons of eligibility in front of him at this point, and the games he missed ultimately might have done him some good.
"I just feel like it gave me more time to get ready to grind, really," Arnold said, "just put the work in for it."
Plus, his approach during his rehab and the ongoing buildup toward the 2021 season is coming from an informed place, because Arnold was playing immediately before suffering a shoulder injury.
Looking back on the four games in which he was actually able to play, Arnold said the speed and energy of the competition stood out to him most, having grown used to the high school level.
He considers it "a blessing" and "a great opportunity" to have suited up and played as a true freshman.
"Even though I got hurt, I finally got to experience college football, experience college speed," Arnold said. "So now I know what to expect going into this next season."
Jones remains confident about Arnold's future with the Jayhawks, and said the young receiver reminds him of current super-senior Lassiter, because Arnold's a "student of the game" and takes the proper approach to every day, even during the offseason.
"He's on course to be what we thought he could be once he got here," Jones said.