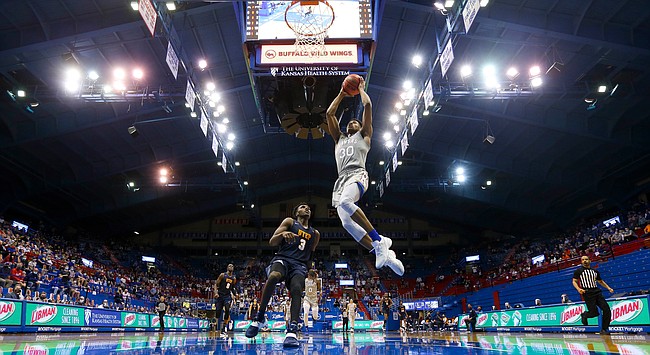 Kansas junior Ochai Agbaji announced Thursday afternoon that he is entering his name into the NBA draft pool with the option to return to school for his senior season.
"I will be keeping my NCAA eligibility throughout this process and look forward to hearing from NBA professionals on ways I can improve my game," Agbaji said in a news release posted to Twitter. "This is a great opportunity as I work towards my goal of being a professional basketball player."
Per NCAA rules, student-athletes can participate in the NBA draft process and still return to school if they withdraw their name from the draft pool by July 19.
Agbaji, whose draft stock has been all over the map during his first three years at Kansas — from a potential lottery pick late in his freshman season to off the board in various mock drafts — was KU's leading scorer during the recently completed 2020-21 season, his best as a Jayhawk.
Just one of the two more popular NBA mock drafts for the 2021 draft (July 29) had Agbaji listed as a draft pick in their most recent versions.
Yahoo Sports lists Agbaji as the final pick of the second round (No. 60 to Indiana) and ESPN.com draft guru Jonathan Givony, whose most recent mock draft was posted Thursday, did not have Agbaji listed in the two-round draft.
"Ochai and I talked a lot about his basketball future over the past couple of weeks so he could determine what was best for he and his family moving forward," KU coach Bill Self said in the release. "After thinking that through, he made the decision to enter the NBA Draft. He clearly has a skill set that translates well to the professional game, and the NBA draft process will be a great opportunity for him to be evaluated. He will sign with an agent, but will continue follow the guidelines set by the NCAA and NBA to protect his collegiate eligibility. Och will be able to gain great insight on what areas he needs to work on which could improve his draft stock. I know that will be benefi-cial for him this year before he decides whether he should come back or remain in the NBA Draft process."
Agbaji averaged 14.1 points and 3.7 rebounds in a team-high 33.7 minutes per game. He also ranked third on the team in steals (33) and fifth in assists (56).
In addition to stepping into the role of KU's top scorer, Agbaji showcased his improved shooting from long distance throughout the season.
He led Kansas' regulars with a 37.7% clip from 3-point range and proved he could get hot on any given night. He made four or more 3-pointers in a single game eight time this season and hit at least three 3-point shots in a game 15 times.
His career-best 3-point season as a Jayhawk — percentage-wise — came on more volume, as Agbaji attempted 52% more 3-pointers than he did as a sophomore (207 to 136) and made 70% more of his total 3-point shots (78 to 46).
Agbaji said that being part of the Kansas basketball family these past three years did more for him than just advance and develop his skills as a player."
"By coming to KU, I gained an extended family that I will forever appreciate," he said. "From my teammates, to my coaches, support staff and the fans, you are simply the best. Thank you to coach Self and the entire coaching staff for trusting me and pushing me each and every day. Not only have I become a better player but an even better man."