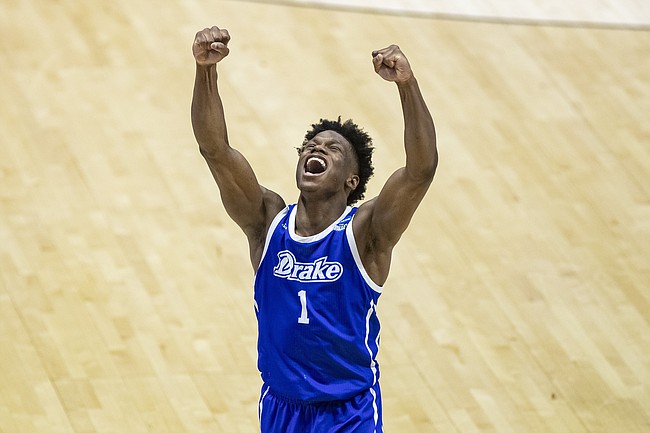 The Kansas men's basketball program once again has all of its scholarships currently spoken for, thanks to a Wednesday commitment from Drake transfer Joseph Yesufu.
A 6-foot, 180-pound, sophomore point guard originally from Chicago, Yesufu announced his commitment to KU on Twitter, just after noon on Wednesday.
By Wednesday evening, Yesufu told the Journal-World that his new reality had yet to sink in.
"This still feels like a dream," he said. "I was recruited, but I wasn't like that top prospect, and I just feel blessed. God got me to this point and I just have to continue to do the work."
This season for the Bulldogs, Yesufu averaged 12.8 points per game, 1.8 assists and 1.8 rebounds per game in 31 games after appearing in just 13 games as a freshman in 2019-20.
He came off the bench in Drake's first 24 games this season but finished as a starter, averaging 23.2 points per game over the final nine games of the season. That included four postseason games — two in the NCAA Tournament — and five of the final nine games with at least four made 3-pointers.
He shot 38.4% from 3-point range for the season and 48% from the field and 81.2% at the free throw line.
Yesufu topped the 30-point mark in both of Drake's games against Evansville this season, scoring a career-high 36 points in the second meeting between the schools. In a first-round NCAA Tournament loss to USC, he knocked down a career-high six 3-pointers, which merely added to the experience of playing in the Big Dance.
"I've been dreaming about that since I was a little kid, making it to the tournament," he said. "Just being there, being in that atmosphere and getting to play, is nothing but blessings. Coming to Kansas, I'm looking forward to getting to that same stage and winning a national title."
Yesufu's surname is Nigerian and he said he was aware of the connections to his father's home country that Jayhawks Ochai Agbaji and Udoka Azubuike have.
Although he has not yet talked to either player about their experiences at Kansas — or their Nigerian roots — Yesufu said one of the things that attracted him to Kansas was the family atmosphere.
Another was KU's head coach Bill Self and his vision for his new point guard.
"I know he's going to constantly push us to be a better, because, ultimately, we're trying to win a national title," Yesufu said. "He wants me to bring toughness and leadership to the team. Being from Chicago, we pride ourselves on our toughness, our defense and just the way we play. We're really just hungry."
Yesufu played high school ball at Bolingbrook (Ill.) High and was a part of the MeanStreets AAU program.
Because of the NCAA's decision to provide players with an extra year of eligibility because of the COVID-19 pandemic, Yesufu comes to Kansas with three years of eligibility remaining. He'll compete for KU next season as a sophomore and plans to wear No. 1 for the Jayhawks.
In his commitment message on Twitter, Yesufu thanked his coaches, friends and family and also thanked the Drake basketball program for making him a better player and person.
He added that he "can't wait to be part of this special program so we can make the fans proud."
"I'm very excited," he emphasized Wednesday evening. "I'm ready to get to work with the team and just be part of the family."
Self and Kanasas remain in the running for a couple of other impact additions this offseason, most notably prep guard Ty Ty Washington and Creighton transfer Christian Bishop. Self said Wednesday that the rules for current players announcing whether they'll stay in school or stay in the draft leave open the possibility that Kansas could see another departure or two in the coming weeks.
He said he expected both senior Marcus Garrett and junior Ochai Agbaji to test their draft stock and get feedback from NBA brass and that he would not base any of his recruiting efforts on what they are or are not doing.
"I think you try to get as good as you can and those would be additions," Self said Wednesday.