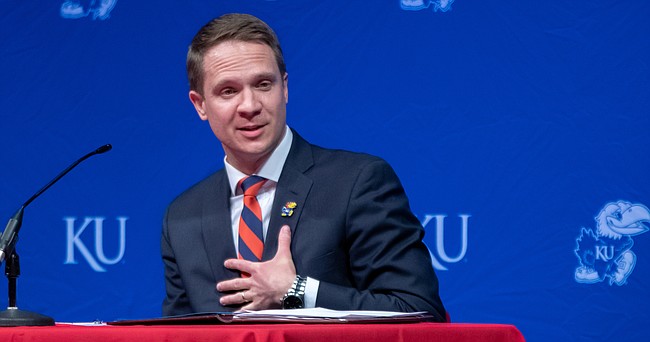 At his introduction Wednesday at the Lied Center, new University of Kansas Athletic Director Travis Goff said that if he did not have to give a speech, he would be speechless.
For the next 40 minutes, through his introductory remarks and a 25-minute question-and-answer session with the media, Goff broke down the path that led him back to his alma mater, where those who helped hire him now refer to him as "the right person at the right time" to lead Kansas Athletics.

"You hear about dream jobs, destination jobs; this is my destination job," said Goff, the former deputy AD at Northwestern who graduated from KU in 2002. "This is where I received an incredible education, where I started my career and where I fell in love with college athletics. It is the absolute honor of my professional lifetime to come back and serve my alma mater, a place that has done so much for me."
A first-time AD with a resume full of notable accomplishments, Goff called the opportunity to take a job at Kansas a "no-brainer."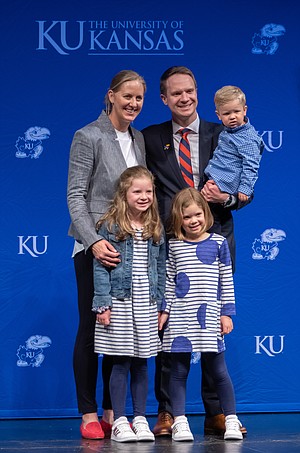 Goff said he never once felt like he had to sell himself during the interview process. Instead, he viewed the various meetings as an opportunity to tell the story of the foundation with which KU provided him. He also said he'd been prepared by his experiences at Tulane, where he helped a university and community recover from the devastation of Hurricane Katrina, and at Northwestern, where he helped with fundraising efforts and facility improvements that combined to surpass the $900 million mark.
At 41, and with no experience in a university athletic department's top job, Goff knew he would have obstacles to overcome. KU Chancellor Douglas Girod said Wednesday that Goff's age and lack of AD experience "was a question we all had."
"But when you look at what Travis brought to the table, irrespective of him being a Jayhawk, you look at the skill set, all the experiences and talk to the people that are around him, you realize this guy's a rising star," Girod said. "He's going to make the next move, and we wanted it to be at Kansas."
KU basketball coach Bill Self added that "I don't think you go hire a guy because he's a Jayhawk. You hire the best candidate. He's the best candidate and he's a Jayhawk, so I think that brings instant credibility."
Jim Phillips, Goff's boss and mentor at Northwestern and now the commissioner of the Atlantic Coast Conference, told the Journal-World this week that he never viewed Goff's age as a detriment to his ability to make the jump to the role of athletic director — whether it was the Kansas job, which came open on March 10, or at Northwestern, where Phillips believes Goff would've been in the mix as a finalist to replace him.
"Age is a number," Phillips said. "And you can hang onto it if you want to, or you can look at the substance. And I think what's really impressive about Travis is the substance. He doesn't get that job because he's a Kansas kid. He got that job because he was ready. And he is ready."
Goff becomes the 16th person among the 65 current Power Five ADs to serve in the role at his alma mater. He also is the 21st current Power Five AD whose first AD job was at the Power Five level.
While most major college ADs make stops as athletic directors at smaller universities before reaching the bigger schools, Goff said he learned a while ago that such a step was not necessarily a requirement.
"I think that's what the narrative tends to be," he said. "(But) it came to my realization that I didn't need to do that, that the experiences I was gaining by the day, by the month, by the year were literally preparing me for this exact opportunity."
Much of that experience came at Northwestern under Phillips, who said Goff operated with the "beautiful balance" of a determined leader and compassionate ambassador.
What's more, Phillips said his belief in Goff's ability to lead Kansas Athletics came from the expansive role Goff played at Northwestern. He was the only member of Northwestern's athletic department to hold the title of assistant vice president for the university and also oversaw multiple sports (including football), spearheaded several areas of the Wildcats' key fundraising initiatives and provided guidance for several facilities upgrades.
"He's a gem of an administrator and leader," Phillips told the Journal-World. "But he's an even better human being and person. I think the fan base, alums, donors, student-athletes, coaches — they're going to fall in love with Travis."
Self, who signed what the university called "a lifetime contract" to be KU's basketball coach three days before Goff was announced as his new boss, shared Phillips' perspective on Goff.
"He's very impressive," Self said Wednesday. "He was impressive over the phone. He was very, very impressive (Tuesday) with everyone, the coaches; he had command of the room just like he did here, and today I thought he killed it."
Self said he and Goff spoke on the phone four times during KU's search for a new AD.
"He certainly didn't seek me out," Self said. "I got his number from Jim Phillips."
Self said the theme of those conversations was that Self was happy to answer any questions Goff might have about KU or the men's basketball program. The ongoing NCAA infractions case did come up, and Self said they talked about it in general terms, but "not in great detail."
Self's contract also came up, both in their conversations and on Wednesday.
"I think it's awesome," Goff said. "I didn't need to be the guy doing that. Not because I wouldn't have wanted to, because it was such a clear demonstration from Chancellor Girod and the entire Kansas community that Bill's our head basketball coach and exactly who we need at the helm there."
Goff has spent much of his career putting student-athletes and coaches first. He said his time under Phillips not only taught him how to do that but also showed him the importance it can play in the health of an athletic department.
Goff knows there will be challenges during his time at KU. He called the ones that currently exist in football and men's basketball "immediate priorities." And he said he was eager to help the university push past them.
"We're going to use those as really important building blocks," he said. "Because the most important days are not today and next week and the week after, it's going to be what do we do with the momentum we can create."
More than anything, Goff already has convinced several important people at KU that he's here to put together a team of Jayhawks who desire to build big things together.
"A fresh start, a new energy" is how Self described the vibe around Goff.
"That's being stated," Self said. "And it's not an exaggeration."