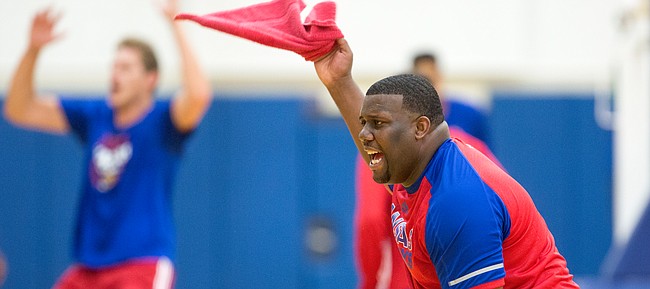 Kansas basketball assistant coach Jerrance Howard is leaving KU for a spot on newly named Texas coach Chris Beard's bench in Austin.
KU coach Bill Self and Howard announced the news in a release Tuesday evening, bringing an end to Howard's eight-year run with the Jayhawks.
"Working for coach Self and being a part of Kansas basketball has been a true privilege that I will always be grateful for," Howard said in the release. "As I look forward to my next career opportunity, I thank God for the amazing players, staff and community I have been blessed to know during my eight seasons at KU."
Shortly after the announcement, Self told the Journal-World via text message that video coordinator Jeremy Case would move into Howard's role "for now" and that the plan for a replacement in the long term was still not known.
The move to Case buys Kansas some time to consider all of its options and is made easier by the fact that the NCAA recently extended the recruiting dead period — meaning no travel for recruiting — through May 31.
Howard is the second longtime member of the KU program to leave for Texas recently. Two years ago, strength coach Andrea Hudy left KU to join Shaka Smart at UT.
Howard, who played for Self at Illinois, played a key role in recruiting during his eight seasons under Self, with some of his biggest contributions coming in the past 3-5 seasons.
Before coming to Kansas, Howard worked under Bruce Weber at Illinois, Billy Gillispie at Kentucky and Texas A&M; and Larry Brown at SMU.
His youthful exuberance and positivity, mixed with an appreciation for all things old school, made him one of the most popular members of the program among the Kansas players.
The 40-year-old native of Peoria, Ill., was named one of college basketball's "40 under 40" most influential figures by ESPN following the 2019-20 season.
"I think Jerrance Howard is one of the best assistant coaches in the country," ESPN's Myron Medcalf wrote for the piece.
During his time at Kansas, Howard was the lead recruiter for Marcus Garrett, Jalen Wilson, David McCormack, Cliff Alexander and Quentin Grimes, among others.
He was a part of six regular season Big 12 championships, two Big 12 tournament titles, six in-season tourney titles, seven NCAA Tournament appearances, three trips to the Elite Eight and one Final Four.
"I want to thank Jerrance for all of his hard work and dedication to Kansas men's basketball over the past eight years," Self said in the release. "I was fortunate to coach him at Illinois and loved the opportunity we had to coach together here at KU. He has been a member of our great staff and instrumental in the development of many players over his eight seasons."