After being entrusted as the caretaker of blue blood basketball programs Kansas and North Carolina for the past 33 years, Roy Williams announced his retirement from coaching on Thursday at a news conference in Chapel Hill, N.C.
The 70-year-old Williams, who opened the ceremony with tears in his eyes, said simply that he felt he was "no longer the right man for the job."
Williams pointed to his disappointment about how the Tar Heels finished the past two seasons, 14-19 in 2019-20 and 18-11 this year with the first first-round exit of his NCAA Tournament career. He noted specific mistakes he believed he made on game nights that cost Carolina the chance to win.
"Heck, I'd like to coach for 30 more years," he said. "But I just don't think I'm the right guy."
Williams admitted to needing to interject some humor into the moment to make it through Thursday's emotional goodbye. He took playful jabs at individuals, laughed over inside jokes and even said he wished he could have said the whole thing was an April Fool's Day joke.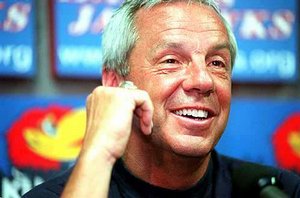 It wasn't. And the emotion of the decision showed on Williams' face even through the jokes.
Williams referenced his time at Kansas a dozen or so times during his hour-long goodbye. Assistant coaches, former players and former KU Athletic Director Bob Frederick, who hired Williams at Kansas, all received heartfelt gratitude for their impact on Williams' life and career.
Williams also thanked all of his former players at both schools, taking time to pay special tribute to his first set of players at Kansas.
"Those kids gave me a chance," Williams said of the late-1980s/early-1990s Jayhawks. "We grew up together and I appreciated how hard they worked and the passion with which they played.
"I've been so lucky because of those guys," he added, before closing his opening statement with a quote from legendary New York Yankees star Lou Gehrig: "I feel like I'm the luckiest man on this earth."
It's undeniable that many of his players felt the same way about themselves for having had the opportunity to play for Williams.
"I am grateful for the amazing impact he has had on my life, the Kansas program and the game of basketball," KU great Wayne Simien said Thursday.
Added former KU forward Nick Bradford: "Coach Williams has had a tremendous impact on my life, on and off the court, and his influence has helped me grow in so many different ways. I just feel blessed and lucky to have played for him and for all of the things he allowed me to experience."
Said former KU sharpshooter Jeff Boschee: "He was more than just a coach to me. He was a second father and mentor to me."
Added former KU walk-on and current Washburn coach Brett Ballard: "Although I was only a walk-on, he coached and treated me like I was a McDonald's All-American. Coach was the ultimate competitor, worked extremely hard and held his players to very high standards. He also cared on a very deep level for each of his players and you knew that support was going to last well beyond basketball. I'm so thankful, grateful and proud that got to play and learn from that man."
Williams, who replaced Larry Brown at KU in 1988, led the Jayhawks to 418 victories, four Final Fours and two appearances in the national championship game in 15 seasons.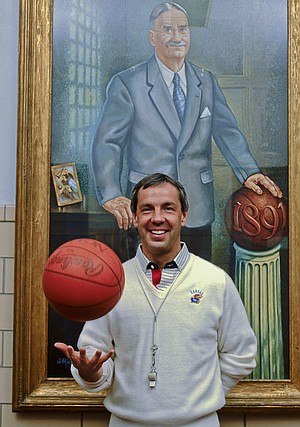 "He came into a situation where we could've gone one of two ways, and he was unbelievable," former KU guard Greg Gurley said of the Jayhawks' time on probation during Williams' first season. "He won an insane amount of games and put us on an upward trajectory. Kansas fans should be indebted to Roy Williams forever for continuing the tradition. In our story in the history of college basketball, there are only eight coaches and he was a big, big part of this place. Him leaving led to us getting Bill Self, who has been equally as incredible. It couldn't have worked out any better for the two programs."
The Asheville, N.C., native who played basketball at UNC and served for 10 years as an assistant coach to Dean Smith, left KU for his alma mater in 2003 just days after a loss to Syracuse in the national title game.
His departure, which came a few years after he turned down the North Carolina job to stay at Kansas in 2000, was the source of a lot of hurt and anger for Kansas fans and for Williams himself.
Although the two schools never scheduled a game against one another, the Jayhawks and Tar Heels met three times in the post-Williams era at Kansas, with KU and new head coach Bill Self winning all three games against his predecessor in the NCAA Tournament.
The first meeting came in the 2008 Final Four en route to the Jayhawks winning the national championship. The next came in the Elite Eight in 2012. And the third head-to-head matchup came in Kansas City, Mo., in 2013, when the top-seeded Jayhawks knocked off Williams' eighth-seeded Tar Heels in the second round.
Two nights after UNC's Final Four loss to Kansas in 2008, Williams famously sat in the stands while wearing a giant Jayhawk sticker on his shirt for KU's title-game win against Memphis.
Despite the sometimes-tense moments surrounding those meetings, both coaches always demonstrated a great deal of respect for one another and what each meant to Kansas and the game of basketball.
"Roy Williams has been an icon in our industry for the last 33 years, and his retirement is very well deserved," Self said Thursday. "Roy won at the highest level and projected first-class while doing so. To have the opportunity to follow him here at the University of Kansas and see firsthand the type of program he ran was an honor of a lifetime. Congratulations to him on a Hall of Fame career and for the lasting impact he has had on our sport."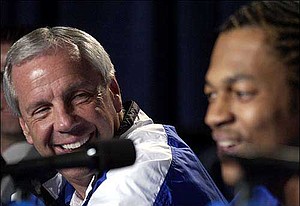 Williams finishes his career with 903 victories, landing him in third place on the all-time Division I coaching list. He's the only coach in history to win more than 400 games at two universities and he owns the sixth highest winning percentage in NCAA history (.774).
From coast to coast, the outpouring of love and admiration for Williams' impact on Kansas, UNC and college basketball in general lasted throughout the day on Thursday.
"There hasn't been a better coach or person in the game," ESPN analyst Jay Bilas told the Journal-World on Thursday. "Roy Williams matched his coaching prowess with uncommon kindness (and was) as great of a person as a coach. That's one hell of a person."
Williams admitted that he did not know what would come next. Time with his family and grandkids was at the top of his retirement list. And during his final news conference he continually referenced an RV trip across the country with his wife Wanda.
But for a man who has been a coach of some kind for the past 48 years, the mere thought of moving forward without a whistle and clipboard seemed to overwhelm him at times.
Williams said he was both sad and scared about what the future holds but that he believed if he could just "get through today" that he'd be able focus more on all of the great memories and moments his career provided him.
"I'm going to focus on the fact that we had some fun," he said. "We did OK. I was coaching great youngsters, winning a few games and loving it with all my heart and my soul."
https://www.youtube.com/watch?v=mw3CkuoHzdo