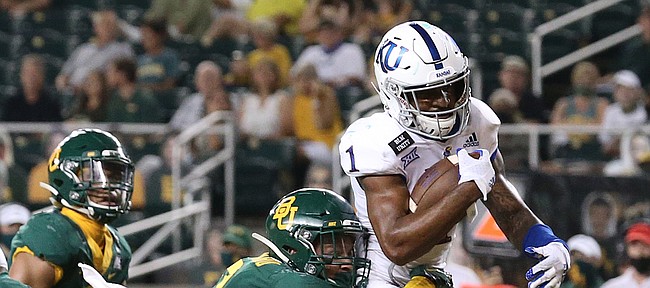 It was about 2 a.m. this past Sunday morning when Les Miles noticed the man sitting in a seat behind him on the bus was just as interested in the task at hand as him.
"He was looking over his head coach's shoulder," Miles recalled, "and watching the game on the computer."
It had been a few hours since the Kansas football team's loss at Baylor, but junior running back Pooka Williams wasn't sneaking in some shuteye on the Jayhawks' ride from the Topeka airport back to Lawrence.
Williams wanted to see for himself what the footage would show about the KU offense in a 47-14 defeat.
"And he talked about (freshman quarterback) Jalon Daniels and he talked about the (offensive) line and he talked about how it was all going to come together," Miles shared. "And in my opinion, he's dead right."
KU's star rusher could have asked the head coach about getting more touches. For the second game in a row, the offensive play-calling eased into involving Williams, the preseason All-Big 12 back from Louisiana.
After Williams rushed eight times in the first half (only two carries in the first quarter) in KU's Sept. 12 home loss to Coastal Carolina, the veteran ran the ball just six times (one rush in the second quarter) in the first half at BU.
In his first full game of the season — Williams had to exit the opener late in the third quarter due to an injury — KU's star offensive player averaged 5.4 yards per carry at Baylor, contributing 76 yards and two touchdowns on 14 carries. Williams also caught three passes for 24 yards.
"I was feeling like myself," Williams attested, when asked about recovering from an injury that occurred two weeks earlier, "just trying to do what's best for the team."
Physically unable to complete the opener, Williams finished with 12 carries for 67 yards against CCU. While the averages are a bit skewed because of that, he's currently averaging only 13 carries and 71.5 rushing yards a game. In 2019, Miles' first season at KU, Williams averaged 18.5 rushing attempts and 96.5 yards a game. As a true freshman in 2018, he gave the KU offense 14.6 carries and 102.3 rushing yards a game.
Because his workload has been lighter than expected in the first halves of KU's first two games in particular, Williams was asked during his postgame video interview this past weekend whether he found that development surprising.
"Not really. I'm a team player," Williams said. "I want everyone on the field to eat."
It seems spreading the wealth offensively is a concept contributing to Williams becoming less involved for stretches through the first couple of games.
But that might change as soon as the Jayhawks' next outing, Saturday at David Booth Kansas Memorial Stadium versus No. 17 Oklahoma State (2:30 p.m., ESPN).
"I'd like to get him a few more touches to be honest with you," Miles said during his weekly video press conference.
So far in 2020, Williams leads KU with 26 rushes, while sophomore back Velton Gardner is right behind him with 25 (75.5 rushing yards a game, one touchdown).
Among the receivers, Takulve "TK" Williams has a team-high 12 receptions, followed directly by Kwamie Lassiter II's 11 catches. Andrew Parchment has brought in nine receptions.
Of course, there's only one ball to distribute to all those skill players, a group that also includes senior receiver Stephon Robinson Jr., who missed the opener.
"You would like to get it around pretty regularly to the other spots. We like some of the other options that we have to get the ball to them," Miles said.
KU's head coach also admitted part of the strategy has involved "keeping Pooka fresh."
Williams' teammates appear to be on board with him becoming more involved offensively in the weeks to come.
Senior right guard Chris Hughes said he "loves" when KU runs the ball, as well as watching Williams go to work when the ball is in his hands.
"It's fun, it really is," Hughes said. "Just watching that kid do some of the things that he does, it's crazy sometimes, just the ability that kid has."
Since shortly after he made his KU debut in 2018, Williams has become a target of opposing defenses, which always game plan to stop him. Even so, he's averaging 6.0 yards per carry for his college career, through 24 games.
"If we get Pooka more touches," junior right tackle Earl Bostick Jr. said, "I feel like it would open up the game, just show that we can run the ball more and set up situations where we can pass more easily."
Two games into this shortened season, KU's running backs have 54 combined carries and the quarterbacks have attempted 68 combined passes as the Jayhawks have played mostly from behind.
Those early trends may reverse direction, though, if KU starts involving Williams more frequently.
"I see Pooka getting better and better," Miles predicted. "And he is one of the more natural runners that I have ever seen."