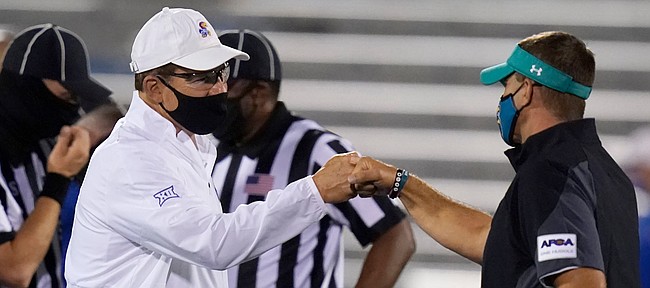 Like most everything else these days, college football game week anticipation looks a lot different in 2020. As head coach Les Miles and his Kansas Jayhawks learned leading up to their opener, it can also come with some anxious moments of waiting for test results.
Ultimately, KU was able to easily meet the thresholds for playing, but Miles said Monday during the Big 12 coaches media teleconference that his team did get back two new positive tests last week.
"I can't give you the names," Miles added.
Per Big 12 rules for playing football during the COVID-19 crisis, teams are tested three times a week in order to prevent players who contract the virus from competing.
The Big 12 is using antigen testing from Virtual Care for Families for the tests given to players, coaches and support personnel the day before games are played. The Quidel Rapid Antigen tests used allow for 15-minute results and batch testing capabilities.
On Sept. 9, three days before the Jayhawks' 38-23 loss to Coastal Carolina, a KU spokesperson stated that the football team had three active positive cases on the roster. Miles on Monday provided the first update on KU's cases since then.
Jayhawks who didn't suit up
The only true spectators at David Booth Kansas Memorial Stadium Saturday night were the players who didn't suit up and sat in the bleachers behind the KU bench.
KU distributed a list of those 39 Jayhawks just before kickoff, and most of them were walk-ons.
"There were a number of guys who sat out based on the number we were allowed to dress," Miles said Monday. "We would have loved to have had them, to be honest with you. Just because they deserve the opportunity to dress. It would've been a reward of sorts."
According to what Bob Burda, Big 12 senior associate commissioner for communications, told the Journal-World Monday, there is no limit to how many players a home team can suit up.
Per rules for travel squads in conference games, road teams are restricted to 70 players. Each program is allowed to utilize an expanded travel squad for one game a year. Big 12 rules on active rosters sizes don't apply to nonconference games.
The following recruited scholarship players didn't dress in KU's opener:
• Valerian Agbaw, RS-Fr. S
• Taiwan Berryhill, Fr. OLB
• Krishawn Brown, Fr. LB
• Joey Gilbertson, Jr. OL
• Corione Harris, Jr. S (suspended)
• Malik Johnson, Fr. WR
• Trevor Kardell, Fr. TE
• Jack Luavasa, Sr. TE
• Ezra Naylor II, Sr. WR
• Amauri Pesek-Hickson, Fr. RB
• Stephon Robinson, Sr. WR
• Cooper Root, Jr. ILB
• Jackson Satterwhite, Fr. OL
• Nick Williams, Soph. OL
Updates on potential starters
The Jayhawks lost their opener without a couple of potential starting contributors on offense, in senior receiver Robinson and senior tight end Luavasa, both of whom were listed with the first string on the team's depth chart.
"Certainly two starters that would have made significant plays. We'll have those guys back, and they should be back today," Miles said Monday.
Robinson was KU's second-most productive receiver in 2019, finishing with 45 catches and 727 yards, while also leading the team with eight touchdown catches.
Luavasa caught six passes for 46 yards and a TD a year ago.
Both were out against Coastal for unspecified reasons.
Captains in opener
KU used seven captains for its opener against Coastal. The three from the offense were center Api Mane, receiver Takulve Williams and quarterback Thomas MacVittie.
There were three defensive captains, too: tackle Sam Burt, linebacker Denzel Feaster and outside linebacker Kyron Johnson.
The special teams were represented in the group of captains by punter Kyle Thompson.
Sun Belt burns Big 12
The Jayhawks weren't the only Big 12 team to lose a nonconference home opener. In fact, Coastal and two other Sun Belt teams combined to go 3-0 in Big 12 country this past Saturday.
Hours before KU's late-night debut, Arkansas State won 35-31, at Kansas State, while Louisiana went to Ames, Iowa, and knocked off Iowa State, 31-14.
Miles was asked Monday whether those results were a big hit to the Big 12.
"I think on any given Saturday that there are some interesting outcomes that are happening, I can tell you that. But the Sun Belt's a good conference," Miles said. "I think they proved that. I don't think that's an issue. But I think it's a kind of abnormality that squares itself away throughout the season, because the season is the time where you're getting ready to play teams. In the first game a lot of unusual things can happen."
KU-Baylor kickoff set
The Jayhawks (0-1) now know when they will play their Big 12 opener at Baylor, as the conference announced Monday the Sept. 26 slate.
The KU-BU matchup in Waco, Texas, will be the last Big 12 game of the day, kicking off at 6:30 p.m. on ESPNU.
The Bears' original nonconfernce game against Louisiana Tech got called off due to a COVID outbreak within the Tech program. Now Baylor will play host to Houston for its season opener this Saturday.