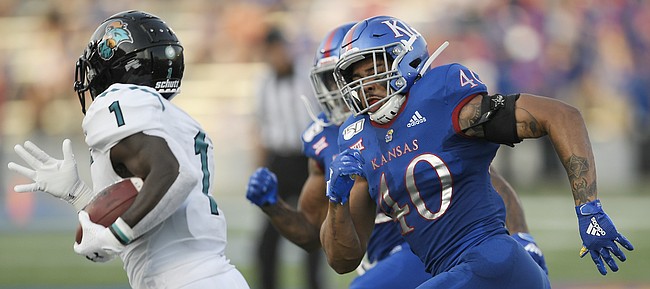 Winless through the six first games of the season, the Kansas football program will have to traverse the remainder of the schedule without one of its top defensive players, linebacker Dru Prox.
KU head coach Les Miles said following the Jayhawks' 52-22 loss to Iowa State on Saturday that Prox informed the coaches earlier this week he is opting out of the remainder of the 2020 season.
"He has a very significant personal reason," Miles said of Prox's decision, which came less than two weeks after KU lost offensive star Pooka Williams to an opt out. "That's certainly not something I will share. But he has reason to opt out, other than football," Miles added of Prox.
An inside linebacker who made nine tackles in his most recent appearance for KU, at West Virginia two weeks ago, Prox entered the weekend as the Jayhawks' third-leading tackler (23 total) even though he had missed two games already this season.
"It was a pretty good blow," sophomore safety Kenny Logan Jr. said of losing Prox. "But we have guys behind him that were ready to step in and take the role on. So I'm happy those guys are here."
Miles said he doesn't know whether Prox, who is a junior, will be back for the 2021 season.
"I would love to have him. I'll tell you that," Miles said. "But he's going to have to — he's got some work he's got to do. Not for me, but for his family."
Pair of O-line starters out
Two starting offensive linemen, center Api Mane and right tackle Adagio Lopeti, were out of the lineup versus ISU.
With Lopeti also an option as a backup center for Mane, the Jayhawks went with Chris Hughes, typically the starting right guard, at center.
Freshman Armaj Adams-Reed, in his second career game, made his first start at KU, filling in for Hughes at right guard.
True freshman Garrett Jones also handled snaps at center, coming on for the first time in the second quarter.
When Adams-Reed and left guard Jacobi Lott had to leave the field at various times during the loss, walk-on redshirt freshman Jack Werner stepped in.
No Thompson
The Jayhawks once again were without first-string punter Kyle Thompson. The senior missed his second game in a row, with the first being a disastrous day for KU's punt team at Kansas State a week ago.
Thompson's backup, Donovan Gagen, didn't punt against ISU either, a week after getting injured on punt coverage at K-State. But Gagen was able to hold for KU field goals and extra points.
Freshman punter Reis Vernon handled the punting duties most of the game, averaging 43 yards on his six punts.
Liam Jones also punted once, with a mishandling of the snap forcing him to rush a punt that went 35 yards and out of bounds.
The Cyclones only returned two punts, and gained 29 yards on those two chances.
During pregame warmups redshirt freshman linebacker Dylan Downing also punted.
Document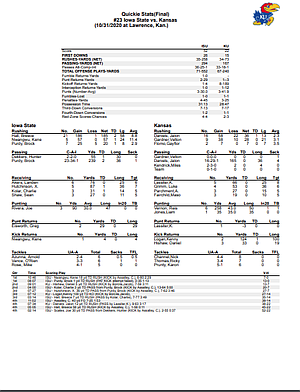 Even more Jayhawks out
The long list of missing Jayhawks against Iowa State also included the following potential starters: linebacker Denzel Feaster, safety Davon Ferguson, receivers Takulve Williams and Stephon Robinson Jr., and tight end Jack Luavasa.
Receiver Lawrence Arnold and tight end James Sosinski didn't dress, either, nor did running back Torry Locklin.
100th KU-ISU meeting
Saturday's matchup marked the 100th meeting all-time between the Jayhawks and Cyclones on the gridiron.
ISU's easy win in this round made KU's record in the series 50-44-6.
KU is now 28-20-3 against ISU in Lawrence.