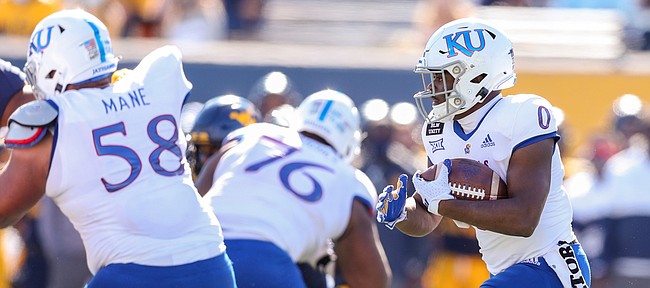 — Kansas (0-5 overall, 0-4 Big 12) vs. No. 23 Iowa State (3-2, 3-1) • 11 a.m. kickoff, David Booth Kansas Stadium • Game-time forecast: 56 degrees, sunny, 0% chance of rain • TV: FOX Sports 1 • Radio: KLWN, FM 101.7 / AM 1320
— Log on to KUsports.com for our live coverage and follow our team on Twitter: @KUSports, @BentonASmith, @mctait and @SJacksonLJW
Keys for Kansas
1. Get the best out of your O-line
If this Kansas football team ever is going to truly compete with a Big 12 opponent this year, the Jayhawks will need to produce more than two touchdown drives in a game — a small feat that KU has yet to pull off in conference play in 2020. And the offense won't be making any drastic improvements without some improvements along the offensive line.
Head coach Les Miles insists it's "absolutely" possible for the O-line to still make progress, even though the winless Jayhawks are halfway through the season. According to Miles, he wasn't looking forward to reviewing O-line footage from last week's loss at Kansas State. But Miles said upon watching it he noticed progress up front, with players performing in certain cases better than they had during practices days earlier.
"I think our guys are going to come," Miles said of the O-linemen. "And I'd bet on it."
The coach admitted the Jayhawks would be further along now if the O-line had begun to improve earlier in the fall. So what was holding the players back?
"I don't know that there's a holding back," Miles said. "I think the curriculum and playing against good players is the difficulty. We're promoting and kicking them in the behind when they don't quite do right."
KU has started senior Malik Clark at left tackle, sophomore Jacobi Lott at left guard and senior Chris Hughes at right guard in all five games. Senior Api Mane has started at center in each of the past four games. The most drastic in-season change KU made up front was moving senior Adagio Lopeti to the starting right tackle spot two games ago.
Lopeti thinks KU's O-linemen have "stepped up" their play in recent weeks.
"Communication is getting better. We're finally getting the groove that we want," Lopeti said. "Just without spring ball it's kind of hard to move as a unit. But now, after a certain amount of games, we're getting to know how each other play. And I think (O-line coach Luke) Meadows found a good set of guys that are able to work with each other on the field."
2. Keep the Cyclones out of the red zone
Iowa State hasn't exactly been a high-scoring team (28 points per game) this season, but the Cyclones handle their business when they are in good position to score.
A lot of that credit goes to third-year starting quarterback Brock Purdy. Already with 26 career starts behind him, the junior QB has never turned the ball over in the red zone. And Purdy has 41 career touchdowns — 27 passing and 14 rushing — after guiding the offense within 20 yards of the goal line.
Through their first five games of 2020, Purdy and the No. 23 Cyclones (3-2 overall, 3-1 Big 12) have reached the red zone 21 times and come away with points on 18 trips — 13 touchdowns and five field goals.
ISU had only failed to score in the red zone once in its first four games, before it happened twice in a 24-21 loss at Oklahoma State last week, with a pair of missed field goals to blame.
KU's defense hasn't had much success in the red zone, either. Opponents have reached the red zone 26 times and scored on all but one of those possessions. The Jayhawks are allowing red zone scores 96.15% of the time (87th out of the 101 teams that have played so far). KU opponents have scored nine rushing TDs, eight passing TDs and eight field goals in the red zone.
3. Take some shots down field
Through five games, the KU offense has produced a pass play of 20 or more yards just six times — out of 154 combined throws between the team's three quarterbacks.
And though true freshman QB Jalon Daniels had a pair of 20-plus yard connections at K-State this past week, one came on a broken play on which he improvised and found tight end Mason Fairchild, and the other came in the final minutes of a blowout.
Miles expects his starting QB, who just turned 18 on Thursday, to improve in that area.
"He's going to get a little more comfortable and he's going to be able to read the down the field throw and with a little more practice he's going to have that," Miles said. "He can make all of those throws."
Miles said at this point of Daniels' career, the QB sometimes has difficulty making reads and progressions, and execution in that phase leads to more opportunities for deep passes.
KU has a legitimate downfield threat in senior Andrew Parchment, too. But as the offense has failed to take off this season, Parchment has just 17 receptions for 140 yards. A review overturned one would-be catch in the back of the end zone for Parchment last week at K-State, and the talented wideout finished a game without a reception for the first in his KU career, after joining the program as a transfer in 2019.
Mega Matchup
KU run defense vs. ISU RB Breece Hall
In recent weeks the Jayhawks have seen Oklahoma State's Chuba Hubbard run for 145 yards, West Virginia's Leddie Brown go for 195 yards and K-State's Deuce Vaughn produce 71 yards on only 11 carries. But now the Jayhawks are about to face the leading rusher in college football.
ISU sophomore running back Breece Hall has eclipsed 100 yards on the ground every game this season, and arrives in Lawrence averaging 143.2 yards a game. That's more than the entire KU offense averages on the ground (124.6 rushing yards a game).
Hall, a 6-foot-1, 215-pound back who rushed for 97 yards on 28 carries late last season against the Jayhawks, already has been named the Big 12's offensive player of the week twice in 2020. He's coming off a 185-yard rushing game against an OSU defense that earlier this month limited KU's Pooka Williams and Velton Gardner to 62 combined rushing yards.
Iowa State coach Matt Campbell told reporters this week Hall's preparation and attention to detail complement his talent well.
"He's starting to see what his full potential can look like," Campbell said.
So far opponents have scored 11 rushing TDs versus the Jayhawks. Hall currently ranks first in the Big 12 and third nationally with his nine rushing scores.
At the midway mark of the season, the KU defense is surrendering 207.6 rushing yards per game (82nd among FBS teams) and 4.81 yards per carry (78th). KU has allowed 40 rushing plays of at least 10 yards to date, and eight of those have gone for at least 20 yards.
Hall has provided the ISU offense with chunk yardage carries of 25 yards or more six times this season, topping 60 on three of those lengthy runs.
Jayhawk Pulse
As KU prepares to take on its third top-25 opponent in the past four games, the winless Jayhawks are relying on a lot of young players. It's a fact of the rebuilding process that Miles has pointed to not so subtly at times. But the coach made it clear there is more to accomplish in the weeks ahead.
"Even though we talk about our future and how much it's there for us, and the great many young players that are going to be talented and play a lot of football, it's still important to us that we finish this season strong and win," Miles said.
With the Jayhawks heading into the second half of the season, leading tackler and sophomore safety Kenny Logan Jr. (40 total tackles) said the mood of the players remains the same: "Continue to push forward and keep fighting."
Tale of the Tape
KU ….. ISU
KU run D vs. ISU run game √
√ KU pass D vs. ISU pass game
KU run game vs. ISU run D √
KU pass game vs. ISU pass D √
Special teams √
Prediction
ISU 37, KU 17