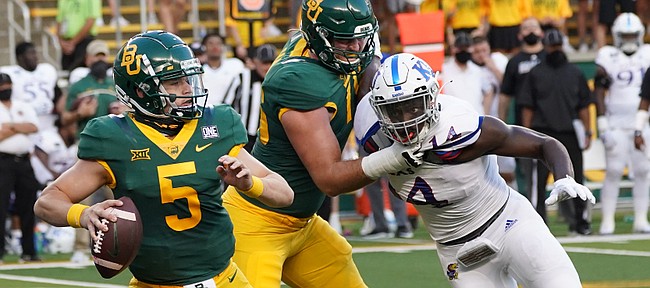 The top-rated prospect in Les Miles' first Kansas football recruiting class, Steven Parker is beginning to exhibit at the college level the type of defensive disruption that made him a four-star prospect.
Manning the "jack" position in KU's 3-4 defense, and in essence acting as a hybrid linebacker and defensive end near the line of scrimmage, Parker delivered the most productive game of his young career in KU's road defeat at Kansas State. Making his second start of this season after redshirting a year ago, Parker recorded his first tackle for loss as a Jayhawk and came away with five solo tackles and a quarterback hurry.
Miles said the redshirt freshman from Dallas is progressing "pretty darn well" this fall.
"He's a guy that can come off the football and rattle your chain in a big way," Miles added.
Parker only appeared in four games as a reserve a season ago, as KU opted to redshirt its intriguing pass-rusher from the Class of 2019. This past Saturday at K-State, Parker returned to the starting lineup for the first time since the season opener. While he has yet to record a sack in a KU uniform, Parker proved he can do more than rush the quarterback. In the first half against the Wildcats, Parker stopped Harry Trotter for no gain on one carry and brought down Deuce Vaughn for a loss on another run play. In the third quarter, Parker tackled Trotter on a two-yard run and stuffed Tyler Burns for no gain.
As detailed in the NCAA Premium stats from Pro Football Focus, Parker received both his highest run defense grade of the year (66.4) and overall grade (69.2) in the rivalry game loss.
Parker said it turned out to be his best performance with KU to date because of the schemes the Jayhawks used and the spots in which defensive coordinator D.J. Eliot put him.
"I feel like my redshirt season was a good option for me," Parker said of his advancements as a player, "so I could come back and give it my all the next year and play more."
Two years ago, when Parker was a standout senior at South Oak Cliff High in Dallas, he was considered by Rivals to be one of the top 20 weakside defensive ends in the country. Parker said he played with a hand on the ground back then, but now he does much more as a hybrid outside linebacker lurking near the line of scrimmage.
"I've got different jobs," Parker said, "and different opportunities to do different things."
His strength as a defender still may end up being his pass-rushing, and KU (0-5 overall, 0-4 Big 12), which has just five sacks as a team could use it. Parker said his ability to convert his speed into power off the edge is his best attribute, and he also likes to press one of his long arms into an offensive lineman's chest when trying to win one-on-one.
Sophomore safety Kenny Logan Jr. said Parker showed flashes of his potential on the edge at K-State.
"Steven has a high motor and he's always coming with energy," Logan said, "and that's what we need each and every down to be better as a whole."
As KU's "jack," Parker can pass rush or drop into coverage, depending on the situation and how Eliot wants to use him. And as the season has progressed, the coordinator has shown more often lately that KU can and will use different defensive looks before the snap to try and confuse offenses about what may be coming next.
Parker said the defensive players are getting a better grasp of their assignments in those situations.
"But I feel like when we have this offseason," Parker added, "it will be much better."
Parker is one of many underclassmen growing into a larger role this year for KU's defense, along with fellow redshirt freshmen Marcus Harris (defensive end) and Da'Jon Terry (nose tackle), true freshmen Karon Prunty (cornerback) and Deuce Mayberry (corner) and sophomores Gavin Potter (linebacker) and Logan (safety).