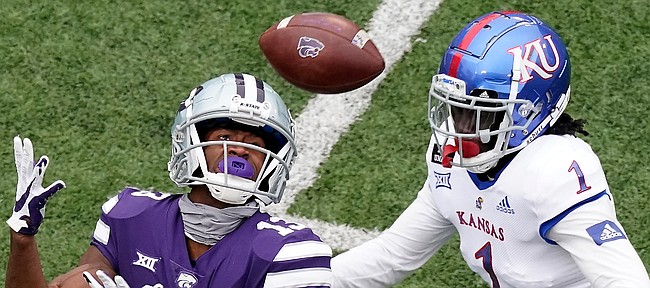 While a misfiring offense may lie at the heart of an 0-5 start for the Kansas football team, the Jayhawks' defense, while flashing signs of progress of late, is hoping to take another crucial step toward making the team more competitive.
In each of KU's recent back-to-back road losses, the defense showed some mettle early before the opposing offense took off in the third quarter.
During the first half at West Virginia, KU's defense created its first takeaway of the season on the opening series, delivered two three-and-outs, forced a turnover on downs and limited WVU to a field goal try on two other possessions. The Jayhawks headed to halftime down, 17-10, with WVU scoring two touchdowns on its nine offensive possessions.
A week later at Kansas State, the defense wasn't to blame for the Jayhawks' 34-7 halftime deficit. K-State scored three non-offensive touchdowns in the first half. A muffed punt set K-State up for a short field and its only offensive TD before intermission.
Yet early in the second half of each of those games, KU's defense finally broke. WVU put up 215 yards of offense and 11.9 yards per play in the third quarter as the Mountaineers put the Jayhawks away. K-State piled on in the third quarter of a rout, scoring 21 points in that quarter alone, on 220 yards of offense and 9.2 yards per play.
So what made it difficult for KU to sustain its defense's relative success in the second halves of those losses?
"I don't know to be honest with you," head coach Les Miles said this week. "I know there's a lot of effort and energy that's being portrayed by our players and our coaches. I think there's a want to be able to get into the fourth quarter and win the game."
But the Jayhawks (0-5 overall, 0-4 Big 12) haven't trailed by fewer than 14 points entering the fourth quarter since Coastal Carolina took a 28-17 lead into the final 15 minutes on Sept. 12. In Big 12 play, KU has lagged behind after three quarters, 31-7, at Baylor; 44-0, versus Oklahoma State; 24-10, at WVU; and, 55-7, at K-State.
KU defensive players haven't been able to put their fingers on any specific problem that came about in the third quarter of the past two games, either. Nor have they pointed those fingers at a KU offense that's averaging a scant 13 points and 249.5 yards per game in Big 12 play.
Senior safety Ricky Thomas couldn't spot any trend in the third quarter regression at WVU and K-State.
"The main thing's communication," Thomas said of how the defense can improve. "Letting everyone know in the back half, up front, the linebackers, let them know the call, let them know the checks."
Each of the past two weeks KU's offense typically failed to deliver productive drives throughout the first half, meaning the defense took short breaks before it went back on the field again.
Although KU actually led, 10-0, at WVU, with the defense setting the offense up in plus territory for its first two possessions, by halftime KU had punted four times and turned the ball over twice. Three of those possessions took less than a minute off the game clock and another lasted 1:29. To make matters worse, KU's offense went three-and-out on its first two possessions of the third quarter.
It was more of the same at K-State the next week. In the first half, the Jayhawks punted on three of their first four drives, turned the ball over on downs once and had a giveaway on another series. KU failed to net even 10 yards of offense on six different first-half drives. Each of their first two possessions in the third quarter, the Jayahwks punted after possessing the ball for 1:10 or less.
So is fatigue catching up with KU's defensive players the deeper they get into games?
"No. Heck no," Miles said, pointing specifically to the K-State game and the fact that the Wildcats only ran 61 plays. "I didn't see fatigue necessarily as a factor."
Like their coach, both Thomas and sophomore safety Kenny Logan Jr. shot down the idea that the Jayhawks began to wear out in the second halves of those losses.
"It's just focus," Thomas said. "Knowing your job, knowing what you're doing, don't get out of your gap. That's the main thing."
Redshirt freshman outside linebacker Steven Parker, when asked though, admitted that fatigue has been a factor.
"Because we have been on the field a lot," Parker said of the defense. "But we'll get through it as a team."
Miles said it's "part of our business" for KU's coaches and players to get more consistent play out of the defense, and pulling that off remains one of the Jayhawks' many objectives.
While it had to be difficult mentally for defensive players to head onto the field in the third quarter at K-State, down 27 points after only surrendering one first half TD, Miles said they recognize it's their responsibility to "stay buoyant and fight like hell, so that you can pull that offense along."
KU's head coach said all the Jayhawks want the offense to "play as well as the defense does."
Added Miles: "Maybe that day will come this Saturday."
KU plays host to No. 23 Iowa State (3-2, 3-1) on Halloween. Kickoff is set for 11 a.m. (FOX Sports 1).