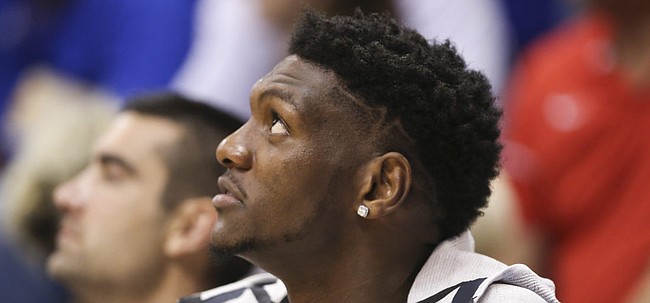 A University of Kansas senior who recently announced he was leaving the men's basketball team is facing a case in Douglas County District Court, records show.
Silvio De Sousa, 22, is soon to be charged with aggravated battery, a level-5 or midlevel-severity felony.
The charging document, filed Monday, alleges that De Sousa "unlawfully, feloniously and recklessly cause(d) great bodily harm or disfigurement to another person." The alleged incident was reported to Lawrence police as a battery at 2:36 a.m. Jan. 1 in the 1100 block of Massachusetts, department records show.
Douglas County Jail records do not indicate that De Sousa was arrested following the incident.
In an emailed response to questions about the incident, Lawrence Police Department spokesperson Patrick Compton said that an individual had approached a police officer at a local hospital "claiming to have been involved in a fight outside of a bar in the 1100 block of Massachusetts St. earlier that morning." The officer was already at the hospital for an unrelated reason, Compton said.
"The individual was admitted to the hospital for injuries sustained during the incident," Compton said.
De Sousa announced in a tweet on Oct. 16 that he was leaving the team for "personal issues," the Journal-World reported.
"I have a lot of things weighing on my mind and need to address these by taking time for myself and stepping away from basketball," De Sousa wrote in the tweet. "This was not an easy decision, but it's the best thing for me to do right now."
After graduating from IMG Academy early to join the Jayhawks during the second semester of the 2017-18 season, De Sousa played a key role in KU's run to the 2018 Final Four. However, allegations of improper benefits taken by his guardian cost him the 2018-19 season, and his role in a Jan. 21 brawl with Kansas State players at Allen Fieldhouse during the 2019-20 season cost him another 12 games.
At the time of the alleged Jan. 1 incident, however, De Sousa was playing on the team.
In a statement emailed to the Journal-World Wednesday, Kansas coach Bill Self said that De Sousa told him "earlier this fall" that he had been contacted by local authorities regarding his alleged involvement in an incident on New Year's Eve.
"He was not aware of the details from that incident until a couple weeks ago, which he then shared with me," Self said. "These allegations were surprising to Silvio, as they were to us. Once we discussed the details, he decided it was in his best interest to opt out and focus on this matter. We mutually agreed that was the best course of action."
Dorothy Kliem, trial assistant for the Douglas County district attorney's office, said via email that the DA's office received an affidavit and reports from the Lawrence Police Department on Sept. 30. She said the office received an updated affidavit from LPD on Oct. 16, then filed the case on Monday.
"The case was reviewed promptly upon receipt and a charging decision was made promptly thereafter," she said.
Asked about the timeline of the police department's investigation, Compton said it was not handled any differently from any other investigation. He said in any case, there are a number of witnesses to interview and video surveillance to collect and review. He said those factors, compounded with coronavirus pandemic limitations, contributed to the length of the investigation.
Kliem said Wednesday that no one else has been charged or is being considered for charges in connection with the alleged incident "at this time."
De Sousa's first appearance in court, where he will be formally charged, is scheduled for Dec. 17, online court records show. A summons was issued on Tuesday. There was no attorney listed yet in court records who could comment about the case on De Sousa's behalf.
KU records listed De Sousa as a student as of Wednesday morning.
For a conviction of a level-5 felony, a defendant could face anywhere from three years of probation to a maximum of 11 years and 4 months in prison under Kansas sentencing statutes, depending on criminal history. Even with no prior convictions, a defendant could face a maximum of 34 months in prison if a judge decided on a prison sentence rather than probation.
— Journal-World sports editor Matt Tait contributed to this article.