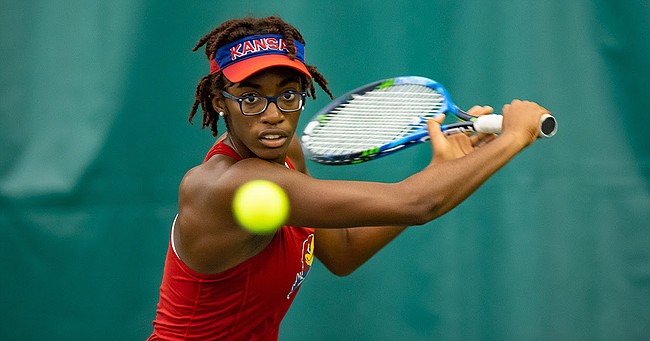 Kansas junior Malkia Ngounoue finished second at the 2020 ITA Central Regional Championship on Sunday in Fayetteville, Ark.
Ngounoue began her day by beating TCU's Mercedes Aristegui, 6-2, 6-1, in the semifinals to reach the championship match.
In the finals, Ngounoue lost to Missouri's Bronte Murgett in a three-set thriller. The KU junior took the first set, 6-4, before dropping the last two sets 6-4 and 1-0 (7).
"Malkia is getting so much better and she is obviously disappointed that she didn't win the tournament," KU coach Todd Chapman said. "She has a lot to be proud of and is ready to get back to work this week."
Ngounoue also competed in doubles action over the weekend, teaming with junior Sonia Smagina to reach the semifinals, where they fell to Oklahoma's Ivana and Carmen Corley, 6-4 and 6-2.
Chapman, who has led the Jayhawks to a fair amount of success at this event in the recent past, said the opportunity to compete at a high level was great for his squad.
"We learned a lot about our team and where we are at this point in the fall season," Chapman said. "We have a couple more weeks left, so I am excited to see the growth between now and our last event of the fall."