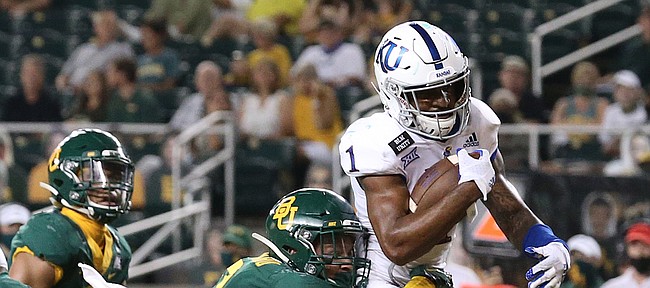 What was shaping up as a potentially disappointing year for preseason All-Big 12 running back Pooka Williams Jr. came to an abrupt end on Monday, as the Kansas junior announced he would be opting out of the remainder of the 2020 season.
Williams thanked head coach Les Miles and "everyone with the Kansas football program for their commitment and understanding" in a statement on his decision to leave the team four games into the schedule.
In the statement, Williams said he was opting out in order to move back to Louisiana to be closer to his mother, who is dealing with health issues.
"Family and health are the most important things to me. Right now I need to be with my mother," Williams said.
In a separate statement, Miles said he and the staff "fully support Pooka's decision." Miles said he was proud of Williams "for making this tremendous sacrifice to support his family, and do what he believes is right."
A blanket waiver passed by the NCAA allows fall sports athletes in Division I to opt out of the 2020 season without losing a year of eligibility.
Four games into his junior season, Williams was averaging 49 yards per game and 3.8 yards per carry for the struggling KU offense. It was a far cry from the production he enjoyed earlier in his career, when he put up 102.3 rushing yards per game as a freshman in 2018 and 96.5 yards an outing a year ago.
A sophomore running back, Velton Gardner, is KU's current leading rusher, with 250 yards this season on 47 attempts (4.8 yards per carry). Williams and Gardner each scored two rushing touchdowns during KU's first four games.
Williams made his announcement hours after being named the Big 12's Special Teams Player of the Week following a 92-yard kickoff return for a touchdown on Saturday at West Virginia.