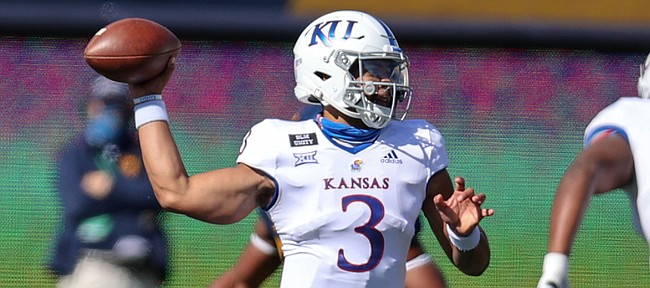 Les Miles and his Kansas football assistants might not until later in the week have a clearer picture regarding the Jayhawks' quarterback situation for their upcoming rivalry game at Kansas State.
But one thing was for sure as of Monday: junior Miles Kendrick is in line to start.
After Kendrick and the rest of the KU offense struggled in a 38-17 loss at West Virginia this past weekend, Miles said at this point the winless Jayhawks are still working toward getting the other QBs the recovery and repetitions they would need to return to the lineup.
Senior QB Thomas MacVittie, who appeared to suffer a shoulder injury in the second half of KU's season opener on Sept. 12, "might" be able to give the Jayhawks "a series or two" against K-State on Saturday, Miles said. But first the coaches will need to see from MacVittie in practices that he's comfortable and capable of returning.
Similarly, Miles said the coaches hope to get true freshman QB Jalon Daniels "a good week of work" in the days ahead and see how Daniels looks late in the week. Even so, Miles warned that doesn't mean Daniels, who appeared to hurt his left foot during KU's loss to Oklahoma State on Oct. 3, will be ready to play.
"We are nicked up there at that position," Miles said. "There's no question."
So Kendrick, who went 14-for-23 passing at WVU, with 95 yards, one touchdown and two interceptions, remains the starter heading into Manhattan, versus No. 20 K-State (3-1 overall, 3-0 Big 12).
Miles said Daniels — if he got healthy enough — would back up Kendrick.
And MacVittie? Miles called him "a maybe," if KU can get a quality week of practices out of him first.
The coach said if the Jayhawks (0-4, 0-3) can't get MacVittie back this week, then "certainly" they hope to for the following game, which is an Oct. 31 matchup in Lawrence with No. 17 Iowa State (3-1, 3-0).
"Miles Kendrick is healthy and capable," Miles went on, adding he thought the junior QB made a handful of reads in his first career start at WVU that were examples of how Kendrick needs to execute.
"He's going to be the kind of guy who in time will get it right," Miles said of Kendrick. "So we look forward to the development that he has this week as we get ready to play in a rivalry game."
In three appearances this year, Kendrick is 40-for-66 passing, with 341 yards, three touchdowns and four interceptions. He has been sacked 11 times. So far Kendrick is the only KU QB who has thrown a TD.
Pooka rewarded for late TD
When KU junior Pooka Williams returned a kickoff 92 yards for a touchdown in the final minutes at WVU, it was too late for the standout play to help the Jayhawks' upset bid. But Williams on Monday earned the Big 12's Special Teams Player of the Week award for his efforts.
Williams' kickoff return for a TD was the program's first since 2016, when LaQuvionte Gonzalez scored on a 99-yard return versus Ohio.
The honor marked the first time in 2020 a KU player received one of the league's weekly awards. It was the fifth time in Williams' career he won a Big 12 weekly award.
The KU-WVU game was the only game involving Big 12 teams this past week, as the Baylor-Oklahoma State game was postponed and the rest of the teams were off.
Miles on Eargle
Monday marked the first time Miles spoke with reporters since he tested positive for COVID-19 on Oct. 8. He explained what went into his decision to choose tight ends coach and recruiting coordinator Josh Eargle as his replacement for the game at WVU.
"Eargle was a quality guy that I've known over time," Miles began, referencing Eargle working for Miles at LSU in a quality control position in 2009, a decade before Miles hired him at KU, initially as a senior offensive analyst.
"But that wasn't really the reason," Miles said, before explaining why he didn't ask defensive coordinator D.J. Eliot or offensive coordinator Brent Dearmon to fill in for the game. "I had to have a full, hands on deck on defense, and full, hands on deck on offense."
With Eargle acting as the head coach, Miles noted that KU had a senior offensive analyst, Kevin Wewers, replacing Eargle as the tight ends coach.
Miles also credited the play of the special teams, as analyst Luke Roth filled in for coordinator Jonathan Wallace, who didn't travel so he could be home with his wife, Ashley, for the birth of the couple's first child.
Another early kickoff
When KU next plays a home game, Oct. 31 versus Iowa State, it will mark the Jayhawks' third 11 a.m. kickoff in three weeks.
The Big 12 announced Monday the KU-ISU Halloween matchup will be another early game for KU and air on FOX Sports 1.
KU just played in that time slot at WVU, and will again this coming Saturday at K-State on FOX Sports 1.