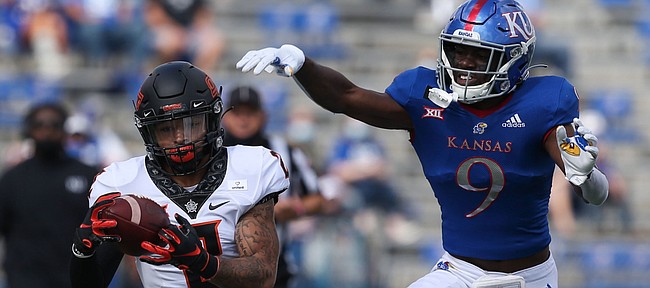 There's plenty for the Kansas football coaches to address on both sides of the ball this week and next, as the Jayhawks gear up toward returning from their second bye week of the season.
But Les Miles said after a 47-7 homecoming loss to Oklahoma State part of his plans for the extra time between games would be slightly different than usual.
"I think the defense is improving," Miles said, "but I want to spend some time with those guys, too."
The defense, as KU fell to 0-3, had its worst day of the 2020 season to date, as well as one of its least successful outings since Miles took over the program.
KU surrendered 593 yards — 241 more than it had a week earlier in a loss at Baylor. It was the third-most yards KU has allowed under Miles' defensive coordinator, D.J. Eliot. In 2019, the Jayhawks gave up 638 yards at Texas and 625 at TCU.
The Cowboys, now ranked No. 10 in the country, ran for 295 yards at KU and threw for 298 more. It was the most rushing yards KU allowed since rival Kansas State put up 342 in 2019, and the most passing yards given up by KU since Iowa State threw for 372 in the Jayhawks' 11th game last year.
On what would be a demanding day for the defensive unit against the Cowboys, with three starters and one key reserve unavailable for undisclosed reasons, KU's offensive players did their defensive teammates no favors.
Through the first 10 possessions, KU's longest drive took 2:42 off the clock. In that span, KU went three-and-out six times and the most yards the Jayhawks gained on a series was 29. Eight of the possessions lasted fewer than 2:00 on the game clock.
"That is so painful," Miles said, after the loss, when KU's average of 1.8 yards per play through three quarters came up. "I think the defense did a fine job really playing, with the idea that we had not scored and not (had successful drives)."
With the offense faltering, KU's defense never had much time on the sidelines to recover.
Sophomore safety Kenny Logan Jr., who led KU with 12 total tackles versus OSU and currently leads the Jayhawks on the season with 26 total stops, didn't use the offense's woes as an excuse.
"That's our job to go make stops," Logan said. "So we just try to continue to go out there and play good and give great effort so we can just help our offense, give them a boost."
With no game this week due to the Big 12's pandemic-shortened schedule, the Jayhawks' defense won't be on the field for a game again until they play at West Virginia on Oct. 17.
After a long afternoon against Oklahoma State, KU senior linebacker Denzel Feaster said the defense during the bye week needed to go back to the drawing board and get back to basics.
"Of course we're going to exploit the negatives but we're also going build off the positives, the good that we did," Feaster said. "We'll take that, take our lesson and run with it."
KU's defense held OSU to a field goal on its opening drive and forced the heavily favored Cowboys to punt on their next series, but the game began to get out of hand not long after that.
"We just had some miscues," Logan said, "that we should've made plays on. That's the stuff we're going to go back (this) week and work on."
It's not yet clear how soon KU starters Kyle Mayberry (corner), Ricky Thomas (safety) and Dru Prox (linebacker), and backup linebacker Gavin Potter — all of whom missed the OSU game — will be back available for practices and games.
In their absence vs. OSU, Nick Channel got his first career start at linebacker, Nate Betts started for the first time at safety and Elijah Jones started at cornerback.
Feaster said KU "obviously" missed Mayberry, Thomas, Prox and Potter, because "we want every last one of our teammates out there with us," he said. "But unfortunately, due to certain circumstances and no matter what they may be, they weren't able to join us this Saturday. So we'll be anticipating their return and be even better."
During this bye week, Miles said he and his assistants need to examine "the quality of our positions" on both sides of the ball.
"I want to make sure that we're headed in the right direction," Miles said. "We'll do self-scout, which will tell us exactly what plays are being called and I think that that's a fundamental piece for this next week."