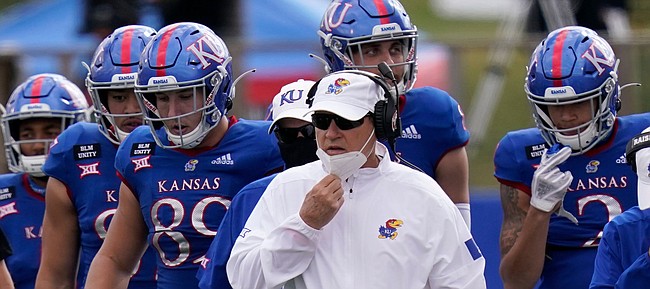 No Power Five college football program knows the despair of a blowout defeat quite like Kansas.
It was an experience head coach Les Miles wasn't too familiar with before inheriting the ever-rebuilding program. However, three games into Miles' second season leading the Jayhawks, he has three times been on the wrong end of a loss of 35 or more points — something that never occurred during his first 197 games as a head coach from 2001 to 2016.
"We're in pain," Miles said of his message to his KU players this past weekend, immediately following a 47-7 homecoming loss to Oklahoma State. "But in my opinion we're going to continue to work hard and you're going to be something. This is going to be a good football team."
Optimism for the future has become a regular sentiment among head coaches at KU through the years. But lopsided trouncings have remained a staple, too.
As detailed in a feature called "The Blowout Directory" at college football website Banner Society, from 1990 to 2019, no Power Five program has suffered as many clobberings of 35 or more points as KU. The Jayhawks endured 60 such losses over that 30-year span. Only New Mexico State (62) had a worse run among FBS teams.
Rutgers was the only other team from a major conference to show up in the directory's bottom 10, with 47 such losses.
Just two of KU's 60 poundings came under Miles — a 51-14 loss at TCU in 2019, and a 61-6 loss to Baylor to conclude his first season in Lawrence.
Following the first such hammering of 2020, senior KU linebacker Denzel Feaster said Miles was a "great coach" who looks at the upside of a bad situation with his players.
Still, Feaster said Miles doesn't sugarcoat everything in his talking points.
"He tells us not necessarily what we want to hear, but he tells us what we need to hear," Feaster said. "And we take it for what it is and what it's worth. And we're just going to go back to the drawing board and work on the positives."
There aren't a lot of those following games with these types of margins. Even so, sophomore safety Kenny Logan Jr. said Miles has the ability to encourage KU players when the results are bleak.
"Coach Miles continues to keep the whole team together, and he continues to show us that he's by us day in and day out," Logan said.
Miles described himself as both "honest and optimistic" when trying to help KU players regroup following a rout. He said he prefers to commend his players for what they did right rather than "kick them in the tail and treat them roughly."
Miles went 28-21 as the head coach at Oklahoma State from 2001 to 2004. He finished 114-34 at LSU during his 11-plus years in the SEC, leading the 2007 Tigers to the national championship. Currently Miles is 3-12 at KU.
According to Banner Society, KU also was involved in two of the most frequently one-sided matchups of the previous 30 years of college football, losing by 35 or more points nine times each against Nebraska and rival Kansas State during that span. Only Duke, with 10 blowout defeats to Florida State, suffered more lopsided losses to one opponent.
From 1990 to 2019, KU won by 35 or more points 21 times. Nine of those victories came during Mark Mangino's tenure as head coach, from 2002 to 2009. Six of them were in the 2007 season, which the Jayhawks capped off by winning the Orange Bowl.
The most recent KU win by at least 35 points was in 2018, when the Jayhawks drubbed Rutgers, 55-14, in what proved to be David Beaty's final season.