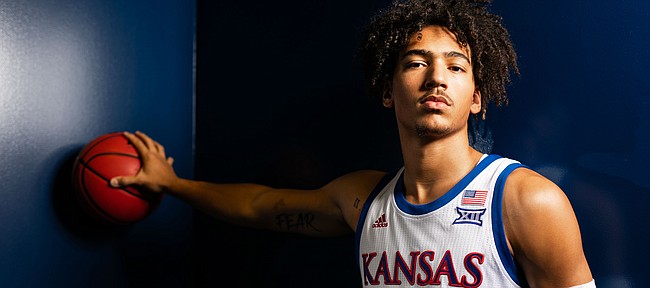 Redshirt freshman Jalen Wilson continues to be one of the most talked about players on the Kansas men's basketball roster this offseason.
Not only does the 6-foot-8, 215-pound wing from Denton, Texas, appear to be fully recovered from the ankle injury that cost him his freshman season — Wilson actually said he thought his leg came back "stronger" during a Facebook Live interview with Jabari Johnson this spring — but he also has moved past the nagging back issues that prevented a late-season return from being a possibility.
Beyond that, Wilson has remade his body from head to toe, putting him in position to make a big impact during the upcoming 2020-21 season.
"Yeah, he looks great," KU coach Bill Self said Saturday during halftime of the KU football team's home loss to Oklahoma State. "He's a good looking kid. He cut all of his hair off, he's lost 15 pounds probably, he looks really good."
He also was the first name Self mentioned when asked to name the players who have stood out at KU's boot camp, which resumed at 6:30 a.m. Monday and is expected to wrap up in the next few days.
"The guys, so far, to me that have been the most impressive are Jalen Wilson, Ochai (Agbaji) and Bryce Thompson and David McCormack," Self said, noting that he was not quite ready to name a boot camp MVP. "Boot camp has been successful. Everybody has participated and we think it'll come to an end this week."
On a team packed with them, Wilson's return to full strength is one of the more intriguing storylines heading into the 2020-21 season.
As the Jayhawks' highest-ranked prospect in the 2019 recruiting class, and with the potential to play a variety of styles and spots on the court, Wilson's addition to an already deep group of wings with experience figures to make KU's backcourt one of the deepest and most dangerous in the country next season.
What Wilson already had in terms of physical tools was enhanced during his redshirt season, when he used the down time to sharpen his mental approach.
"Just being able to learn and sit back and watch (was so valuable)," Wilson said in the interview with Johnson. "I feel like you learn a lot more when you're not playing, and (you're) able to see mistakes that other people are making."
He tapped into increased film study to make it happen.
"I just took this one like this is the next (setback) that's going to happen in life," Wilson told Johnson. "It ain't always perfect, so I just tried to find positive out of it. I got hurt. So now I get to sit back and really watch basketball and break down film that I usually haven't done.
"I was learning a lot coming off my injury," Wilson added. "And I've just got to pick it up whenever we get the chance to get back on the court."
Practices are set to begin Oct. 14 and the Jayhawks are expected to open the season Dec. 1 in Orlando against Kentucky in the Champions Classic, although no official announcement about that event has been made yet.
As for wrapping up boot camp, Self said Saturday that he would base the end date on the first couple of days of this week.

"(Depends) on how they do," he said. "Maybe the first half of the week (we'll end it) and then we'll get down to more basketball stuff the second part of the week."
"We're not going to get to our eight hours (of court time per week as allowed by the NCAA) right now because they're tired."