When the Kansas football defense took the field versus Oklahoma State on Saturday, it had to do so without two starting defensive backs, a starting linebacker and a key reserve linebacker.
Senior cornerback Kyle Mayberry, senior safety Ricky Thomas and sophomore linebacker Gavin Potter were among the 11 players on the roster who didn't dress for the homecoming game. Linebacker Dru Prox dressed, but didn't play.
"They took a day off today," KU head coach Les Miles joked during his postgame video press conference. "I'm not allowed to tell you exactly, but it certainly had to do with medical something."
KU again plays multiple QBs
KU true freshman Jalon Daniels started at quarterback for the second game in a row.
Daniels suffered what looked like a foot injury and missed the majority of the game, though, after taking every snap at Baylor a week earlier.
Miles said junior QB Miles Kendrick, who took over for Daniels, took backup reps throughout the week of practice.
Although senior QB Thomas MacVittie suited up, he wasn't available and didn't play. Miles said he didn't know for sure when MacVittie will be healthy enough to play.
"I would say that Thomas is probably a week away," Miles said. "I'm not certain."
Hadl, Sayers statues unveiled
Kansas football players will now be reminded about two of the program's all-time greats — John Hadl and Gale Sayers — every time they walk in the front doors of Anderson Football Complex.
KU unveiled during halftime of Saturday's game bronze statues of both Hadl and Sayers, in a socially distanced ceremony shown on the video board at David Booth Kansas Stadium.
A likeness of Hadl rearing back to pass next to one of Sayers making one of his patented spin moves are now on permanent display just outside of the program's headquarters.
KU Athletic Director Jeff Long said Sayers became the first Black person to be commemorated with a statue on KU's campus.
Hadl's No. 21 and Sayers' No. 48 already were retired by the program. Hadl went on to play for the Chargers in the NFL, while Sayers starred for the Bears.
KU Chancellor Douglas Girod called Hadl, "a hometown legend," referring also to Hadl's even earlier days at Lawrence High.
Hadl played at KU from 1959-61, and was the program's first two-time All-American. Hadl played both quarterback and halfback and even punted. He completed his career with 1,281 passing yards and 1,016 rushing yards, on top of leading the nation in punting in 1959. He also shined as a defensive back and return specialist.
Known affectionately as the "Kansas Comet," Sayers became one of the best running backs in history. Just like Hadl, Sayers became a two-time All-American. He led Kansas in rushing, touchdowns and kickoff returns in all three of his seasons. He finished his college career with 2,675 rushing yards and 3,917 all-purpose yards.
Players' families in stands
With KU once again allowing fans to attend home sporting events, football players on Saturday had their family members in the home stands for the first time this season.
Each player on the team was allotted four tickets for family members, just as they have been in past seasons.
Document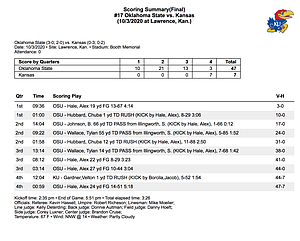 Burt up for scholar award
Senior KU nose tackle Sam Burt became this week a semifinalist for the William V. Campbell Trophy, which is annually bestowed by the National Football Foundation to the nation's top football scholar-athlete.
Burt, a former walk-on now on scholarship, was nominated by KU, becoming one of 85 candidates at the FBS level, and joining dozens more from other divisions.
To contend for the Campbell Trophy, a player must be a senior or graduate student in his final year of playing eligibility, have a GPA of at least 3.2 on a 4.0 scale, have outstanding football ability as a first team player or significant contributor and have demonstrated strong leadership and citizenship.
The NFF will announce 12 to 14 finalists in November. Past winners include Peyton Manning (Tennessee), Chad Pennington (Marshall), Tim Tebow (Florida), Sam Acho (Texas), and last year's recipient Justin Herbert (Oregon).
Big 12 voting initiative
The Big 12 announced this week its "Big 12 Votes" initiative, a collaboration with its 10 member institutions that seeks to graduate "informed and civically engaged citizens and to advocate for a more inclusive democracy through increasing student voter registration and turnout rates."
The initiative aims to tackle the issue of low college student voter turnout by advancing nonpartisan civic learning, political engagement and student voter participation on Big 12 campuses.
The inaugural effort aims to reduce the registration and turnout gap at each Big 12 institution to less than 20%. Big 12 Votes will support voting efforts to encourage the nearly quarter-of-a-million students attending Big 12 universities to participate in the nation's electoral process.
https://www.youtube.com/watch?v=ZcDx4ngGuKw
https://www.youtube.com/watch?v=zu4qGbgRCnY