With the Kansas football offense overwhelmed even before it lost its starting quarterback to an injury against No. 17 Oklahoma State, the Jayhawks never came close Saturday to securing the program's first victory over a ranked opponent in a decade.
A calamitous homecoming afternoon for the long-struggling program ended with a 47-7 drubbing at the hands of the Cowboys at David Booth Kansas Memorial Stadium.
While the OSU offense took off behind senior star running back Chuba Hubbard (145 rushing yards, two touchdowns) and its true freshman QB, Shane Illingworth (17-for-23 passing, 265 yards, three TDs), the Jayhawks couldn't keep their freshman starter, Jalon Daniels, on the field.
Daniels finished 3-for-5 passing with just 2 yards after suffering what looked like a foot injury in the first half.
When asked after the program's seventh consecutive loss what led to the offensive issues, head coach Les Miles began his response by referencing Daniels' setback.
"Our quarterback left the game early," Miles said. "And we're a team that needs to put it together."
The game was long over, if not officially, by the time the fourth quarter came along and KU (0-3 overall, 0-2 Big 12) finally got into the end zone on its 12th possession of a ruinous conference loss.
The Cowboys (3-0 overall, 2-0 Big 12) dominated all facets of their first road game, racking up 593 yards to KU's 193. The Jayhawks only had 83 yards entering the fourth quarter.
A third quarter in which OSU outscored KU, 13-0, and out-gained the Jayhawks, 146-23 in yardage, seemed pedestrian compared to the first half.
KU's offense continued to do the team no favors after intermission, turning the ball over on downs after picking up just nine yards on its initial third quarter series.
A busy afternoon for senior punter Kyle Thompson continued after that, as he had nine punts on his stat line before the fourth quarter began.
With the offense sputtering, the defense rarely got a long break on the sideline, but linebacker Denzel Feaster didn't use that as an excuse.
"I wouldn't say it felt like we got gassed," Feaster said. "They ran some tempo plays. We expected that. They had us in the right positions and stuff. We've got to execute better. That's all."
With less than two minutes left until halftime, KU completed its longest pass of the game to that point, an eight-yard connection from junior backup Miles Kendrick to Kwamie Lassiter II on the Jayhawks' eighth possession.
Through two quarters and 32 offensive plays from scrimmage, KU only had 60 yards of offense to show for its efforts.
The Jayhawks punted on every one of their first seven possessions. On their final series of the second quarter, OSU linebacker Devin Harper intercepted a Kendrick deep pass down the sideline.
KU went three-and-out five times before halftime and averaged just 1.9 yards per play to OSU's 7.9, as the rout was on.
"I think if you reflect on today's game," Kendrick said, "if you watched it, I don't think it's really hard to tell. We struggled in a lot of areas and we've got to keep moving forward and get better."
Document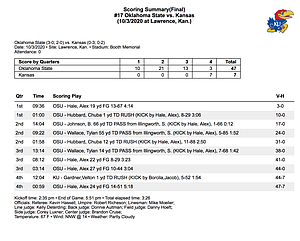 While KU had to change quarterbacks and was cobbling together minuscule plays to avoid three-and-outs occasionally, the Cowboys' offense began rolling for the first time in 2020.
Though OSU entered the weekend averaging only 18.5 points pre game, the Cowboys surpassed that before the midway point of the second quarter.
OSU had a defensive disaster from KU to thank for that, with one offensive snap for OSU epitomizing the agonizing first half for the home team.
A total defensive breakdown on an Illingworth deep pass to Tylan Wallace, on which the senior OSU receiver ran wide open past KU cornerback Elijah Jones, resulted in a 55-yard TD and set up a 24-0 lead for the Cowboys.
"I can't wait," Miles said after the 40-point loss, "to meet tomorrow or the next day with some of those coaches and find out what went wrong."
Heavily favored OSU added an 11-play, 88-yard TD drive capped by Hubbard's second rushing TD of the first half for good measure, taking a 31-0 lead into the locker room at halftime.
"We just have to continue to work," Feaster said of KU's defense. "Nothing's going to come easy in this league." "We've got our issues to fix, but we're going to build on the positives."
With his team already in a 17-0 hole less than a minute into the second quarter, Miles didn't send Daniels out for the team's fifth series. That's when Kendrick (11-for-19, 90 yards, one interception) made his first appearance at QB since KU's loss to Coastal Carolina on Sept. 12.
Offensive coordinator Brent Dearmon didn't immediately ask much of Kendrick, who entered the matchup with OSU as Daniels' backup. Kendrick handed the ball off to Williams (14 rushes, 32 yards) on four straight plays, even on 4th and 1 from KU's own 31-yard line — a sign of how desperate the Jayhawks already were for some sort of spark.
Even though Williams converted the 4th down run, punter Thompson was back for one of his frequent appearances after three more offensive plays, two of them Kendrick incompletions.
Daniels was seen heading to the locker room after appearing to suffer a foot injury. The freshman was back on KU's sideline in the second half, wearing a protective boot on his left foot.
Williams, too, left the sideline in the third quarter, seemingly having an injury of his own.
Any idea about KU competing with its first ranked foe of 2020 waved goodbye to the Jayhawks on a one-play, 66-yard TD drive for the Cowboys, who seized not just a 17-0 lead but complete control following a KU blunder, as Braydon Johnson took an Illingworth pass across the goal line less than a minute into the second quarter.
A putrid first quarter for the KU offense kept the home team from coming even remotely close to getting on the scoreboard early.
The Jayhawks went three-and-out on each of their first three possessions, netting just two yards of offense in the process.
Even though KU's defense had a promising start the first the first couple of times it went on the field, that began to crumble on OSU's third possession, when the Cowboys only had to go 29 yards to score their first TD of many on the afternoon in the final minute of the first quarter, when a patient Hubbard went in for a one-yard rushing score.
KU's ineffective third series set up the easy drive for OSU. A Daniels completion lost five yards on a drive that began with KU backed up on its own 10-yard line. Then a false start on Malik Clark made matters worse before KU punted from its own four-yard line.
The Cowboys looked to jump out to an early lead in their first game outside of Oklahoma this year, and they did, but had to settle for a field goal on their opening series.
Head coach Mike Gundy went for it on 4th and 1 at the KU 19-yard line and OSU converted just barely on a Hubbard rush. But it ultimately didn't lead to a touchdown as safety Davon Ferguson came blitzing on a 3rd and goal rush attempt from the one-yard line by OSU's LD Brown. Ferguson and sophomore linebacker Nick Channel stopped Brown for a loss, leading to a short Alex Hale field goal for a 3-0 OSU advantage.
KU last defeated a top-25 team in 2010, when the Jayhawks won against Georgia Tech.
"I didn't feel like they were overwhelmed," Miles said of his players versus OSU. "I feel like if we should continue to go the course that we're going we're going to be fine. I like us. I like our team. I think we'll work together and do things that this school has done before."
The Jayhawks, due to the pandemic-shortened Big 12 schedule, have their second off week of the season coming up, followed by an Oct. 17 game at West Virginia.
SCORING SUMMARY
FIRST QUARTER
9:36 — Alex Hale 19 field goal. Thirteen-play drive for 67 yards, in 4:14. (OSU 3, KU 0.)
1:00 — Chuba Hubbard 1 run. Hale kick. Eight-Play drive for 29 yards, in 3:06. (OSU 10, KU 0.)
SECOND QUARTER
14:04 — Braydon Johnson 66 pass from Shane Illingworth. Hale kick. One-play drive for 66 yards, in 0:12. (OSU 17, KU 0.)
9:22 — Tylan Wallace 55 pass from Illingworth. Hale kick. Five-play drive for 85 yards, in 1:52. (OSU 24, KU 0.)
1:58 — Hubbard 12 run. Hale kick. Eleven-play drive for 88 yards, in 2:50. (OSU 31, KU 0.)
THIRD QUARTER
13:14 — Wallace 14 pass from Illingworth. Hale kick. Seven-play drive for 68 yards, in 1:42. (OSU 38, KU 0.)
8:12 — Hale 22 field goal. Eight-play drive for 29 yards, in 3:23. (OSU 41, KU 0.)
3:14 — Hale 27 field goal. Ten-play drive for 44 yards, in 3:04. (OSU 44, KU 0.)
FOURTH QUARTER
12:04 — Velton Gardner 1 run. Five-play drive for 52 yards, in 1:54. (OSU 44, KU 7.)
0:59 — Hale 24 field goal. Fourteen-play drive for 51 yards, in 5:18. (OSU 47, KU 7.)
https://www.youtube.com/watch?v=ZcDx4ngGuKw
https://www.youtube.com/watch?v=zu4qGbgRCnY&feature=youtu.be