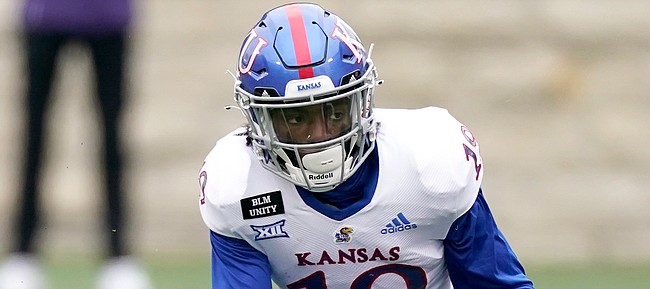 By the time the Kansas football team finally plays again, the Jayhawks will have gone 21 days in between games. The extended down time at the very least should allow head coach Les Miles and his staff to further develop some of the program's youngest players.
Miles already was happy this year's schedule included three bye weeks, a feature the Big 12 included to try and accommodate for potential COVID-19 related postponements. Now for KU the strange 2020 calendar includes a fourth idle week for his team, which had its Saturday matchup with Texas postponed to Dec. 12.
In the bye week following KU's seventh straight loss this season and 11th in a row overall, Miles said his staff made it a point to spend time focusing on the underclassmen during practices.
"You can't give them enough snaps," Miles said of developing the players whom he hopes will help turn the program around in the years ahead.
KU's head coach said young players need spring football practices (the Jayhawks didn't have any in 2020, because of the pandemic), as well as specific strength and conditioning regimens that typically come during the offseason.
Putting freshmen in position to one day thrive, Miles added, has to be a priority.
During KU's 0-7 start, six true freshmen started at least one game: cornerback Karon Prunty, quarterback Jalon Daniels, running back Daniel Hishaw Jr., receivers Luke Grimm and Lawrence Arnold and offensive lineman Armaj Adams-Reed.
But those are just six of the 24 true freshmen who already have appeared in a game this year.
In weeks when there isn't a game on Saturday, Miles said, there is even more time to give extra practice reps to the underclassmen who aren't yet regular contributors.
"We have to focus on those guys," Miles said. "It's a group we look forward to progressing and working with for some time."
The deeper KU gets into this challenging season, the more true freshmen keep showing up during games, either as important starters and reserves, or just in spot duty or during garbage time of a blowout.
But even the freshmen who are just getting a taste of Saturdays in the Big 12 right now, KU's staff hopes, will become reliable contributors in the seasons ahead. And some of them, Miles hinted, might already be working their ways toward more playing time in the late stages of this season.
"But I don't know that I want to give you that just yet," Miles said of identifying those Jayhawks by name.
KU is scheduled to play host to TCU on Nov. 28 (7 p.m. kickoff, FOX Sports 1).
KU football true freshmen who have played in at least 1 game
(Games played in parentheses)
Have started at least once
• CB Karon Prunty (7; 7 starts)
• QB Jalon Daniels (6; 5 starts)
• RB Daniel Hishaw Jr. (7; 2 starts)
• WR Luke Grimm (4; 1 start)
• WR Lawrence Arnold (4; 1 start)
• OL Armaj Adams-Reed (3; 1 start)
Appeared as reserves or on special teams
• CB Duece Mayberry (7)
• WR Tristan Golightly (7)
• WR Steven McBride (5)
• DL Jereme Robinson (4)
• PK Tabor Allen (4)
• C Garrett Jones (3)
• LB Taiwan Berryhill (3)
• P Reis Vernon (3)
• CB Ra'Mello Dotson (3)
• OL Bryce Cabledue (2)
• RB Amarui Pesek-Hickson (2)
• CB Johnquai Lewis (2)
• DL Kenean Caldwell (2)
• WR Jordan Brown (2)
• WR Kyler Pearson (2)
• TE Will Huggins (1)
• DL Caleb Taylor (1)
• RB Jack Codwell (1)