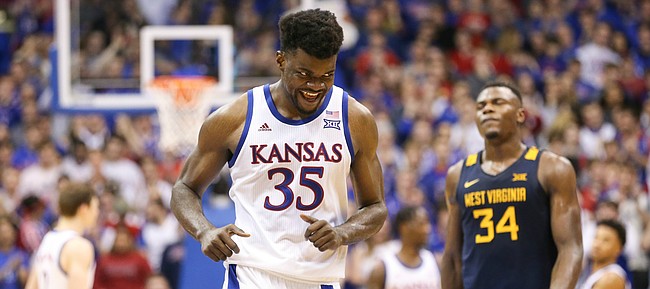 After hearing for four years that he was unlikely to become a first-round NBA draft pick, that was exactly where Kansas senior Udoka Azubuike wound up on Wednesday night.
The Utah Jazz made the 7-foot center the 27th overall pick in Wednesday's 60-pick draft, landing him firmly in the first round just before 9:45 p.m.
Azubuike's selection ends a one-year drought for the Kansas program, which had no players drafted in 2019, ending a 10-year streak.
Despite being listed as a second rounder on every major mock draft leading up to Wednesday night, former KU point guard Devon Dotson was not selected.
He and former KU sharpshooter Isaiah Moss will now look to catch on with a team as free agents. ESPN's Adrian Wojnarowski reported late Wednesday night that Dotson and the Chicago Bulls had agreed to a free agent contract.
Dotson grew up in Chicago before moving to Charlotte in 2011.
"Devon will play in the NBA," Kansas coach Bill Self said late Wednesday night. "And Dok will have a career in the NBA. And I think Devon will, too. He's just going to have to go about it a little different."
Azubuike joins a Utah squad that is defensive minded and also has shown the ability to spread the floor and get easy shots for its big men.
Starting center Rudy Gobert has been a fixture on the NBA's all-defensive team in recent years and the Jazz have been pretty small behind him, with former Iowa State standout Georges Niang often playing in a big man role for Utah in recent seasons.
That should provide Azubuike a golden opportunity to find a key role right away.
"Nobody ever predicted that he would go into a place and be a starter immediately or anything like that," Self said Wednesday night. "I'm not saying that can't happen, but I don't think that's why Utah drafted him is to is to beat out Gobert as a rookie. But I do think that he can provide minutes and certainly be a defensive presence early in his career."
An absolute force throughout his college career, on the strength of his size and power in the paint, Azubuike played himself into a sure-fire draft pick during a senior year that saw him earn All-American, all-Big 12 and national defensive player of the year honors.
He rebuilt his body, vastly improved his conditioning and showed NBA scouts more athleticism and the ability to impact the game away from the basket throughout the 2019-20 season.
"Udoka Azubuike is a force," ESPN analyst Jay Bilas said after the pick was announced. "Inside of five feet, he is dunking on you. But you're not going to take advantage of him like you think out in pick-and-roll situations."
Added Self: "He had those measurables before he went to the combine, but he's worked so hard on his body and his conditioning that I'm sure that's elevated his ability to test out (so well)."
Most mock drafts had Azubuike projected as an early second round pick in this year's draft. But his ability to land in the first round earns him guaranteed money for at least the next two years.
According to RealGM.com, the No. 27 pick in last year's draft signed a four-year contract worth $10.2 million, just under $2 million in Year 1, just over $2 million in Year 2, $2.2 million in Year 3 and $3.9 million in Year 4. The first two years are typically guaranteed money while the third and fourth years are team options.
Azubuike posted on Instagram prior to Wednesday's draft that he was in Jacksonville, Fla., watching the draft where he played his high school ball and lived with his guardians before coming to Kansas.
Azubuike became the 25th Kansas player under Bill Self to be drafted into the NBA. He joined former KU center Jeff Withey as the most recent Jayhawk to play for the Jazz.
Earlier this month, Azubuike and Dotson posted some eye-popping testing numbers during pre-draft workouts.
Self said recently that he believed the extra time they had to spend on their conditioning helped both players improve their draft stock.
Dotson's 3.02-second three-quarter court sprint was the fastest time at this year's NBA draft combine and the second fastest time in that event in the last decade. Only Utah Jazz superstar Donovan Mitchell's 3.01-second time was faster.
In addition, Dotson had the best lane agility time (10.44 seconds) and measured a vertical leap of 40.5 inches, roughly two inches higher than his best at Kansas.
Azubuike's standing vertical at the combine was 37 inches, which was reported as the highest by a center in NBA combine history.
Azubuike's maximum vertical, which is measured with momentum, was 41 inches, 10 inches higher than his max vertical at the 2018 combine.
"I do think it (made) them more attractive," Self said ahead of the draft. "I'm excited for both of them. I think they both help themselves during this COVID time."
Long before Wednesday's draft began, Dotson made waves with his wardrobe.
Watching the draft on ESPN from his home with his family in Charlotte, N.C., Dotson, like most draft picks Wednesday night, rocked a brand new, custom-made suit for his big moment.
While the navy suit with a thin white checkerboard pinstripe pattern certainly fit the occasion, it was the inscription on the inside of his left coat pocket that went viral.
In white thread just above the pocket, Dotson had the cursive words, "Natty Champs 2020" and #StayTheCourse sewn into his jacket.
Officially, there was no college basketball champion from the 2019-20 season. But Dotson and several of his teammates have said that they felt they had as good a shot as any team out there to bring home the trophy after finishing 28-3 in the regular season and entering the postseason as the likely No. 1 overall seed in the NCAA Tournament.
The tournament never took place, of course, with the pandemic forcing officials to pull the plug on the rest of the 2019-20 season.
All-time Kansas NBA Draft Picks:
Year – name (round/OVERALL SELECTION)
1948 – Otto Schnellbacher (Providence region)
1952 – Clyde Lovellette (1/10)
1953 – Dean Kelley (8/56), Gil Reich (11/32)
1954 – B.H. Born (3/22), Alan Kelley (7/56)
1957 – Maurice King (6/48)
1958 – Wilt Chamberlain (Territorial selection)
1959 – Ron Loneski (10/134)
1961 – Wayne Hightower (1/5), Bill Bridges (3/32)
1963 – Nolen Ellison (4/29)
1966 – Walt Wesley (1/6), Al Lopes (13/106)
1967 – Ron Franz (4/33)
1968 – Roger Bohnenstiel (9/120)
1969 – Jo Jo White (1/9), Dave Nash (4/48), Bruce Sloan (11/153)
1971 – Dave Robisch (3/44), Roger Brown (4/64), Pierre Russell (13/207)
1972 – Bud Stallworth (1/7)
1975 – Rick Suttle (7/110), Roger Morningstar (8/144)
1976 – Norm Cook (1/16)
1977 – Herb Nobles (6/124)
1978 – Ken Koenigs (5/99), John Douglas (6/118)
1979 – Paul Mokeski (2/42),
1981 – Darnell Valentine (1/16), Art Housey (3/47), John Crawford (7/160), Randolph Carroll (10/220)
1982 – Tony Guy (2/46), David Magley (2/28)
1984 – Carl Henry (4/80), Brian Martin (9/185)
1986 – Greg Drieling (2/26), Ron Kellogg (2/42), Calvin Thompson (4/71)
1988 – Danny Manning (1/1), Archie Marshall (3/75)
1990 – Kevin Pritchard (2/34)
1991 – Mark Randall (1/26)
1993 – Rex Walters (1/16), Adonis Jordan (2/42)
1994 – Darrin Hancock (2/38)
1995 – Greg Ostertag (1/28)
1997 – Scot Pollard (1/19), Jacque Vaughn (1/27)
1998 – Raef LaFrentz (1/3), Paul Pierce (1/10)
1999 – Ryan Robertson (2/45)
2001 – Eric Chenowith (2/42)
2002 – Drew Gooden (1/4)
2003 – Kirk Hinrich (1/7), Nick Collison (1/12)
2005 – Wayne Simien (1/29)
2007 – Julian Wright (1/13)
2008 – Brandon Rush (1/13), Darrell Arthur (1/27), Mario Chalmers (2/34), Darnell Jackson (2/52), Sasha Kaun (2/56)
2010 – Xavier Henry (1/12), Cole Aldrich (1/11)
2011 – Marcus Morris (1/13), Markieff Morris (1/14), Josh Selby (2/49)
2012 – Thomas Robinson (1/5), Tyshawn Taylor (2/41)
2013 – Ben McLemore (1/7), Jeff Withey (2/39)
2014 – Andrew Wiggins (1/1), Joel Embiid (1/3)
2015 – Kelly Oubre Jr. (1/15)
2016 – Cheick Diallo (2/33)
2017 – Josh Jackson (1/4), Frank Mason III (2/34)
2018 – Devonte' Graham (2/34), Sviatoslav Mykhailiuk (2/47)
2020 – Udoka Azubuike (1/27)