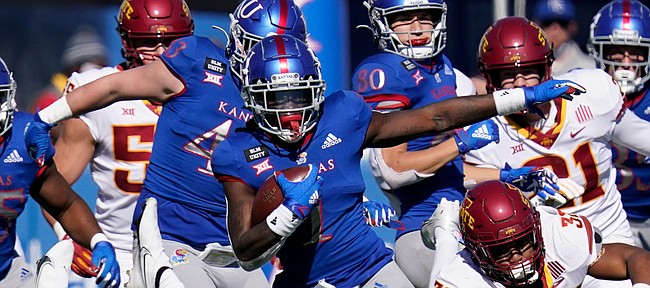 Though he leads the Kansas football defense with 50 total tackles and two interceptions, there are times sophomore Kenny Logan Jr. admits, when he gets an itch to play some offense.
The standout sophomore safety told the Journal-World he approaches offensive coordinator Brent Dearmon "each week" to pose some form of the following question: "Can I get a chance to come over and just get a carry or something?"
That desire to be even more involved for the Jayhawks emanates from Logan's days as a do-it-all athlete at Menendez High, in St. Augustine, Fla. One of the top players in Les Miles' first KU signing class in 2019, Logan did much more than play in the secondary in his prep days, when he was a three-star prospect with more than 20 scholarship offers.
What positions did he play in high school?
"Kicker, punter, wide receiver, quarterback, safety," Logan began, during a recent video interview with the Journal-World. "I played some linebacker. Cornerback. I did it all, really."
Running back and receiver were his favorite positions to play on offense, he added.
"Just having the ball in my hands," Logan said of his reasoning. "But I also like safety, because I like to take the ball away."
With one interception in both of KU's previous two games, Logan has proven effective in the secondary. And that's why he realizes that although Dearmon usually gives him a nod and a look of "all right," when the talented safety shares his offensive aspirations, defensive coordinator D.J. Eliot and his assistants likely have different opinions.
"They're probably telling him no," a grinning Logan said.
Ultimately, of course, any such decision about the defensive back moonlighting on offense would have to be cleared by the head coach.
When asked about the idea of Logan showing up in an offensive formation for KU, Miles' mind immediately went to one of the sophomore's brightest highlights to date.
"Obviously he looked pretty good on offense taking that kickoff back," Miles said, referencing a 100-yard touchdown return Logan delivered in a home loss to Iowa State on Oct. 31. "He's hit a couple of kickoff returns and we think he's pretty special."
Heading into KU's next game, Nov. 28 versus TCU, Logan is averaging 33.2 yards on his eight kickoff returns. The vision and speed he displays in those situations has some of his defensive teammates convinced Logan could contribute on offense, too.
Senior safety Nate Betts cited the TD return as proof in Logan's favor.
"I don't doubt anything. He's a tremendous player. He's phenomenal," Betts said. "I think he'll do great, wherever he goes."
The impact Logan is making on defense is unmistakeable, as well. With 7.1 total tackles per game, the sophomore ranks seventh in the Big 12. And his 35 solo tackles to date ties him for first in the conference, with Iowa State junior linebacker Mike Rose.
Generally speaking, Miles said he isn't opposed to having a two-way player. But KU's head coach also expressed he would hesitate to give Logan "a lot of reps" on offense.
Because Logan, the 6-foot, 195-pound starting safety, is rounding into form on defense during his first year as a starter, Miles explained, the coach wouldn't want to alter his young player's trajectory by adding more responsibilities to his plate.
Even so, the coach didn't rule it out.
"If he wants to sneak over to the offensive side," Miles said, "we might give good thought to that."
KU starting cornerback Elijah Jones said he hadn't heard any rumblings about Logan playing on offense, but Jones endorsed the idea.
"Kenny's an athlete, so if he pulled it off, I wouldn't even be surprised, for real," Jones said, when asked about the difficulties of playing offense and defense. "He goes out there and makes the plays that are presented to him. He produces."
If Miles did sign off on Logan chipping in offensively, the sophomore knows where he would want to line up.
"Running back," Logan said without hesitation. "Just getting the carry running behind our O-line and trying to make a play. It's fun to be at running back sometimes, standing next to the quarterback."
And even if that wish to pop in on offense sometimes isn't answered, there's always kickoffs.
When Logan sets up in the end zone waiting to field one, he can't help but feel a little like a running back again once he takes off.
"I go back to my offensive days when I have the ball in my hand," a smiling Logan said. "It's always looking to score or at least get good field position."