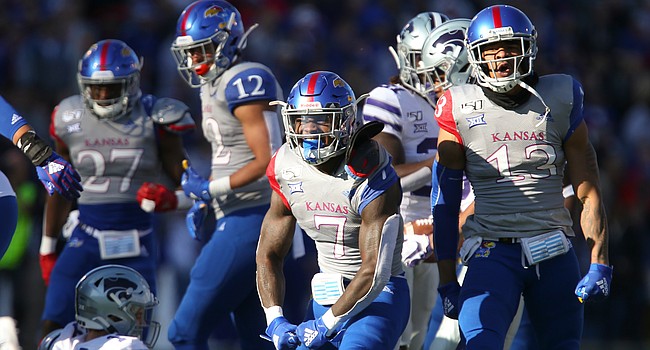 Safety Davon Ferguson, who started for the Kansas football defense in each of the first four games this season, is no longer with the team, head coach Les Miles said on Monday.
"I think he's opted out," Miles said during a video press conference when asked about Ferguson, who had missed KU's previous three games for undisclosed reasons. "And we wish Davon the very best."
Ferguson told the Journal-World that "personal reasons" led to him leaving the team, but he didn't elaborate. He said he is still enrolled at KU and plans to remain so for the spring semester, as well. But Miles said he didn't expect the 5-foot-10, 197-pound defensive back would be back on the roster in 2021.
"I don't see his return, just to be very frank about it," Miles said.
Even though Ferguson, a junior from Baltimore, hasn't played since KU's Oct. 17 loss at West Virginia, he remains the defense's fourth-leading tackler (27 total stops) headed into the final three weeks of the season. Ferguson made a team-best 11 total tackles in KU's loss to Oklahoma State on Oct. 3. He averaged 6.8 tackles per game in his four starts.
KU senior cornerback Elijah Jones said the defense had to take a "next man up" approach in the safety's absence.
"We've got to rock out with who we've got right now, for real," Jones said. "And we've got a lot of talented players (who are) going to step up and make the plays that Ferg had made, too."
Ferguson's departure marked the second time during the 2020 season that a KU defensive starter left the team. Junior inside linebacker Dru Prox, who recorded 23 total tackles in just three starts, opted out shortly after playing what proved to be his final game of the year at WVU.
Jones said that in both instances, KU's defensive players reacted calmly to losing key teammates.
"Because we know we've got a lot of players behind (Ferguson), or behind whoever it is, (who are) going to come up and make plays just like how they did," Jones said. "So we're not worried about it."
KU — 0-7 overall and 0-6 in the Big 12 headed into this Saturday's home game versus No. 22 Texas (2:30 p.m. kickoff, ESPN2) — has also been playing without starting running back Pooka Williams Jr., who opted out following the WVU game. And a couple of weeks before the season began, offensive lineman Antione Frazier opted out and entered the transfer portal.
Some players in fall sports nationwide have taken advantage of special NCAA rules this year — introduced because of the COVID-19 pandemic — that allow them to opt out of the season without losing their scholarship.
KU senior safety Nate Betts said the Jayhawks, who now have dealt with that scenario a few times, generally discuss the news among themselves initially as a way of making the transition easier.
"Everybody has their little talks. But the main thing is staying focused on what we need to accomplish," Betts said. "He opted out, but we can't just sit there and just mourn about it. We've got to keep moving forward."
Without Ferguson, Betts said that he and Ricky Thomas have tried to help fill the gap, and that sophomore safety Kenny Logan Jr. has also "stepped up tremendously."
"And we needed Davon, but it's next man up." Betts said. "We've got to adjust. It's the game that we play. Things happen."