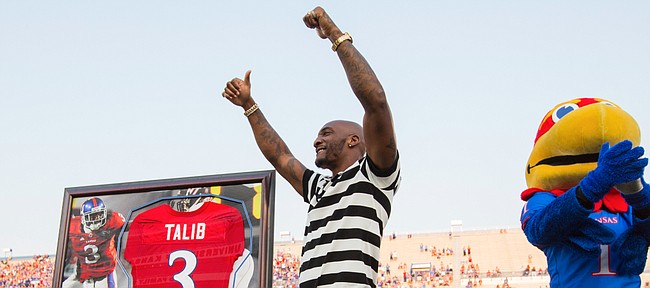 One of the greatest players in Kansas football history, Aqib Talib, who happens to be known for his magnetic personality, too, is about to have a new platform.
FOX revealed this week that Talib, a first-team All-American cornerback with the Jayhawks before he went on to an illustrious NFL career, will be joining the network's broadcasting team.
Talib, who just retired earlier this year, is scheduled to make his debut as a game analyst during FOX's broadcast of this Sunday's Detroit-Washington matchup.
An excited Talib shared his thoughts on the new venture on his "Call to the Booth" podcast.
"It's super similar to playing in a game, man," Talib said of his preparation. "I'm watching a whole bunch of Detroit film — offense and defense now. Watching a whole bunch of Washington film — offense and defense."
A five-time pro bowler and one-time all-pro selection, Talib won a Super Bowl with Denver following the 2015 season, and just finished a 13-year career in which he played for Tampa Bay, New England, the Broncos and the Los Angeles Rams.
When he was a star cornerback, his preparation for a game mostly involved watching video of the upcoming opponent's offense. But now he's diving into every unit for both teams, he said.
"It's not just going on TV and talking about the game," Talib shared. "You've got to prepare for the game as if you're fixin' to play in the game."
A colorful character on and off the field, Talib also has been known to use an expletive or two in his day. That prompted Talib's "Call to the Booth" co-host, Harrison Sanford, to present a question about his upcoming broadcast debut.
"You got the bleep button ready?"
Answered a laughing Talib: "It can't be my job to have the bleep button ready. I'm sure they've got somebody on staff who all they do is they've got the bleep button ready, man. I'm going to do my best."
Talib also offered a piece of advice to anyone tasked with that job: "You better be on your P's and Q's, and ready to go."
In Talib's final season at KU, in 2007, the Jayahwks went 12-1 and won the Orange Bowl. Talib was named the MVP of the bowl game after delivering an interception return for a touchdown against Virginia Tech in the last game of his college career.
Talib picked off 13 passes in three seasons with the Jayhawks and ranks second all-time in interceptions for the program, behind Ray Evans (17 in the 1940s).
Current KU head coach Les Miles, who also spent some time at FOX as an analyst when he was between head coaching jobs, wished Talib well in the new endeavor.
"The things that Aqib will do," Miles said on his "Hawk Talk" radio show this week, "it will be measured by his personal experiences and him being able to relate what it means to play that style of football. I think it's a great hire for FOX."