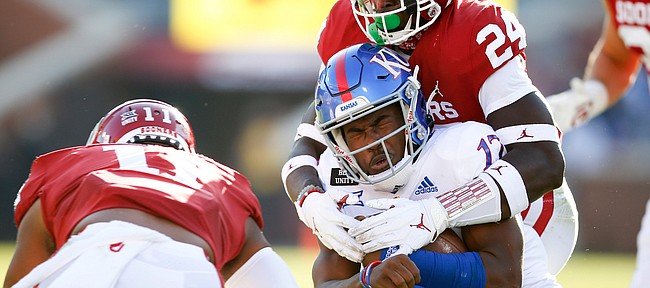 Kansas starting quarterback Jalon Daniels, whose left leg was injured during the Jayhawks' blowout loss at Oklahoma last weekend, should be able to return to the lineup after KU's bye week, head coach Les Miles said Monday.
"It appears to me that he will practice in this bye week and prepare to play," Miles said during the Big 12 coaches teleconference. KU's next game will be Nov. 21, when Texas visits Lawrence.
Daniels wasn't able to finish the Oklahoma game after the Sooners' ninth sack of the day injured the true freshman QB's left leg in the fourth quarter. The Sooners pressured Daniels throughout the 62-9 rout, and Daniels went 11-for-31 passing with 115 yards and two interceptions in his fifth career start.
When OU defensive end Isaiah Thomas brought down Daniels to end KU's second series of the fourth quarter, the QB remained crumpled on the field and had to be helped to the sideline.
While giving an update on Daniels, Miles also brought up the ineffective play of KU's offensive line.
"The guys that have to prepare to play are the guys that protect him," Miles said. "We're going to have to give (the O-linemen) some opportunity at more time this week so we can be much more accustomed to protection."
Five weeks earlier in the season, Daniels suffered an ankle injury in a home loss to Oklahoma State, missing much of that game as well as the following game at West Virginia.
Miles said what happened to Daniels' lower left leg late in the OU loss this past Saturday was "a little different."
"The good news is it's more (a) bruise than it is (a) twist, which is really a good thing," Miles said.
In each game in which Daniels started and stayed in the lineup into at least the fourth quarter — versus Baylor, Kansas State, Iowa State and OU — he was sacked at least four times. In total, the freshman QB has been sacked 25 times this year.
"We're going to do a better job protecting him, and I feel obligated to that," Miles said.