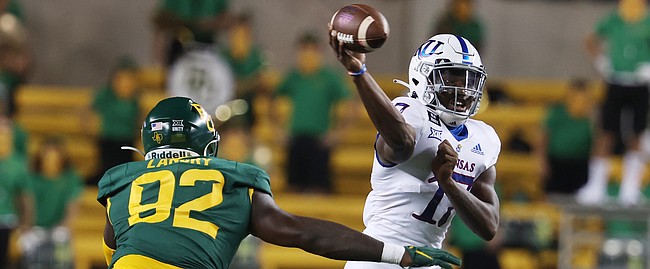 — Kansas (0-6 overall, 0-5 Big 12) vs. No. 19 Oklahoma (4-2, 3-2) • 2:30 p.m. kickoff, Gaylord Family - Oklahoma Memorial Stadium • Game-time forecast: 72 degrees, mostly sunny, 0% chance of rain • TV: ESPN • Radio: KLWN, FM 101.7 / AM 1320
— Visit KUsports.com for our live coverage and follow our team on Twitter: @KUSports, @BentonASmith, @mctait and @SJacksonLJW
Keys for Kansas
1. Find some kind of offensive rhythm
Kansas hasn't scored more than two offensive touchdowns in any of its Big 12 games so far this season. And that type of insufficient production won't help the Jayhawks win in this conference, especially on the road at No. 19 Oklahoma.
For the Jayhawks to actually put up a fight, they'll need progression along the offensive line, but also from their young backfield.
True freshman quarterback Jalon Daniels is still searching for his first passing touchdown in a KU uniform as he heads into his fifth start.
At running back, sophomore Velton Gardner and true freshman Daniel Hishaw Jr. combined for only 30 rushing yards in a 52-22 home loss to Iowa State a week ago. And the KU running game struggled even before junior Pooka Williams Jr. opted out of the remainder the season after four games.
All of the young skill players need effective blockers in front of them to get on track. Can KU benefit from the return of veteran starters Api Mane and Adagio Lopeti, who missed the loss to ISU?
The Jayhawks hope so. Because the OU defense is allowing only 99.2 rushing yards a game and averaging 2.8 sacks and 7.7 tackles for loss.
The OU offense tends to light up the scoreboard against KU, too. The Sooners have posted at least 34 points in each of their previous 11 matchups with KU.
The most points winless Kansas has produced in any game this year was 23 versus Coastal Carolina in the season opener. That was also the only time the Jayhawks scored three offensive TDs.
2. Beware of Rattler
Each of the past three years, the OU offense has featured an eventual Heisman Trophy winner or finalist at quarterback. Redshirt freshman Spencer Rattler may not keep that streak alive in 2020, but the Sooners' latest QB is trending upward entering this week's matchup with KU.
While Rattler dealt with some flak earlier this season when he threw three interceptions in a loss to Kansas State, he has thrown nine touchdown passes and two interceptions in the four games since then, completing 82 of his 123 attempts (66.7%). He didn't throw an interception in either of OU's two road victories the past couple of weeks, at TCU and Texas Tech. In a rout of the Red Raiders, Rattler threw for 288 yards and a pair of TDs despite sitting much of the second half.
Heading into the weekend, Rattler ranks fifth in completion percentage (69.6%), seventh in passing TDs (17) and 11th in passing yards per game (301) among all FBS quarterbacks who have played in more than two games.
The Jayhawks will try to vex Rattler as best they can. Just this past week, they set a new team high for this season with five QB hurries against Iowa State, according to the official NCAA stats (Pro Football Focus gave KU credit for 13 QB hurries). Sophomore linebacker Gavin Potter and redshirt freshman nose tackle DaJon Terry contributed two apiece, and senior cornerback Kyle Mayberry recorded another, as far as the official stats go.
"We've got to do the same thing we've been doing," Terry said, when asked how KU could bother Rattler. "We've just got to lock in on the things the coaches tell us to do. And be a dog. We've just got to be dogs. That's all we've got to do."
3. Don't overlook OU's ground game
For all the hype the Sooners get for their offensive fireworks, a large part of their success under head coach Lincoln Riley has to do with their consistent rushing attack.
The Sooners have rushed more than they've thrown every year since Riley took over.
While Oklahoma is almost perfectly balanced this year, the Sooners are running on 50.3% of their plays so far.
Last week, in OU's rout of Texas Tech, senior Rhamondre Stevenson returned to the lineup for the first time in 2020, running for 87 yards and three TDs on just 13 carries. But he wasn't the only Sooner producing on the ground. Seth McGowan ran for 58 yards, and OU put up a season-high 213 rushing yards, averaging 5.5 yards per carry.
Mega Matchup
KU offense on 3rd downs vs. OU
Given KU's offensive struggles all season, it comes as no surprise that the Jayhawks are tied for first in the nation in punts per game, averaging 7.0. They could bring that number down by sustaining more drives and converting on third downs.
But KU is one of the worst teams in the country at keeping drives alive on third downs — 22 for 87, or 25.3%, which ranks 110th in the FBS.
Turning a corner in this category will be a must if KU is going to have any chance of making it a competitive game at OU. But the Sooners' defense knows how to put an end to a foe's drive.
Among teams that have played three or more games, OU's third-down defense ranks sixth in the country. Opponents only convert 31.08% of the time.
"Third downs can be one of those areas where you see teams do one of two things," Riley said during a press conference this week. "Most teams have a pretty elaborate package. And then some teams stay kind of more towards home base. We're somewhere in between, and we found a good little niche there that we're comfortable with. And then I think our guys have played great team defense in those situations."
Riley credited OU defensive coordinator and safeties coach Alex Grinch for his schemes in those situations, too, limiting teams to 23 for 74 on third downs so far.
"Those third downs always start with how you play up front, whether it's long yardage and being able to create pressure or short yardage and being able to get penetration and make the run game difficult," Riley said. "We've been able to do that."
Jayhawk Pulse
A victory for KU at Oklahoma would go down as one of the biggest upsets of the 2020 season, as the Sooners are considered more than five-touchdown favorites.
With KU still rebuilding and going on the road to face an OU team putting up 43.5 points a game, what can the Jayhawks do to compete?
"What you always have to do is visualize those plays that are going to be good against this team, call those plays, limit your call sheet and give yourself the situations that you need to win with," KU head coach Les Miles said. "You do that, I think you've got the best chance to win."
The KU football program hasn't won a true Big 12 road game since 2008. The Sooners have won 15 consecutive matchups versus KU, which is OU's longest active winning streak against any opponent.
Tale of the Tape
KU ….. OU
KU run D vs. OU run game √
KU pass D vs. OU pass game √
KU run game vs. OU run D √
KU pass game vs. OU pass D √
Special teams √
Prediction
OU 52, KU 20